Questions, tests for pilot
The officer will have to go through a long debriefing session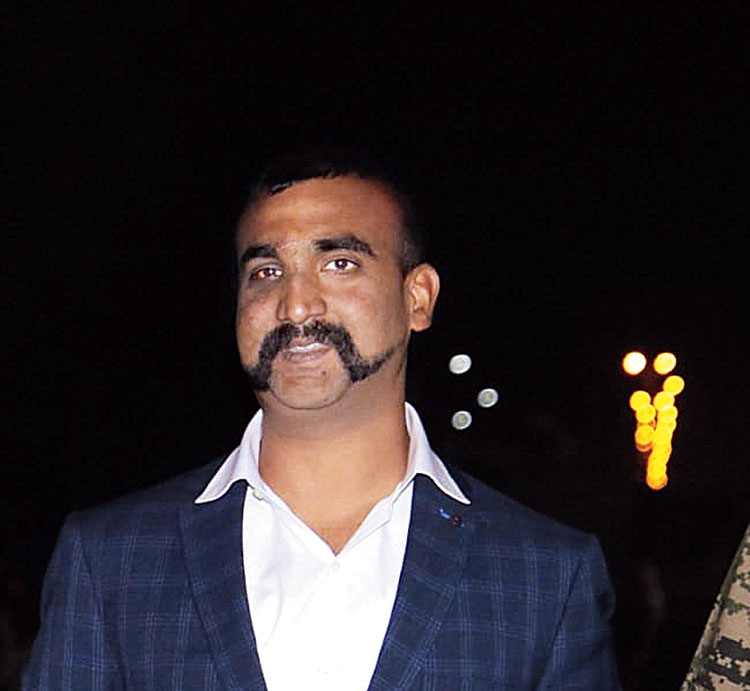 Wing Commander Abhinandan Varthaman minutes before he stepped into India
Picture by PTI
---
New Delhi
|
Published 01.03.19, 09:52 PM
|
---
Wing Commander Abhinandan Varthaman is back home after 48 hours in captivity but before he can return to normal life, the officer will have to go through a long debriefing session at the air force headquarters in Delhi.
"He will be brought to Delhi and allowed to meet his parents who are staying in an air force guest house in the capital. From there he will be taken to the IAF headquarters to face interrogation by senior officials, including military intelligence," a defence ministry official told The Telegraph.
The Indian protocol on prisoners of war will be followed for the wing commander, the official added.
"He is our brave hero and has shown exemplary courage in adversity and the entire country respects him for his bravery. As per our protocol he has to undergo thorough interrogation since he was captured in enemy territory and was taken into custody. It may appear to be a painful exercise but all war prisoners have to go through it," the official said.
The fighter pilot will also undergo several medical tests to ascertain his fitness levels. "Scans on his body will be conducted to check if he has been bugged by the Pakistan Army. We trust our men but this is just protocol, and standard operating procedures have to be followed," the official said.
Abhinandan will also undergo psychological tests as he has lived through a traumatic experience after being captured by the enemy.
Lt Gen. H.S. Panag (retired) said debriefing was part of protocol. "Debriefing will be conducted to ascertain how Abhinandan, a POW, was treated and what happened during the captivity and whether he was indoctrinated by Pakistan and its propaganda. In his case it seems unlikely as he was in their captivity for only 48 hours," he said.
The defence ministry official said that during the debriefing, the pilot would be asked to narrate the entire sequence of events after he crashed into Pakistani territory. Officials questioning him would try to gauge if he had been tortured to give out classified information. "The objective of the debriefing is to ascertain what information was obtained from him by the enemy during his captivity," the official said.
Abhinandan's capture and subsequent release have brought back memories of the 1999 capture of Kambapatti Nachiketa, the Indian Air Force pilot who had ejected across the Line of Control and was taken prisoner by Pakistan during the Kargil war.
On his return, the 26-year-old flight lieutenant had to be taken off combat aircraft flying and assigned to a transport squadron for medical reasons. Nachiketa had resumed flying only in 2003.
"He was medically downgraded and given ground duties for the first three years as he had suffered a compression fracture that was caused by ejecting out of his MiG-27," said an air force officer.
On June 4, 1999, while the Kargil war was on, Nachiketa was handed over to the International Committee of the Red Cross that escorted him back to India. In October 2000, Nachiketa was decorated with the "Vayu Sena" medal and feted as a war hero.
Recalling his time in captivity, Nachiketa had later said: "It was a life-shattering experience." He had said he was tortured mentally and physically during his eight days in captivity. He now works as a pilot for a private airline.
Lt Gen. Panag (retired) said it was sad that people were busy creating a "tamasha" over Abhinandan's release.
"Six IAF officers were killed after a chopper crashed in Jammu and Kashmir's Budgam on Wednesday, the same day Abhinandan landed in Pakistani territory after his jet was shot down. How many people went to the funeral of the six IAF officers?" he asked.