Wing Commander Abhinandan is handed over to India
The pilot was in Pakistani custody for two days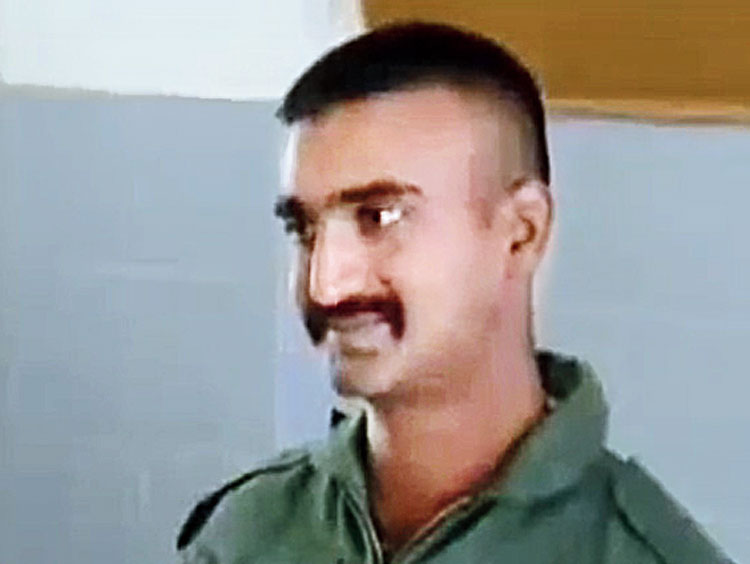 Abhinandan Varthaman during the Jai Hind show in 2011
A still from the NDTV programme in 2011
---
New Delhi
|
Published 01.03.19, 04:09 PM
|
---
Wing Commander Abhinandan Varthaman has been released to the Indian side at the Attari-Wagah border on Friday night.
Pakistan Prime Minister Imran Khan had said yesterday that the pilot, who had fallen across the border, would be released.
The pilot of the MiG-21 Bison shot down a Pakistani F-16, according to the Indian government, but his plane crossed over an he parachuted out of his jet.
Pakistani defence officers saved him from the beating of villagers when Abhinandan touched down.
In spite of the gravity of the matter, some officials in South Block on Thursday did equate the cricketer-turned-politician's offer with a "reverse-swing". It left the Narendra Modi government seemingly tongue-tied despite an early hint of likely de-escalation coming from US President Donald Trump in the morning itself.
Prime Minister Narendra Modi, who addressed a science awards event soon after Khan's announcement, made no direct reference to the development. But he left none in the audience guessing when he said: "Right now, one pilot project has been completed."

As the audience burst into applause, the Prime Minister added: "Now it has to be turned into a reality. Earlier was a practice round." Modi then appealed for a standing ovation for the prizewinners, for the record confining himself to the science event.
At least one clue emerged that suggested the Modi government was not prepared for such a rapid response from Khan who has been trying to seek the high moral ground for the past few days.
A joint media conference by senior officers of the three Indian defence services at 5pm — the first after the Indian air strikes and Pakistan's response — was hurriedly rescheduled after Khan's announcement.
Later, at 7pm, representatives of the three services told the media that they would remain on high alert as Pakistan had escalated tensions by targeting military installations.