Pupils' tribute to a mountaineer
Everester Arunima Sinha, who lost a leg, thanks Bachendri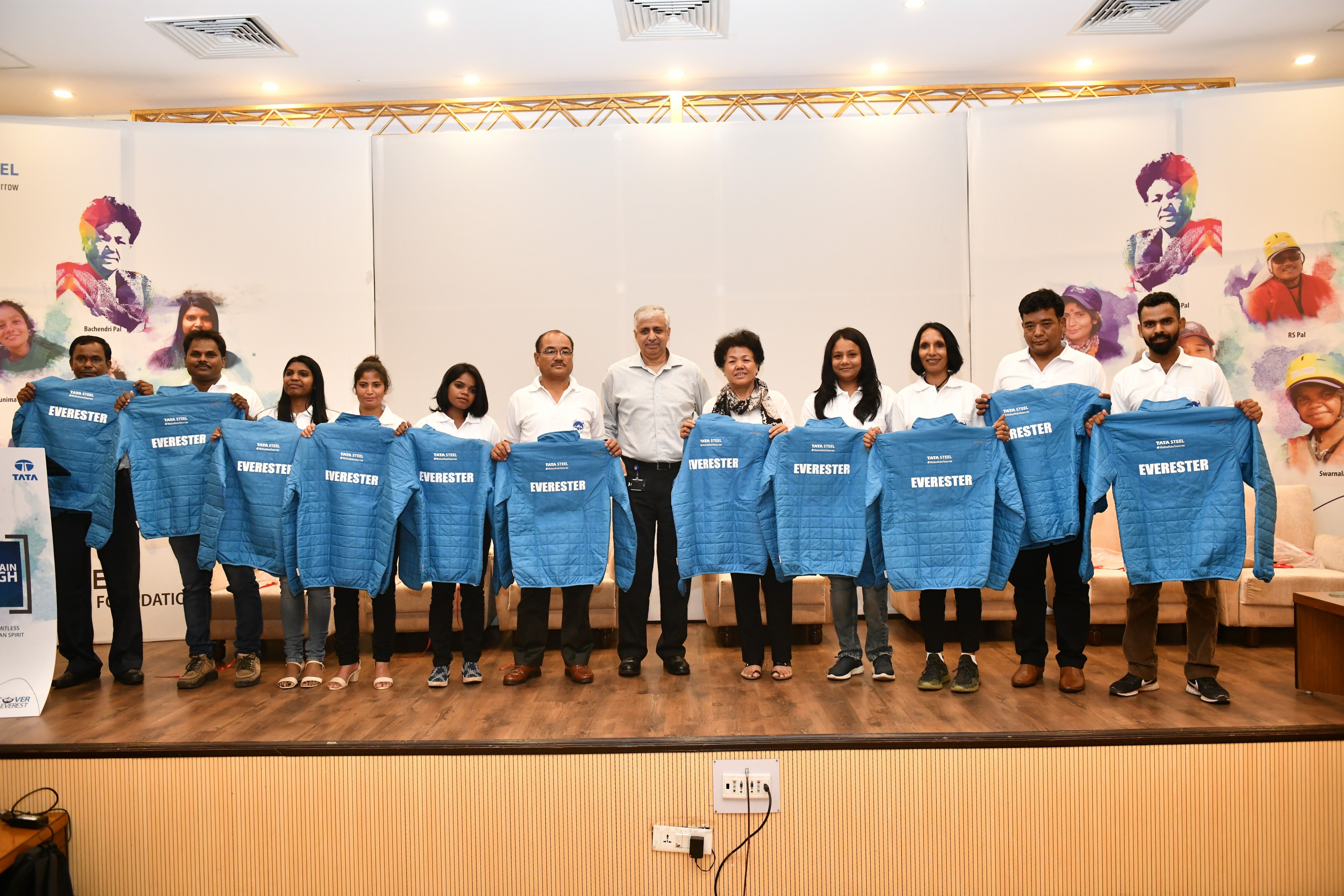 Bachendri Pal with the 10 Everesters in Jamshedpur
Telegraph picture
---
Jamshdepur
|
Published 31.05.19, 05:50 AM
|
---
A lash from her tongue can get even the dead back on their feet.

Bachendri Pal grinned, her mouth hidden partially behind a handkerchief, as a protégé described the first Indian woman to climb Mt Everest.
Seldom has rebuke been elevated to such mountainous heights but it was understandable. A train accident had taken away one of Arunima Sinha's legs and it was Pal who had mentored her to the summit after the young woman had approached the veteran climber with her dream to conquer the world's highest peak.
Sinha did, on May 21, 2013 -- about two years after being released from hospital in 2011.
'Ma'am has always championed the cause of women and, looking at my determination, she said, `You have already achieved 50 per cent of your goal. The rest 50 per cent would require training',' Sinha told an event to celebrate Pal's achievements.
The event, titled 'No Mountain Too High', had been organised by Tata Steel at Jamshedpur on May 23, exactly 35 years to the day since Pal, just about 5 feet tall, summited the peak in 1984.
Pal retires from the company this month after more than three-and-a-half decades of association when she trained many youngsters as chief of adventure programmes at Tata Steel and director of the Tata Steel Adventure Foundation. Among those she has trained are many who have climbed the Everest.
Sometimes the mentoring would involve a motivating lash of the tongue. 'Ma'am agar zorse kisiko daat de, to samne pada hua murda bhi khara ho jayega (If ma'am really scolds someone, even a dead body will jump up and stand at attention),' Sinha, 31, said.
Chanakya Chaudhary, vice-president (corporate services), Tata Steel, said Pal has been a role model. 'Ever since her conquest of Everest in 1984, Pal has been a national treasure for every Indian. It has been our honour at Tata Steel to have cherished this long and extremely fruitful association with her. On behalf of everyone in Tata Steel, I hope she will continue to inspire us and serve as a role model not just for future mountaineers but leaders and nation-builders tooPal had joined Tata Steel in 1983. She founded the Tata Youth Adventure Centre after joining back following her 1984 conquest of the peak. The centre was the precursor to the Tata Steel Adventure Foundation.
Last Thursday's event -- at the SNTI Auditorium -- involved an interactive session with Pal and 10 Everesters she had trained. Apart from Sinha, the others were R.S. Pal, Poonam Rana, Binita Soren, Meghlal Mahato, Premlata Agarwal, Susen Mahato, Sandeep Toliya, Swarnalata Dalai and Hemant Gupta.
For Premlata, it was Pal's 'can do' attitude that had helped her reach her 8,848m high goal after a chance initiation into adventure sports.
She had met Pal after a walking event in the Dalma hills, Jharkhand, competing with women half her age. 'Ma'am boosted my morale tremendously, saying age is no bar if you want to do something worthwhile in life,' she said.
Premlata climbed the Everest on May 20, 2011, becoming, at the age of 47, the oldest Indian woman to achieve the feat.
On the sidelines of the event, Pal spoke about how she perceived sports as a tool to build and connect with communities and encourage a healthy lifestyle. 'Everything is in the mind, and there is nothing that a mind cannot conquer,' she said.
Anand Sen, president, TQM & steel business, Tata Steel, said: 'The Tata Steel Adventure Foundation has emerged as a crystallised version of her vision of promoting adventure sports. She aptly used it as a powerful and effective vehicle in creating a whole generation of leaders. 
Two books -- one on Pal's achievements and another on Mission Gange, which she led in 2018 to clean up the holy river -- were unveiled at the event.
Everester Basanta Singha Roy lauded the plan to give Pal such a befitting farewell. 'She has always been an iconic figure for mountaineers like us,' he said. 'Her true achievement is not conquering the Everest, but making others scale that height.'.