Pulwama deaths: Celebration 'logic'
Retired Major General G.D. Bakshi at first questioned the authenticity of the chat, saying it needed to be verified before you can "hang" anyone for it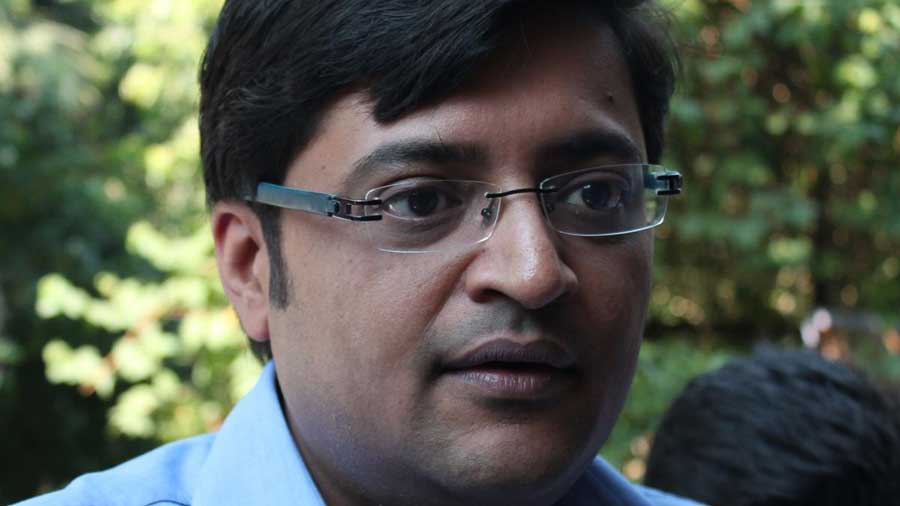 Arnab Goswami
File Picture
---
New Delhi
|
Published 20.01.21, 02:48 AM
|
---
Retired Major General G.D. Bakshi, known to spew ultranationalist vitriol on primetime news television, on Tuesday defended Republic TV managing director Arnab Goswami's purported whoop of joy after the deaths of 40 Indian soldiers in Pulwama.
The veteran, a regular on Republic TV, was asked what he thought of Goswami's purported WhatsApp message less than three hours after the tragedy: "This attack we have won like crazy." Goswami was elated his channel had been ahead of rivals on the attack coverage.
Gen. Bakshi at first questioned the authenticity of the chat, saying it needed to be verified before you can "hang" anyone for it. Then, when pointed out that Goswami himself had not denied it, he said India had been thirsting for revenge against Pakistan for 30 years and the deaths of 40 soldiers had given it a reason to hit back at that country.
"What was being celebrated was the fact that they are sure to be hit hard," Gen. Bakshi said.
The veteran also defended Goswami on purportedly getting advance access to information about the Balakot strike. "If you accuse Arnab of divulging a national security secret that the Indian Air Force is going to attack Pakistan — that is counterfactual.… India's declaratory policy was to retaliate strongly to such masscasualty terror strikes," he said.. India had so retaliated postUri with a surgical strike inside Pakistan to eliminate terror launch pads. I do not buy the line that he (Goswami) leaked national secrets because everybody knew that India would strike back unlike (after) 26/11 when we did sweet nothing apart from sending dossiers to Pakistani court, which they refused to take as evidence."
Bakshi had tweeted on Monday: "Just who authorised the Mahrashtra police to tap the phones and WhatsAap messages of the Prime Minister of India? Some seems to have gone of his rocker there completely."