Protesting farmers recount confusion, celebration
While many refused to talk after learning about FIRs, and some spoke guardedly, others were candid, having nothing untoward to report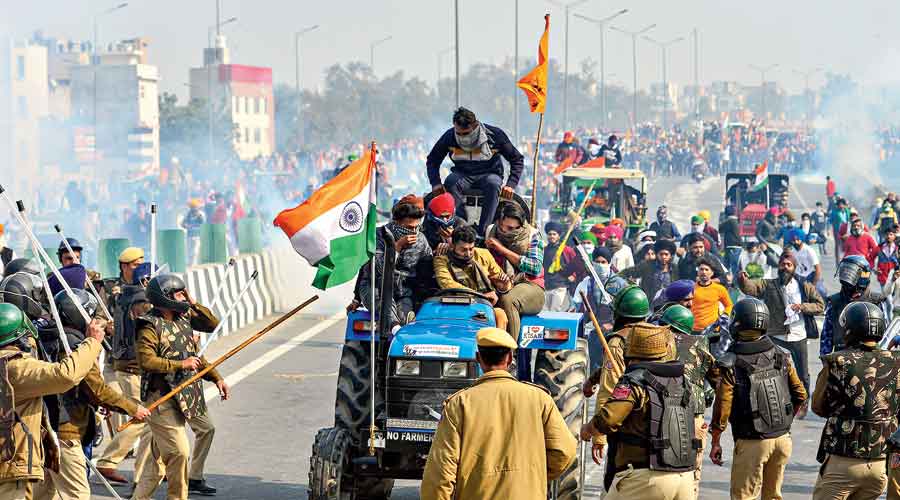 ---
New Delhi
|
Published 28.01.21, 02:19 AM
|
---
Some farmers who took part in Tuesday's Kisan Parade spoke of a "wonderful experience", with people showering flowers from the roadside and agitation leaders ever alert to prevent any deviation from the agreed route.
Some others described how they had unwittingly deviated from the route "just by following the tractor in front". They suggested the confusion was a result of lapses, if not a conspiracy, by police who let some tractors veer off route and then cracked down on those following behind.
It was difficult on Wednesday to find any farmer who defended whatever transgressions had happened during the Republic Day tractor rally.
While many refused to talk after learning about FIRs being registered against their leaders, and some spoke guardedly, others were candid, having nothing untoward to report.
Unwitting breach
Bhimlal, who had started off from the Ghazipur border with Uttar Pradesh, said confusion had led him and others to inadvertently violate the prescribed route despite their determination to play it by the book.
"We had refused to join those who ventured out around 9am because our leaders had said the tractor rally had to begin only after the official Republic Day parade was over," he told The Telegraph.
"We started off at 11.30am. I was on a tractor along with other farmers but it appeared that nobody was familiar with the route. We learnt that some tractors starting from Ghazipur had reached the ITO and presumed we were allowed to go there. But the police stopped us, directing us to move towards Seelampur.
"We were in a convoy of 1,200 tractors. There were barricades on the sanctioned routes but no policeman was present. Farmers pushed the barricades aside and proceeded. We reached Ghaziabad and then heard of clashes at the ITO and learnt that some tractors had reached the Red Fort.
"We were astonished and wondered how the Red Fort had come into the plans. Local people offered us something to eat near Ghaziabad and then we were waylaid by the police on the way towards Meerut. We realised we were on the wrong route and turned back. We reached Ghazipur around 4pm."
Bhimlal suggested that most farmers' lack of precise knowledge of the official route and the police's initial failure to enforce it caused the mayhem.
"We found out that the tractors that had reached the ITO had been allowed to do so by the police. They didn't encounter any resistance while reaching the ITO, a place that wasn't on the sanctioned route," he said.
Cops and chaos
Another farmer who was driving a tractor and requested anonymity backed up Bhimlal's account.
"We crossed Akshardham and reached the ITO. I just followed the tractors moving ahead of mine — this was my first visit to Delhi. I didn't know I was committing any violation. The police didn't stop us. Those who came later were stopped," he said.
"There was a jam at the ITO and we could hear some sort of ruckus at the front. We were told a few hundred tractors had been allowed to move, but the police started firing teargas after that. We were in a panic.
"But after an hour, the tractors resumed moving and we all followed, presuming that was the route to be taken. We reached the Red Fort, oblivious of the circumstances that had led us there.
"Hundreds of tractors were already parked there haphazardly. We presumed our leaders had negotiated with the police and we had been allowed to come to the Red Fort. We didn't know what happened there. After some time, we returned."
Floral welcome
On the other routes, most of the farmers were not even aware of any disturbances.
Jasbir Kaur, who had set out with other women from the Tikri border with Haryana, said: "We had a wonderful experience. There was some confusion at Nangloi when we entered Delhi. Some tractors took a road that was not part of the sanctioned route but our leaders appealed over loudspeakers to stick to the route.
"They repeatedly said our objective was to get the three laws repealed and not to damage public property or cause inconvenience to people. Our convoy of 2,000 tractors took the sanctioned route.
"We were delighted to see people lined up on the roadside, showering flowers and distributing fruits, biscuits and water. People walked up to us and said they supported our cause. We felt proud and emboldened to sustain our peaceful struggle.
"There was no police presence after Nangloi. We stopped at two places for refreshments. We arrived back at our camps at 7pm. There was no problem at all; we heard about the trouble on some routes only after returning to Tikri."
But Kaur's sense of pride and achievement got somewhat injured when she heard how the electronic media had portrayed the parade.
"We knew the media spoke for Modi and tried to defame us. But we never anticipated being projected as terrorists and rioters conspiring to ravage Delhi," she said.
"Initially, we were rattled. But we have regained our composure — our resolve to carry on despite the false propaganda and the government's onslaught is intact. We aren't going to cry off midway."
Conspiracy cry
Ashish Mittal of the All India Kisan Mazdoor Sabha accused the police of deliberately creating confusion.
"Attributing motives to the farmers, saying they intended to trigger violence, is criminal. The media is behaving irresponsibly, calling us terrorists. There was utter confusion about the routes and the innocent farmers were perplexed," he said.
"Barricades had been put up on sanctioned routes, teargas was fired on tractors moving peacefully, routes were curtailed — all this to create chaos deliberately. Some tractors were initially allowed to reach the ITO and the Red Fort as part of a conspiracy by the government."