Protest over privatisation in Guwahati
'Selling these limited number of public enterprises to a few capitalists will paralyse the region,' says CITU official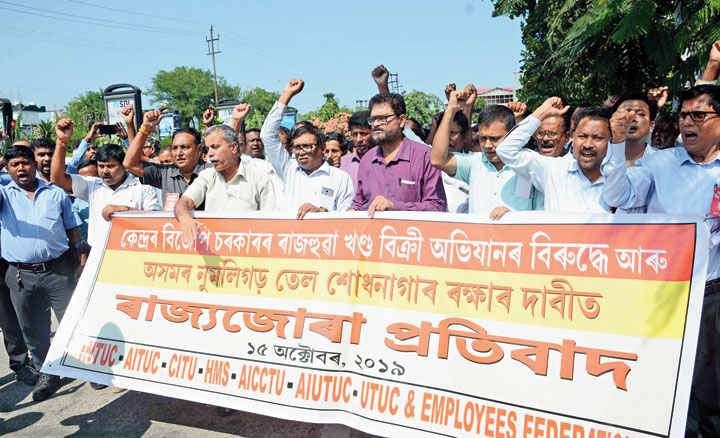 ---
Guwahati
|
Published 15.10.19, 09:14 PM
|
---
Members of various trade unions and employees' associations on Tuesday took out a rally against the Centre's purported move to privatise public sector units like Bharat Petroleum Corporation Ltd (BPCL) and North Eastern Electric Power Corporation Limited (Neepco).
All India Central Council of Trade Unions state vice-president Dhiraj Das said the BJP-led central government was trying to escape from the economic crisis by selling off the few public sector enterprises in Assam and the Northeast. "We earned these PSUs as a result of the Assam Movement. These are the backbone of growth and development in the Northeast. Selling these limited number of public enterprises to a few capitalists will paralyse the region."
Its secretary Pankaj Das said the Centre's decision to privatise these units was against the interests of the Northeast and the country. "Such decisions will discourage the working forces," he said.
Das said BPCL and Neepco are profit-making companies. "According to the public enterprises survey 2017-18, these two units earned Rs 385,579 crore profit in the last financial year. On the other hand, the tax evasion by corporate giants during the BJP regime is Rs 584,706 crore so far. An amount of Rs 11 lakh crore was yet to be repaid to public sector banks by the corporate giants."
CITU Assam unit general secretary Tapan Sarma said the Centre's decision to divest BPCL and Neepco had hurt the sentiments of the people of the Northeast. He said privatisation of BPCL would lead to the privatisation of NRL. "NRL is still running on profit. It was set up under the 1985 Assam Accord and is the pride of the state. It contributes Rs 13,000 crore to the government in taxes every year. Therefore, the Centre's move to privatise these PSUs was anti-Northeast," he said.
Later, the protesters submitted a memorandum to Prime Minister Narendra Modi through assistant commissioner of police Pahary Konwar, appealing to him to shelve any move to privatise BPCL, NRL and Neepco.
The rally was organised jointly by the Indian National Trade Union Congress, All India Trade Union Congress, Citu, AICCTU, Hind Mazdoor Sabha, All India United Trade Union Centre, United Trade Union Congress and other employees' associations.