Protective gear shortage worry for health workers
15 lakh overalls, N95 masks and three-ply masks needed; India manufacturers 'helpless'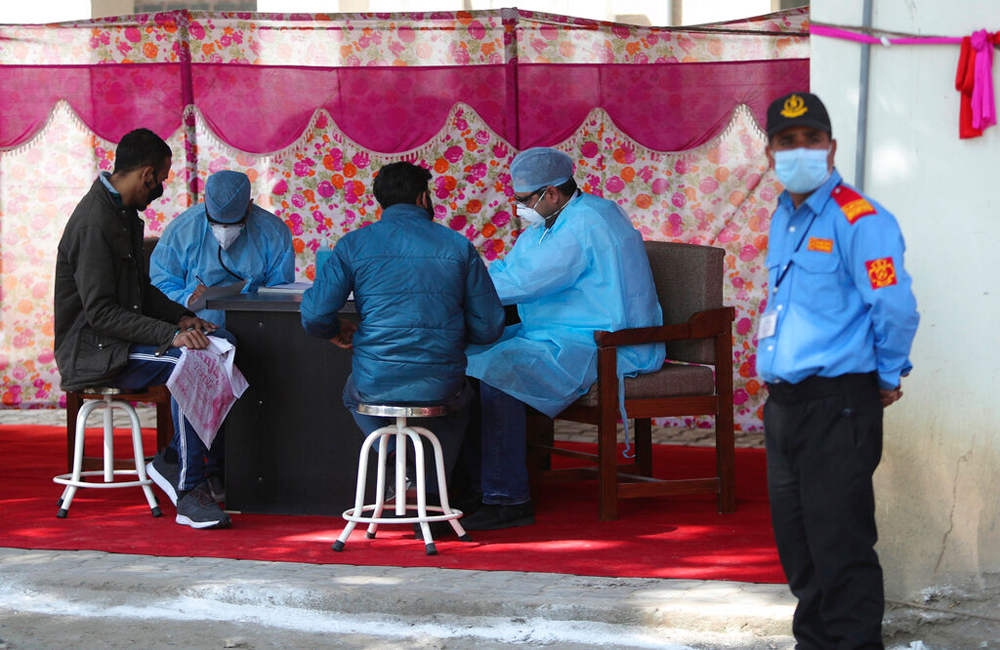 ---
New Delhi
|
Published 23.03.20, 04:47 PM
|
---
The threat of the coronavirus looms large on doctors and other health workers of the country. In an already stressed and struggling public healthcare system, healthcare officials are bracing themselves for emergencies where they might be forced to work without proper gear.
On the morning of March 23, India had 415 reported cases of coronavirus infection. However, experts have estimated India might have somewhere between 300 to 500 million infected people in the coming four months. While many might still recover from mild consequences, thousands will require hospitalisation.
The health ministry has reportedly decided to arrange 7.25 lakh body overalls, 60 lakh N95 masks and one crore three-ply masks for which orders have been placed.
In the media briefing by health ministry and the Indian Council of Medical Research on Sunday, joint secretary Lav Agarwal was questioned about the lack of transparency in procurement of protective gear.
Agarwal responded with a vague answer that PPE which used to be imported earlier would now be manufactured in India.
On Monday's press briefing, Agarwal was questioned again about the government's failure to maintain a stockpile of personal protective equipment (PPE) despite World Health Organization (WHO) guidelines. Agarwal's response: where is the report?
@narendramodi @PMOIndia since Jan V R recommending 2 @Pharmadept @MoHFW_INDIA to create a stockpile of PPE - masks ,gloves,overalls,syringes ,medicines if the epidemic moves to India but we are still discussing specs in March middle of PPE - who will protect those who protect us? https://t.co/uId0DqHKMG

— AiMeD (@MiIAiMeD) March 19, 2020
The Preventive Wear Manufacturers' Association of India (PWMAI), however, estimates that to deal with the influx of patients, a minimum of 5 lakh health workers — which include doctors, nurses, paramedics, maintenance and other support staff — will be required.
If a requirement of three overalls are considered for each worker each day, about 15 lakh PPE will be required daily.
"This is a conservative estimate," said Sanjiiiv Relhan, PWMAI chairman. "Even if we consider one PPE per day per health worker, we cannot provide it. The WHO guidelines suggest you have to change your PPE when you go from one patient to another. We cannot even imagine it."
Relhan added that one of the guidelines was to permit a worker to wear PPE for eight hours only.
At AIIMS, the country's top public hospital, doctors have charted out a protocol wherein each health worker will attend to Covid-19 patients in six hours shifts. By the institute's estimate, each worker will require four PPE changes daily.
I can see a scramble for PPE since they are in such short supply in states like ours. We still have the advantage of being a few days behind on the upslope of this pandemic... Will we heed this advice from The Lancet? https://t.co/F4b4OVjWpm

— yogesh jain (@yogeshjain_CG) March 21, 2020
On March 16, the Resident Doctor's Association (RDA) of AIIMS wrote a letter to the management raising the issue of inadequate PPEs in the hospital.
In the letter, the association wrote that it "sadly found that most of the wards do not have adequate universal precaution components".
Speaking to The Telegraph Online, RDA president Adarsh Pratap Singh said PPE was available for now but future availability depends on the magnitude of the coronavirus pandemic.
"The problem is that we don't have health personnel in adequate numbers. The country's overall health system is not adequate to tackle a huge pandemic," said Singh.
Singh said that all the PPE must be discarded after the six-hour shift and each worker would be required to sanitise themselves.
Singh also added that the staff was looking into making their own sanitiser and basic masks in case there was a severe shortage of these items.
Inadequate availability of PPE
AIIMS administration kindly take prompt action to ensure the uninterrupted availability of personal protective equipments.
#COVID2019 @MoHFW_INDIA pic.twitter.com/qOwcNIFVqF

— RDAAIIMS (@AIIMSRDA) March 16, 2020
In Jammu's Udhampur, Balvinder Singh, president of the doctor's association, was transferred for demanding that the government arrange masks and hand sanitisers for government hospital workers.
"For a week, we didn't get any mask or sanitiser and we're attending to patients without them. When we go to the medical superintendent to demand masks, we're told that they don't have masks and we must attend to patients without masks," said Singh in a video he shared after getting transferred.
No N95 masks for Drs and Sisters in Emergency in GTB hospital. And no proper PPE.@ArvindKejriwal @narendramodi @AmitShah @MoHFW_INDIA @satyendrajain @aajtak @ZeeNews @indiatv @ndtv pic.twitter.com/8BANh50IjP

— Dr.Dushyant Sisodiya (@dushyant5162) March 22, 2020
In the past few days, doctors and other health workers across the country took to social media to register their concern about the availability of protective gear.
"…In my hospital, we have to try really hard to find even a basic mask to wear; other stuff like gloves and sanitisers are nowhere to be found," wrote one intern in Maharashtra's government hospital.
Pathetic situation, Healthcare workers in Assam Medical College are forced to cover themselves with plastic bags which are used to carry biomedical waste bcz of lack of personal protection equipments. Can PM @narendramodi take this issue seriously & provide #PPEsBeforeApplause pic.twitter.com/fMWsKXJIh4

— Harjit Singh Bhatti (@DrHarjitBhatti) March 23, 2020
Another government doctor wrote on Twitter demanding better strategy.
"I don't want your claps. I want your genuine and wholehearted effort in ensuring my wellbeing. I want personal protective equipment," she wrote.
More than 4,800 healthcare workers in Italy have tested positive for the coronavirus and at least 18 doctors treating patients have died since March 11.
In Iran, 170 health workers have been reported to have tested positive. However, Iran has been accused of hiding information on the toll the pandemic is taking on healthcare professionals.