Profit worry on dual degrees at private institutions
Under the ABC Regulations, students can before clearing their Class XII exams do online courses at any university, during a vacation or any other convenient time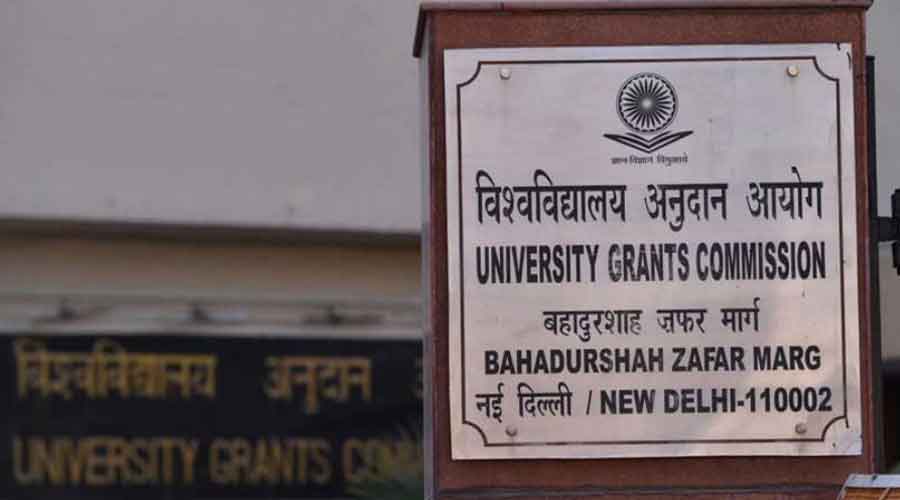 Former UGC vice-chairman Bhushan Patwardhan, who headed the committee that recommended simultaneous degrees, had set the condition that not both degrees be pursued in the regular (in-person) mode.
File photo
---
New Delhi
|
Published 16.04.22, 01:18 AM
|
---
The University Grants Commission's decision to allow students to pursue two undergraduate or two postgraduate degrees simultaneously can lead to profiteering by private institutions and hurt students from disadvantaged segments, academics and students have suggested.
Some of the points they made were:
⚫ The less reputable private institutions might cash in by encouraging students to enrol in two courses — and thus paying fees for both —while winking at any failure to meet attendance requirements for both.
⚫ Private employers may prefer to hire people with two degrees so they can be asked to multi-task, thus increasing the lure of simultaneous degrees at the cost of in-depth learning.
⚫ Students from less well-to-do families – who include the bulk of reservation candidates – will be deprived of the new opportunity since they cannot afford to pay fees, buy books or get coached for two courses simultaneously.
⚫ Another problem may arise at government institutions, which may for lack of teachers be unable to increase their subject-wise seats in any big way to accommodate a surge in dual-degree seekers. Here, a student with good scores whose first preference is a B.Com degree may also block a political science seat, depriving a less successful student who was keen on studying political science.
Simultaneous degrees —permitted from the 2022-23 academic year — have not been allowed yet in professional or PhD courses.
Former UGC vice-chairman Bhushan Patwardhan, who headed the committee that recommended simultaneous degrees, had set the condition that not both degrees be pursued in the regular (in-person) mode.
This was because of practical difficulties, such as that of securing the required 75 per cent attendance in each course, Patwardhan told The Telegraph. But the UGC has allowed simultaneous degrees in the regular mode.
However, a provision the UGC introduced last year can ease the attendance problem for the students, Patwardhan said.
Under the Academic Bank of Credit (ABC) Regulations, students can before clearing their Class XII exams do online courses at any university, during a vacation or any other convenient time. When they later enrol in any full-time degree programme after passing their boards, the credits earned from the pre-admission course would carry over to their regular course, reducing the attendance load for the course.
"Now that students can earn and deposit academic credits in the ABC, it's possible for them to pursue two degree programmes simultaneously," Patwardhan said.
He agreed that "there is a possibility that this good scheme may be misused for profit motives to lure students into pursuing two degrees without maintaining academic rigour".
But he added that students were "maturing gradually" and would know better than to place "hollow degrees" above in-depth knowledge, and so the "poor-quality institutions may not be able to sustain themselves for too long".
Rajesh Jha, a Delhi University teacher, regretted that the UGC guidelines lacked provisions to ensure that the simultaneous-degrees option did not lower the standards of learning.
"There's no mechanism to ensure rigour. Everything has been left to the (individual) institutions. This can be exploited by any type of institution, government or private," he said.
"Also, the seats are limited in every programme. If you allow students to pursue two courses in the regular mode, some will be denied the opportunity to study a preferred course because another has blocked it."
Akshya Sawant, a PhD student at IIT Bombay, said private employers' likely preference for job seekers with two or more degrees would increase the rush for simultaneous degrees.
"If a private company wants an accountant, it will look for accountancy degree holders and will prefer those who have also obtained a degree like BBA or a BSc in data analytics," Sawant said.
"Students from the Scheduled Castes, Scheduled Tribes and rural families will suffer because they lack the resources to pursue two degree courses together."
Ajeet Sonkar from Allahabad, who has been taking recruitment exams held by the central government and the Uttar Pradesh Subordinate Services Selection Commission, said the job situation was already so bad that candidates with PhDs or master's degrees were applying for Group D posts.
The nod to simultaneous degrees will worsen matters, he said.