Priyanka Gandhi Vadra launches the Congress manifesto for Uttar Pradesh elections
It has promised loan waiver for farmers, 20 lakh jobs for youth and free education from KG to PG for Dalits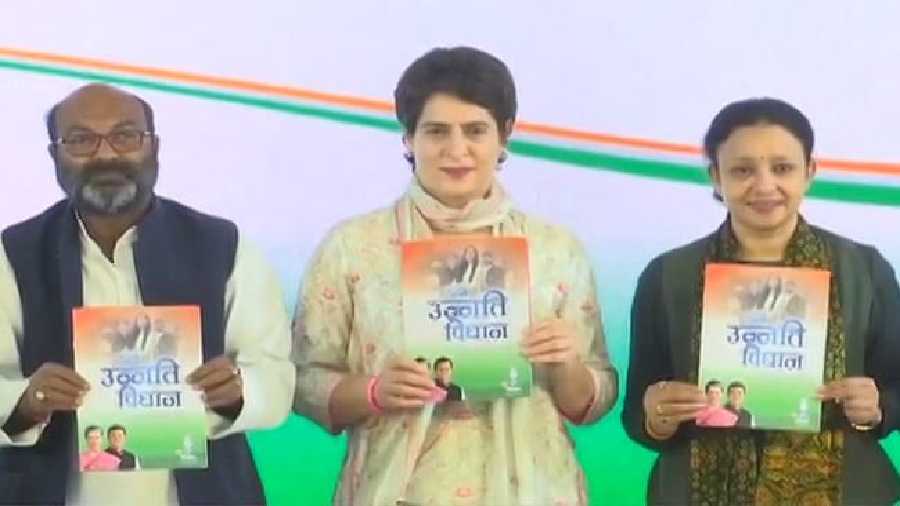 Congress leader Priyanka Gandhi Vadra launches the Congress manifesto 'Unnati Vidhan Jan Ghoshna Patra-2022' for Uttar Pradesh Elections
Twitter/@vijaythottathil
---
Lucknow
|
Published 09.02.22, 02:32 PM
|
---
The Congress party on Wednesday launched its manifesto for the Uttar Pradesh Assembly Election 2022. The manifesto has been named Unnati Vidhan Jan Ghoshna Patra and it was launched by Congress general secretary Priyanka Gandhi Vadra.
Ms Gandhi Vadra said the Congress, which has already release a manifesto of poll promises for women and youth in UP, had identified employment and inflation as the state's biggest issues, and promised to make 20 lakh government jobs available if it is elected to power.
"The Congress party believes that the people of Uttar Pradesh deserve a government that puts their progress and well-being at the center of its agenda. The people of the state need such a political system which can bring positive changes in their lives. UP Congress's Unnati Vidhan will prepare the way for this," tweeted Priyanka in Hindi.
कांग्रेस पार्टी का मानना है कि उत्तर प्रदेश की जनता एक ऐसी सरकार की हकदार है जो उनकी प्रगति और भलाई को अपने एजेंडे के केंद्र में रखे। प्रदेश की जनता को एक ऐसी राजनीतिक व्यवस्था चाहिए जो उनके जीवन में सकारात्मक बदलाव ला सके।

यूपी कांग्रेस का उन्नति विधान इसका रास्ता तैयार करेगा।

— Priyanka Gandhi Vadra (@priyankagandhi) February 9, 2022
"We have released three manifestos so far - for women, for youth, and today the general one. Everything is based on suggestions from the public. We talked to one lakh people... including common people, labourers, farmers and people of all classes. This is a public manifesto," she said.
Here are some of the promises made by the Congress in its UP Election Manifesto:
- Farm loans to be waived off on the lines of Chhattisgarh
- Rs 2,500 MSP for wheat and paddy, Rs 400 for sugarcane
- Rs 3,000 compensation to farmers affected by stray cattle
- Cow dung to be purchased at Rs 2 per kg on the lines of the Chhattisgarh model
- Rs 50 lakh compensation for Covid warriors who lost their lives during the pandemic
- Rs 25,000 for families badly affected by Covid-19 pandemic
- 20 lakh jobs including 12 lakh vacant government positions to be filled
- Outsourcing of employees will be stopped, ad hoc employees will be given regular jobs
- Ad hoc teachers and Shiksha Mitra to be regularised, Sanskrit and Urdu teachers' vacant positions to be filled
- Power charges to be halved and pending electricity bill of Covid period to be waived off
- Housing for rural and urban poor and middle class
- Filip for small businessmen by creating industry clusters to aid such businesses
- Free education for SC/ST students from KG to Post Graduate studies
- OBC and poor students to get hostel accommodation and scholarships
- Reservation in the promotion to SC/ST government employees
- Salary of school cooks to be increased to Rs 5,000 per month
- Cases against journalists to be withdrawn and those jailed illegally to be released
Priyanka Gandhi Vadra on Wednesday accused the BJP of copy-pasting the pledges made by her party in their Uttar Pradesh poll manifesto which she termed as "dhokha patra".
The BJP on Tuesday assured free electricity for irrigation, a job for every household and free travel for women over 60 in its Uttar Pradesh election manifesto, which also promised a minimum 10-year sentence in cases of what it describes as "love jihad".
"The BJP should name its 'Ghoshna Patra' as 'Dhokha patra'. The BJP, which used the talk about past 70 years, could not fulfil even one-fourth of the promises made in its manifesto in past five years years," Priyanka said in a tweet in Hindi.
"It (manifesto) neither has the account of the work of five years, nor has the vision of building the future. That is why, it (BJP) has copy-pasted the pledges of Congress," she added.
भाजपा को अपने "घोषणा पत्र" का नाम धोखा पत्र रखना चाहिए

70 सालों की रट लगाने वाली भाजपा 5 सालों में अपने घोषणापत्र के 1/4 वादे भी नहीं पूरे कर पाई।

न 5 सालों के काम का हिसाब, न ही भविष्य निर्माण का कोई विजन

इसलिए कांग्रेस की प्रतिज्ञाओं को कॉपी-पेस्ट करके अपना काम चला रही है।

— Priyanka Gandhi Vadra (@priyankagandhi) February 9, 2022
Congress released the manifesto a day before the start of the first phase of the polls.
The BJP and the Samajwadi Party released their manifesto for the UP election on Tuesday.