Priyanka Gandhi set for grand launch in UP
The party is mobilising a huge crowd to welcome Priyanka, who will stay put in Lucknow and interact with office-bearers and leaders over 4 days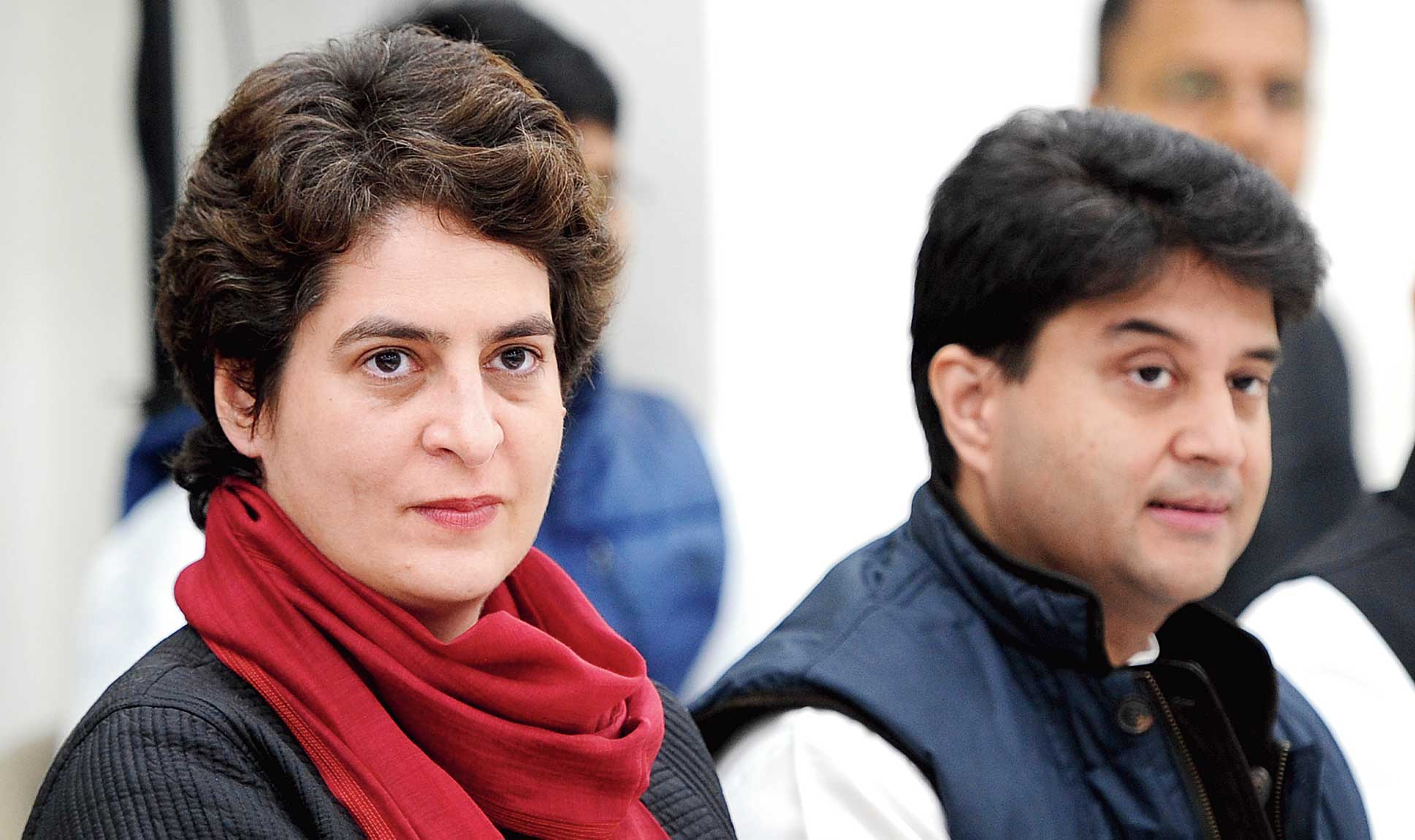 Priyanka Gandhi Vadra and Jyotiraditya Scindia at the Congress meeting.
Picture by Prem Singh
---
Lucknow
|
Published 07.02.19, 08:56 PM
|
---
Priyanka Gandhi Vadra is set for a grand launch in Uttar Pradesh on February 11 when Rahul Gandhi and Jyotiraditya Scindia will accompany her on a road show in Lucknow.
While Priyanka, appointed party general secretary in charge of east Uttar Pradesh, is seen as a political asset for the Congress, a big-bang blastoff is required as there is little time left for campaigning for the general election.
The road show will start from Lucknow airport and end at the Congress office. The party is mobilising a huge crowd to welcome Priyanka, who will stay put in Lucknow and interact with office-bearers and leaders over four days.
While Rahul will return to Delhi the same day, Scindia will spend the four days interacting with leaders of the western part of the state, which is under his charge.
Sources said Priyanka has promised to work hard on the ground and sought support of senior leaders as she was inexperienced in politics. At a meeting of Congress general secretaries on Thursday, she also stressed the need for projecting an image of the party that cuts through barriers of caste and religion.
Rahul, who chaired the meeting that took stock of the preparations for the election, said the team was battle-ready and would spare no effort to oust the Narendra Modi government.
After the meeting, Rahul responded to the Prime Minister's barb in the Lok Sabha that only corrupt people were scared of him. "Modi helped Anil Ambani steal Rs 30,000 crore in the Rafale deal. And remember my words, he did personally," Rahul said.
The meeting also decided to complete the process of selecting candidates by February.