My govt stands with distressed Muslim women: Narendra Modi
The Prime Minister cites triple talaq law, alleges drive to mislead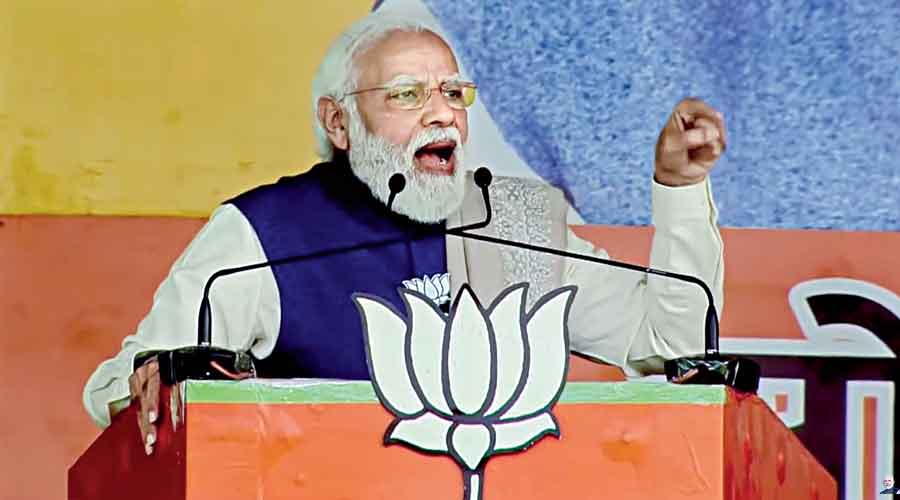 Prime Minister Narendra Modi addresses the rally in Saharanpur on Thursday.
---
Lucknow
|
Published 11.02.22, 02:17 AM
|
---
Prime Minister Narendra Modi on Thursday portrayed himself as a deliverer of distressed Muslim women whom his political opponents were trying to mislead to prevent them voting for the BJP.
"The law we enacted against the triple talaq has given a sense of security to Muslim sisters. But friends, the contractors of votes were sleepless and restless when their own daughters started chanting 'Modi, Modi'," the Prime Minister told a rally in Saharanpur, which has a large Muslim population.
"They are looking for new tricks to prevent the Muslim sisters and daughters from exercising their rights, to halt their development. They are misleading Muslim sisters so they always lag behind. Friends, my government stands with every distressed and victimised Muslim woman. The government of Yogiji is necessary… so that nobody is allowed to harass Muslim women."
Hours earlier, several Muslim leaders in Saharanpur district had referred to the way some government colleges in BJP-ruled Karnataka had banned the hijab and youths chanting "Jai Shri Ram" heckled Muslim women students who wore the veil or a burqa.
"We have decided to award Rs 5 lakh to Bibi Muskan Khan, daughter of Mohammad Hussain Khan, the brave girl of Karnataka. We congratulate her and wish her a bright future," Mahmood Madani, president of the Jamiat Ulama-i-Hind, had told reporters in Deoband town on Wednesday evening.
As second-year BCom student Bibi Muskan was trying to enter the PES College of Science, Arts and Commerce this week in Mandya town, 100km from Bangalore, young men sporting saffron scarves heckled her with slogans, the most audible being "Jai Shri Ram."
Muskan shouted back "Allah hu Akbar" and "Hijab is my right" and walked on.
"The present government is trying to destroy our Constitution, which allows every community to live according to their religious beliefs," said Maulana Tariq Kasmi, a teacher at the Darul Uloom Hussainia madrasa in Deoband, home to the 155-year-old Sunni seminary Darul Uloom.
Kasmi said BJP leaders were alluding to the hijab ban in various ways during the Uttar Pradesh campaign to win votes from Hindutva supporters.
Modi repeatedly referred to his government's ban on the instant triple talaq but not to the National Register of Citizens or the Constitution (Amendment) Act that had triggered countrywide protests led by Muslim women.
"Muslim sisters and daughters understand our clear intentions. We have set Muslim sisters and daughters free from the atrocity of the triple talaq," Modi said.
"The BJP began receiving open support from Muslim sisters and daughters. Muslim daughters started uploading one or two-minute videos praising the BJP government because they had got such respect after centuries. The contractors (of votes) thought to stop these Muslim sisters… they feared his (Modi's) rule would come inside the house."
Some women members of the Muslim Rashtriya Manch, run by RSS leader Indresh Kumar, are known to have uploaded videos praising Modi.
Saharanpur votes in the second phase on February 14.
Thursday witnessed voting at 58 Assembly seats in 11 adjoining districts — Meerut, Muzaffarnagar, Shamli, Baghpat, Bulandshahr, Hapur, Ghaziabad, Noida, Aligarh, Agra and Mathura.