Attorney-general speaks, not on government behalf
Supreme Court bench does not readily accept K.K. Venugopal's plea to forgive Bhushan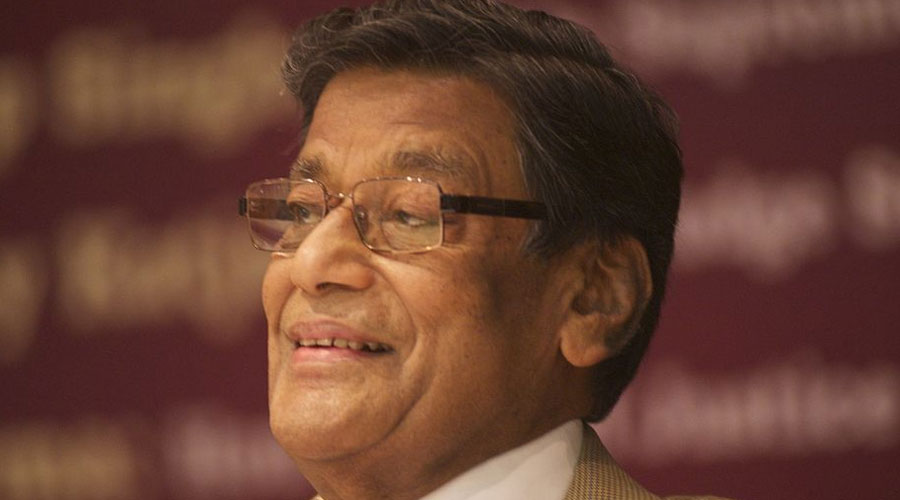 ---
New Delhi
|
Published 21.08.20, 04:28 AM
|
---
The Supreme Court on Thursday gave Prashant Bhushan "two to three days" to consider apologising for his tweets and avoid being sentenced for contempt, which the lawyer-activist agreed to contemplate with much reluctance.
The day witnessed attorney-general K.K. Venugopal, one of the senior-most members of the Bar, pleading before the court: "I request your lordships not to punish him (Bhushan)."
Venugopal, who had come in answer to a court notice, clarified he was appearing not on the Centre's behalf but as attorney-general of India (whose presence is customary at contempt hearings).
The bench of Justices Arun Mishra, B.R. Gavai and Krishna Murari did not readily accept Venugopal's plea to forgive Bhushan. "We cannot consider your proposal unless he rethinks his statement," Justice Mishra told Venugopal. "We will have to consider whether his statement was defence or aggravation."
The bench, which had convicted Bhushan criminal contempt for two tweets, was on Thursday scheduled to pronounce the punishment.
Bhushan initially felt that no purpose would be served by deferring the matter, saying he was not inclined to change his statement. But he later agreed to think it over. The court is expected to hear the case again on Monday.
Bhushan had said: "It would be insincere and contemptuous on my part to offer an apology for the tweets that expressed what was and continues to be my bona fide belief."
Earlier, senior advocate and Bhushan's counsel Dushyant Dave had pleaded the case be heard by another bench, which the court nixed. It also rejected a plea for deferring the matter until Bhushan had filed his review petition challenging his conviction.
One of Bhushan's tweets had asserted that democracy had been destroyed during the tenures of the last four Chief Justices of India (CJIs) and the other had referred to present Chief Justice S.A. Bobde mounting a Harley-Davidson in public without a facemask on while he had closed physical hearings because of the pandemic.
On Thursday, Justice Mishra asked Venugopal: "Should we not give an opportunity to Mr Prashant Bhushan to think over and come back to us after 2-3 days?"
When Venugopal concurred, Justice Gavai asked Bhushan whether he would "like to reconsider" his statement.
"I don't want to reconsider the statement. As regards giving time, I don't think it will serve any useful purpose," Bhushan responded.
"But we would like to give you time," Justice Mishra said. "Later on, there should not be a complaint that time was not given."
Bhushan submitted his statement was "well-considered and well thought out".
"If your lordships want to give me time, I welcome it. But I don't think it will serve any useful purpose and it will be a waste of time of the court. It is not very likely that I will change my statement," he said.
Justice Mishra persisted: "We will give you two-three days' time. Think (it) over.... We should not give the verdict right now."
Bhushan then said he would think it over and consult his lawyers again.
During the arguments, the bench had restrained Bhushan's counsel Rajeev Dhavan from naming the four former CJIs his client had apparently referred to.
Dhavan asked the court to "examine the person" and lauded Bhushan's "character and contributions" by citing how he had without charging fees argued cases of public interest, from the coal-block allocation controversy to the 2G spectrum case.
"So, please consider: is this person simply attacking the court or is (he) criticising (it) for improving the administration of justice?" Dhavan said.
Justice Mishra said: "We are quite impressed by the list (of cases fought by Bhushan pro bono). This will weigh in your favour (with respect to sentencing)."
Dhavan said: "When your lordships' August 14 judgment reaches various academies, it will be severely criticised."
To this Justice Mishra replied: "Don't worry about that. We don't mind fair criticism."
He went on: "You are part of the system. In your zeal of overdoing, you cross the Lakshman rekha. Nobody should cross (it). Doing good things is welcome. We appreciate efforts of filing good cases."
Justice Mishra added: "I have not taken contempt against a single person in my judicial career...."
Dhavan then referred to how Justice Mishra had, as chief justice of Calcutta High Court, refrained from initiating contempt proceedings against chief minister Mamata Banerjee for her remarks against judges.
The bench of Justices Mishra and Joymalya Bagchi had in December 2012 declined to act against Mamata but advised her to "lace her speech with moderation".
Dhavan contended it was not enough for the court to say a remark was scurrilous, it had to state the comment had "substantially interfered with the administration justice".
"As some commentator had said, how can a comment about the CJI seated on a bike affect the administration of justice?" he said.
Dhavan referred to Section 13(2) of the Contempt of Courts Act to say that "truth is defence" in contempt proceedings.
But Justice Mishra said: "When it comes to sentencing, we can be lenient only when the person tenders apology and realises the mistake in the real sense…. The fact that you are doing many good things does not mean that your wrongs can be neutralised."