Pragya Singh Thakur ignites furore with 'patriot' tag on Godse
Those who call him a terrorist should introspect: BJP candidate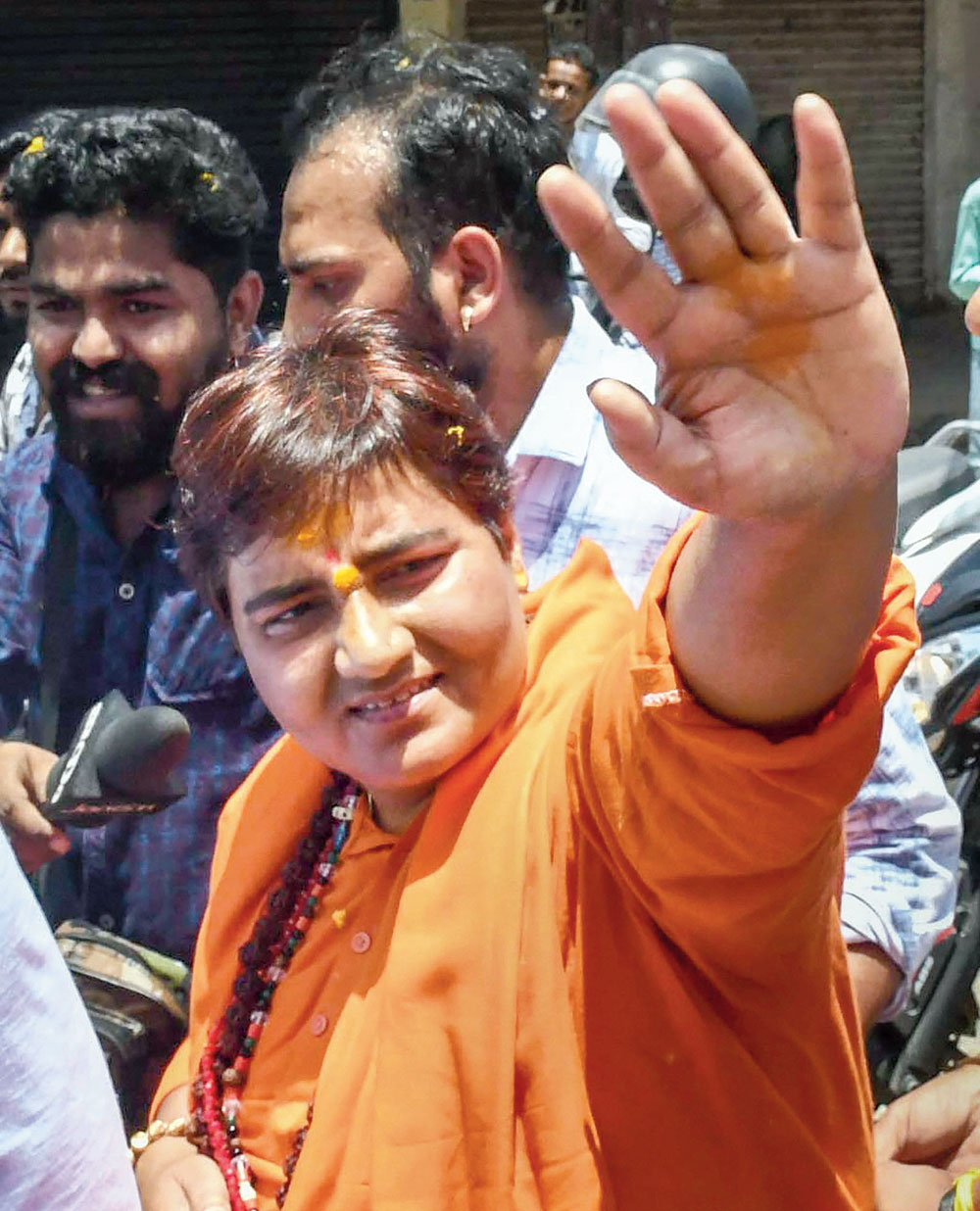 Pragya Singh Thakur
A file picture
---
New Delhi
|
Published 17.05.19, 01:33 AM
|
---
BJP candidate Pragya Singh Thakur on Thursday said Mahatma Gandhi's assassin Nathuram Godse "was, is and will remain a patriot", stunning a nation that thought it had seen it all during a no-holds-barred election campaign that is winding to a close.
"Nathuram Godse deshbhakt thay, hain aur rahenge (Nathuram Godse was, is and will remain a patriot). Those who call him a terrorist should introspect. Such people will get a fitting response this election," Pragya told the news agency ANI.
The BJP, which has fielded Pragya from Bhopal although she is a terror accused, quickly distanced itself from the statement and called for a public apology from her. Instead of the apology, what came initially was a statement that she accepted the BJP line.
"Apne sangathan BJP mein nishtha rakhti hoon, uski karyakarta hoon aur party ki line meri line hai (I have faith in my organisation, the BJP. I am its worker, and the party's line is my line,'' Pragya told ANI after Madhya Pradesh BJP spokesperson Lokendra Parashar said she had apologised and withdrawn her remark.
Hours later, a half-hearted apology followed: "If it has hurt anybody's feelings then I apologise. What Gandhiji has done for the country cannot be forgotten. I respect him a lot."
Neither Prime Minister Narendra Modi nor BJP president Amit Shah found it necessary to condemn their candidate's praise of the assassin of the Father of the Nation.
In Calcutta, Prime Minister Narendra Modi, who had stoutly defended Pragya's candidature, sought to control the damage by singing paeans to the Mahatma.
"Now we need the security of our country as well as development. In our country Bhagwan Sri Krishna is called Sudarshan Chakradhari Mohan and Mahatma Gandhi is called Charkadhari Mohan. Today our country needs to follow the path of both Maha Mohans, the Charkadhari Mohan for development and Sudarshan Chakradhari Mohan for security," Modi told an election rally at Dum Dum.
"Brothers and sisters, your blessings, along with those of the two Mohans, will lead the country to newer heights in the next five years."
In Delhi, BJP spokesperson G.V.L. Narasimha Rao said: "We strongly condemn this statement. The BJP will ask Sadhvi Pragya why she had made such a statement. It will be proper for her to tender a public apology."
Congress leader Priyanka Gandhi Vadra dared the BJP leadership to speak up. "The assassin of Bapu a patriot? Hey Ram! Distancing yourself from your candidate is not enough. Nationalistic luminaries of the BJP, have the guts to spell out your stand," she wrote on Twitter.
Former Jammu and Kashmir chief minister Omar Abdullah asked: "If the killer of the Father of the Nation is a patriot, does that make Mahatma Gandhi anti-national?"
Others said this had been coming for sometime. The RJD's Manoj Jha tweeted in Hindi: "To be honest, crores of Indians would be upset by Pragya Thakur's obscene and unsavoury statement but they would not be surprised. After all, for the past five years, Narendra Modiji and Amit Shahji have built a New India where Bapu's assassin is worshipped. Hey Ram.''
Hyderabad MP Asaduddin Owaisi highlighted that Modi had defended Pragya's candidature. "This is not a 'lunatic fringe' & is definitely not her 'personal opinion', it is the BJP standing by Independent India's first terrorist…."
Using the hashtag #BJPSupportsTerrorists, former Rajya Sabha MP Sharad Yadav said: "Once again Sadhvi Pragya Thakur insulted Mahatma Gandhi by saying Nathuram Godse as patriot. This is d real face of BJP which believes in d ideology of hatred & violence. Giving ticket to such a candidate from Bhopal is an insult of democracy in d country.''
Begusarai CPI candidate Kanhaiya Kumar, branded anti-national by the BJP, tweeted in Hindi: "Thankfully, the BJP does not consider us patriots.''
Sudheendra Kulkarni, who was a close aide to former Prime Minister Atal Bihari Vajpayee, said: "'Godse was and will be a patriot.' Yes, Pragya Thakur is right. He was a patriot of, and for, Hindu Rashtra, not Mahatma Gandhi's India. After a toxic anti-Muslim campaign by BJP, its star candidate's assertion was predictable."