Pragya: My curse killed Karkare
Pragya accused Karkare of committing an "anti-national" and "anti-religion" act by "falsely implicating" her in the Malegaon blast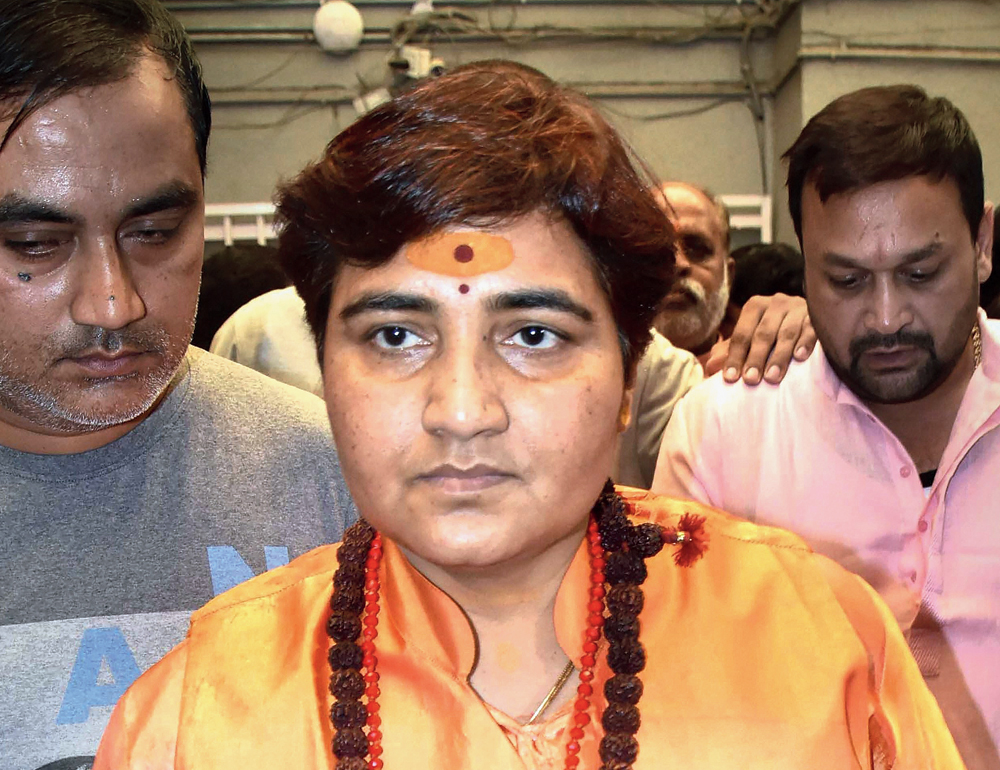 ---
New Delhi
|
Published 20.04.19, 01:23 AM
|
---
Terror accused and BJP Lok Sabha candidate Pragya Singh Thakur has publicly claimed that decorated police officer Hemant Karkare died during the 26/11 attacks because she had cursed him.
Karkare, then Maharashtra anti-terrorist squad chief, had arrested Pragya and other Hindu suspects over the September 2008 bombing in Malegaon, Maharashtra. He died battling Pakistani gunmen in Mumbai two months later and was awarded the Ashok Chakra.
"He (Karkare) tortured me and subjected me to unbearable abuse," Pragya, given bail on health grounds last year and named BJP candidate from Bhopal on Wednesday, told a rally on Thursday.
"I told him, 'Tera sarvanash hoga (You will be destroyed)'. The day he was killed by terrorists my curse ended. He died of his karma (sins). He died because of a sanyasin's curse."
Pragya, who uses the religious honorific "Sadhvi" before her name, accused Karkare of committing an "anti-national" and "anti-religion" act by "falsely implicating" her in the Malegaon blast, which killed six people.
As video clips of the speech emerged on Friday, triggering wide condemnation, the IPS Association stood up for Karkare and demanded that "sacrifices of all our martyrs be respected".
"What kind of people are being put up (as candidates)?" Association chairman and former Mumbai police commissioner Julio Ribeiro told PTI.
The BJP initially issued a statement that paid tributes to Karakare but sought to rationalise Pragya's comment.
"The BJP is of the clear view that late Hemant Karkare died bravely fighting terrorists. The BJP has always considered him a martyr," a party statement said. "Sadhvi Pragya's statement in this regard is her personal opinion, possibly due to the years of physical and mental torture that she faced."
The BJP had spent the last few weeks attacking the Opposition for "questioning the bravery of our soldiers" in connection with the Pulwama terror attack and Balakot air strike. Eventually, around 8pm on Friday — almost 24 hours after her initial statement — Pragya apologised through an aide "if her statement had hurt anyone".
"I felt that the enemies of the country were being benefited from my remarks, so I take back my statement and apologise for it. It was my personal pain," Upma Singh, an aide, quoted her as saying, according to PTI. "Pragyaji said if her remarks have hurt someone, she was sorry for it."
Only two days earlier, BJP managers had termed Pragya's poll nomination a masterstroke by the leadership that would foreground the Hindutva plank and lead to "Hindu consolidation".
On Friday, many of them privately conceded it was a "big mistake" that could damage the party.