Poll bond, PMO… mic switched off
Wild allegations should not be levelled: Speaker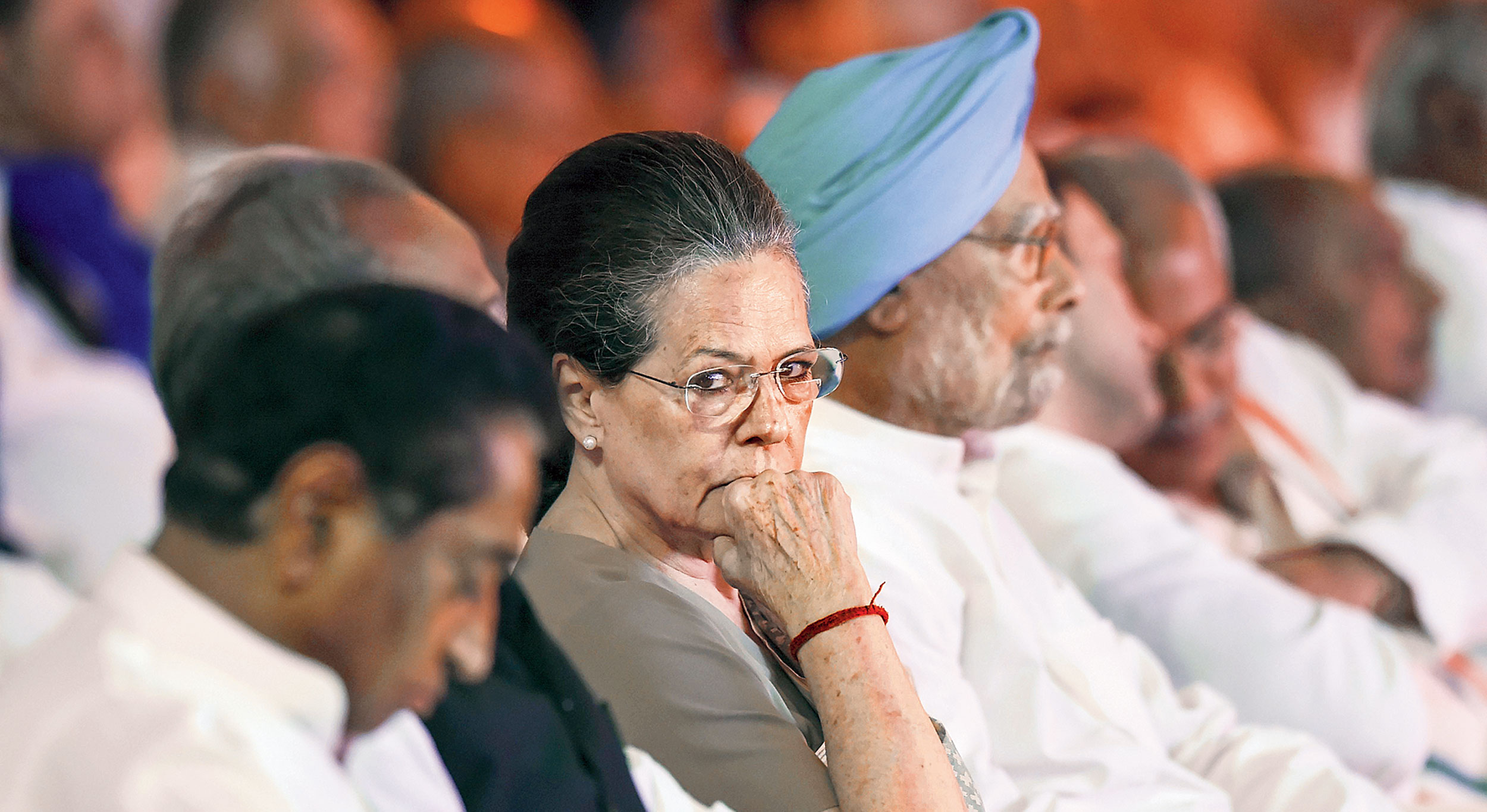 ---
New Delhi
|
Published 21.11.19, 09:00 PM
|
---
Sonia Gandhi on Thursday led a Congress walkout from the Lok Sabha after the Speaker disconnected the microphone the moment a party MP mentioned the Prime Minister's Office while flagging a growing controversy over electoral bonds.
Congress MP Manish Tewari said the Electoral Bond Scheme was originally meant for the Lok Sabha elections but the PMO had intervened to allow it for state polls too. Before his microphone was disconnected, Tewari had said the government had "made corruption official" by its decision to disregard the RBI's objections to the bonds.
The Congress president, seated in the front row, appeared agitated and then stood up in protest before walking towards the exit. The other Congress MPs followed her, shouting slogans against the government.
Speaker Om Birla said wild allegations should not be levelled.
The Narendra Modi government had introduced the electoral bonds through the 2017-18 budget, rejecting the RBI's advice that the mechanism went against the professed goal of transparency and the principles for combating money laundering, documents accessed under the Right to Information law have shown. The Election Commission had also expressed reservations.
Although there's no official information on which party benefited the most, documents suggest the BJP got the lion's share at least of the inaugural bonds issued in March 2018.
On Thursday, the confrontation between the Congress and the government started as the House assembled for the day to take up Question Hour.
The Congress had submitted an adjournment notice over the electoral bonds and wanted to speak but was not allowed by the Speaker. Some Congress MPs then rushed to the Well of the House and raised slogans against the government. The Speaker requested the Congress members to maintain decorum, saying he had not yet given any ruling on the adjournment notice.
Adhir Ranjan Chowdhury, the Congress's leader in the House, told the Speaker it was a "big scam" through which the "country is being looted".
Parliamentary affairs minister Pralhad Joshi said Prime Minister Modi was running a clean government and nobody had pointed fingers at him.
The Speaker intervened, told the Congress members to maintain order in the House and promised to allow the party to raise the issue during Zero Hour. Later in the afternoon, Tewari was called to raise the issue.