Politicians criticise JNU 'jihadi terrorism' course
In a letter to Union education minister Dharmendra Pradhan, CPI parliamentary party leader Binoy Viswam demanded a review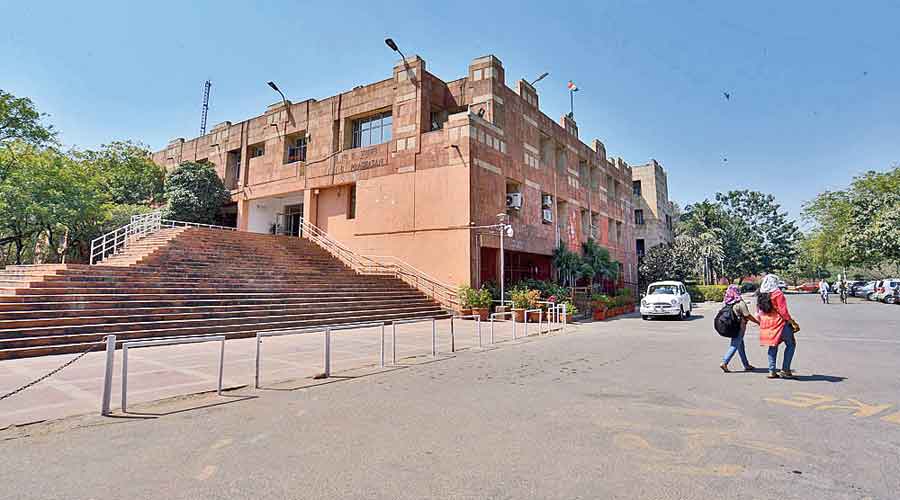 Jawaharlal Nehru University
File picture
---
New Delhi
|
Published 01.09.21, 01:59 AM
|
---
CPI parliamentary party leader Binoy Viswam has criticised as "deeply prejudiced", "historically inaccurate", "politically motivated" and "malignant" a recently approved course at Jawaharlal Nehru University (JNU) that links Islamist and communist terror and describes "jihadi terrorism" as the only form of "fundamentalist-religious inspired terrorism".
In a letter to Union education minister Dharmendra Pradhan on Tuesday, Viswam demanded a review of the course.
Jawhar Sircar, Trinamul Congress Rajya Sabha MP and retired bureaucrat, traced the roots of such courses to "competition within the pro-BJP groups on campus to show who is more aggressive".
On August 17, JNU's academic council approved a course on counter-terrorism that describes "jihadi terrorism" as the only form of "fundamentalist-religious inspired terrorism", and claims that the erstwhile "Soviet Union and China have been predominant state sponsors of terrorism", a model that has been "well adapted by several radical Islamic states" after the Cold War.
The optional course — Counter-Terrorism, Asymmetric Conflicts and Strategies for Cooperation among Major Powers — will be offered to Master of Science dual-degree students specialising in international relations at JNU's School of Engineering.
Viswam said in his letter: "It is deeply unfortunate that higher education is being used as a platform to communalise and politicise geo-political issues through the presentation of half-truths and academically dishonest information.
"Distorting history in an attempt to serve the vested political and communal interests of a certain ideology, the contents of the course make incredulous assertions pertaining to global terrorism and political regimes that have supported it."
The CPI parliamentarian added: "These statements are not only historically inaccurate, they are also deeply prejudiced and politically motivated…. As education minister of India and a constitutional representative, it is incumbent on you to ensure that the centres of knowledge are not used for such malignant agendas.
"The decision on the course was passed without any discussions involving faculty members. Given the divisive nature of content and serious ramifications of such inaccurate information, I appeal to you to immediately intervene in this matter and ensure that the university undertakes a comprehensive review of this course."
Sircar, the Trinamul MP, alleged that the purpose of the course was to "provoke" those who uphold the values of the republic. "There is competition within the pro-BJP groups on campus to show who is more aggressive. It is a ruse to grab attention. It has been this way since M. Jagadesh Kumar became vice-chancellor (of JNU in 2016), and he has gotten away with it," he told The Telegraph.
Sircar added: "Nobody is saying there is no Islamist terrorism, the worst of which is seen in two of our neighbours…. The counter-terrorism course at Counter Insurgency and Jungle Warfare School, Mizoram, explains a whole array of such threats to the republic. To bracket them all under one religion is meant to provoke those among us who uphold the values of the republic."
Bahujan Samaj Party MP Danish Ali told this newspaper: "This is unacceptable in a democracy like India which upholds secular values — values that JNU stood for…. Under the current VC, JNU has been in the news for the wrong reasons…. The new course is just to demonise a particular community."
The JNU administration has not responded to queries from this correspondent on the new course. It had backtracked on introducing "Islamic terrorism" as an area of study in 2018 after a notice from the Delhi Minorities Commission.
CPM Rajya Sabha leader Elamaram Kareem said: "By introducing this particular course with such malignant content, the political motive of the present JNU administration is being uncovered. This is a part of the larger plan of the Sangh parivar to rewrite history with blatant lies and cooked up stories.
"Here they are trying to spread the narrative that terrorism is equal to Islam and are trying to give theoretical back-up for their propaganda. The roots of terrorism are not in any religion, but in the plans of imperialism to destabilise the socialist and third world alternatives."