Deeply troubling, notes Amitav Ghosh
'Political liability' upheaval in Ashoka University
Pratap Bhanu Mehta and Arvind Subramanian resign as teachers from the elite private and liberal varsity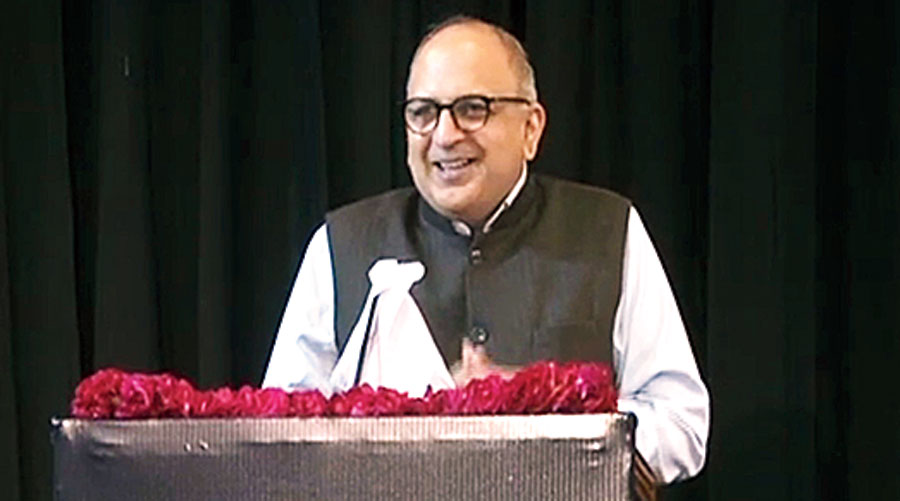 Pratap Bhanu Mehta.
File picture
---
New Delhi
|
Published 19.03.21, 02:36 AM
|
---
The resignation of political scientist Pratap Bhanu Mehta and economist Arvind Subramanian as teachers of Ashoka University prompted a students' sit-in at the elite private and liberal varsity on Thursday afternoon amid allegations the management had yielded to "external pressure".
Mehta, who has been sharply critical of the Narendra Modi government and the BJP in his newspaper columns, put in his papers on Monday saying the institution's founders had made it clear to him that he was a "political liability".
Subramanian, former chief economic adviser to the Modi government, resigned two days later as professor of economics at the university, located at Sonipat in Haryana near Delhi's northern boundary.
Regretting the way Mehta was "compelled to leave", Subramanian said it was "ominously" disturbing that "even Ashoka — with its private status and backing by private capital — can no longer provide a space for academic expression and freedom".
In an online meeting with the university administration on Thursday evening, some 1,400 students and teachers urged it to encourage both academics to stay.
A student who had attended the meeting said no explanation or assurance had come so far from vice-chancellor Malabika Sarkar, who earlier headed Presidency University in Calcutta.
The founders of Ashoka University did not accept the demand from students and alumni that they attend the meeting.
A student told this newspaper that at the end of the meeting, several students chanted: "Not My Ashoka!"
Mehta said in his resignation letter: "After a meeting with founders it has become abundantly clear to me that my association with the university may be considered a political liability. My public writing in support of a politics that tries to honour constitutional values of freedom and equal respect for all citizens is perceived to carry risks for the university."
Contacted by The Telegraph, he declined comment on his resignation but denied claims — by Right-wing Twitterati — that it was linked to Sweden's Varieties of Democracy Institute downgrading India's rating to "electoral autocracy" in its Democracy Report 2020.
"I am not on their advisory board since 2007," Mehta said.
A student-run campus newspaper, The Edict, cited an unnamed source on Wednesday to say: "The resignation of Professor Pratap Bhanu Mehta was endorsed by the founders of the university. This endorsement, according to a senior faculty member with whom our source spoke, was motivated by an understanding that if Prof. Mehta resigned, the university's efforts to acquire a new plot of land to expand the campus would get much smoother.
"Additionally, formal recognition for the fourth-year postgraduate diploma, Ashoka Scholars' Programme, was also hinted at being part of the deal."
Historian Ramachandra Guha, who teaches at the similarly elite and liberal Krea University in Sri City, Andhra Pradesh, tweeted: "In its journey thus far, Ashoka University had shown much promise. They may have frittered all that away by the spinelessness of their trustees, who have chosen to crawl when asked to bend."
Neither Sarkar nor chancellor Rudrangshu Mukherjee have responded to queries emailed by this newspaper.
The university's founders include individuals and companies such as the Central Square Foundation's Ashish Dhawan, Deutsche Bank, Citibank, Bajaj Group, Dr Reddy's Laboratories and Havells.
Subramanian's resignation letter said: "However, the circumstances involving the 'resignation' of Professor Pratap Bhanu Mehta, who is not just a dear friend but a truly inspirational national figure, have devastated me. I am acutely aware of the broader context in which Ashoka and its trustees have to operate, and have so far admired the university for having navigated it so well.
"But that someone of such integrity and eminence, who embodied the vision underlying Ashoka, felt compelled to leave is troubling. That even Ashoka — with its private status and backing by private capital — can no longer provide a space for academic expression and freedom is ominously disturbing. Above all, that the university's commitment to fight for and sustain the Ashoka vision is now open to question makes it difficult for me to continue being part of Ashoka."
Subramanian will remain a part of the university till the end of the academic year in May, but Mehta has requested to be relieved immediately. Neither attended Thursday's online meeting.
The Ashoka University Student Government and the varsity's Alumni Council had issued a statement in the morning demanding transparency from the trustees and asking that Mehta be offered his position again and that his resignation be made public with his consent.
"We express our unconditional support to Professor Mehta who always taught us to be critical of the structures we live around and question what is taken for granted," the statement said.
"The events that have transpired point to a failure on the chancellor and vice-chancellor's part in protecting the university faculty from external pressures, and more importantly, also point to the failure of the founders to ensure the same.
"We are also concerned about the larger implications this has on the freedom of speech for Ashoka's students and faculty. This is not the first time that professors have come under fire for their opinions and/ or their course content. We are worried about the support they will have in the future, whether it will force them to self-censor, and what this means for the quality of our education."
The university faculty issued a statement requesting Mehta to withdraw his resignation.
"Even more troubling is the possibility that our university may have acceded to pressure to remove Professor Mehta or to request, and accept, his resignation," it said.
"This would fly against the principles of academic freedom on which Ashoka University has been set up — and which Professor Mehta, in his time as vice-chancellor and university professor, has so scrupulously fought to defend. It would also set a chilling precedent for future removals of faculty, curtailing our sense of who we are as researchers and teachers."
Author Amitav Ghosh tweeted: "It is deeply troubling that @pbmehta had to resign from one of India's leading private universities because of his 'support of a politics that tries to honour constitutional values of freedom and equal respect for all citizens, is perceived to carry risks for the university'."