Cops thrash Jamia march
Following clashes with stones and bricks, around 70 injured students came to the on-campus M.A. Ansari Health Centre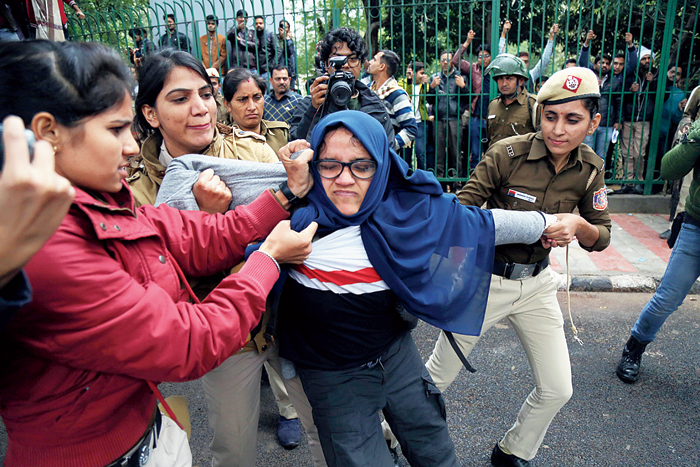 A student being dragged by police during the protest
Picture by Prem Singh
---
New Delhi
|
Published 13.12.19, 09:15 PM
|
---
Police repeatedly caned protesters and fired tear smoke shells for almost two hours outside and inside Jamia Millia Islamia on Friday to break up a march by students and local residents against the Citizenship (Amendment) Act.
Following clashes with stones and bricks, around 70 injured students came to the on-campus M.A. Ansari Health Centre, a Jamia official said. Of them 32 visited the nearby Holy Family Hospital after being referred. Two were admitted and a third was referred to AIIMS for surgery, a smoke shell having fractured his arm.
A passer-by and a police officer too were admitted to Holy Family. At least seven journalists were hit and several vehicles damaged. The police claimed 12 cops were injured, 2 of them seriously.
Jamia students have been protesting every evening in and around the campus since the Lok Sabha passed the Citizenship Bill on Monday, and a march to Parliament had been called for Friday afternoon.
After a protest by the Jamia Teachers Association on the campus, hundreds of students began to march from Gate 13 around the campus boundary, with women leading from the front. Many residents joined them.
When the students breached a police barricade around 3.20pm on the thoroughfare near Gate 1, they were caned and chased back into campus.
Several students began throwing footwear, followed by stones, at the police who responded by firing tear smoke shells and hurling brickbats back at the protesters within and outside the university gate.
Some 42 students were detained at Badapur and Sarita Vihar police stations. They were released late at night.
"Police entered through Gates 4 and 7 and beat up anyone they could find, even some at the shops inside," Naushad Ahmed, an MA history student detained at Badarpur, told The Telegraph over the phone in the evening.
"I was detained while climbing a barricade. After being taken away by policemen, I was kicked several times and one of them said, 'Bh*****ke protest karega?"
Ajaz Choudhary, an alumnus who is currently joint secretary of the CPIML Liberation's All India Students Association, had joined the protest.
"I saw at least two students suffer gashes on their hands after being struck by tear smoke shells," he said. "The lathi-charge was so severe that people are walking around bleeding from wounds on their head, and at least 20 people have gone to Holy Family because of possible fractures."
In a video shot by The Indian Express, policemen are seen repeatedly caning students just outside an academic building until Jamia's security guards step in to save them.
Students later blocked the road outside the campus demanding the release of the detainees, but the police caned them several times in the evening to clear the area. At 7.30pm, the police caned groups of students and at least three journalists outside the Holy Family Hospital.
Two other protests held against the Citizenship Act passed off peacefully.
Answering a march call from the Mahmood Madani-led Jamiat Ulama-i-Hind, a body of Muslim clerics, and the Delhi Pradesh Youth Congress, hundreds of mostly Muslim youths from Old Delhi flooded Connaught Place and walked until Sansad Marg. Two nearby Metro stations were shut.
The Congress held a rally in Seelampur, which has a large Muslim population.
The Congress, CPM, Rashtriya Janata Dal, Swaraj Abhiyan, Federation of Central Universities Teachers Associations, SFI, AISA and several other organisations have condemned the police action in Jamia.
A police statement said: "Since the place (Jantar Mantar) was already saturated with people beyond the permissible number of 1,000, the protesters who were coming from different parts of the city to gather at Jantar Mantar were advised not to proceed to Jantar Mantar.…
"They (Jamia protestors) broke barricades and indulged in stone-pelting at police personnel which also caused damage to parked vehicles. Police had to lob tear gas shells with use of limited force to disperse the protesters. Forty-two protesters were detained and subsequently released. In this incident, 12 police personnel were injured and two of them with relatively serious injuries are under observation in ICU."
Students have declared a strike in Jamia on Saturday. In a statement, 222 alumni of Jamia have demanded an inquiry into the police crackdown and a rollback of the Citizenship Act.
A police source said an FIR for rioting was likely to be filed. The injured policemen include additional DCP Kumar Gyanesh.