PM Modi stands by CAA, Article 370 scrap
His assertions appeared to be aimed at protesters across the country who have been on dharna for weeks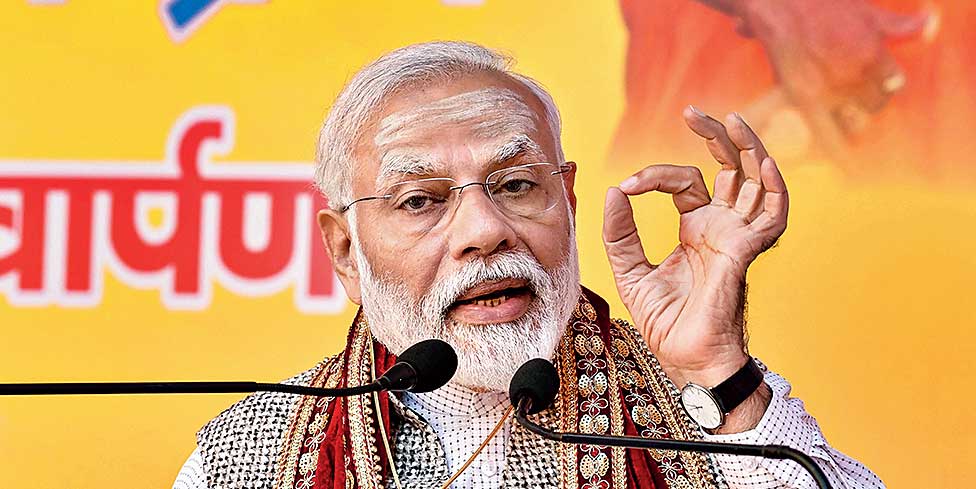 ---
|
Lucknow
|
Published 16.02.20, 08:49 PM
---
Prime Minister Narendra Modi on Sunday ruled out a rethink on the Citizenship (Amendment) Act, making it clear his government wouldn't roll back the controversial law despite pressure from across the world.
His government would also stick to its decision to scrap key provisions of Article 370 that gave Kashmir its special status, Modi asserted.
"Friends, those who were standing on the last step (of the socio-economic strata) were kept there during a long period of time after independence…. But now the situation is changing, the country is changing. Those who were standing on the last step have been given priority," Modi told a public meeting at Padao in Chandauli that adjoins Varanasi, his parliamentary constituency.
"The country is taking those decisions with the blessings of Lord Shiva that were often left behind. Be it the decision to scrap Article 370 in Jammu and Kashmir or the Citizenship (Amendment) Act, the decisions were awaited since years. These decisions were necessary in the interest of the country. Despite pressures from across the world today, we stick to these decisions and will stand by them," the Prime Minister said.
Modi's assertions appeared to be aimed at protesters, including a large number of women and children across the country, who have been on dharna for weeks against the controversial citizenship tripod of the CAA, the National Register of Citizens and the National Population Register.
Modi's address came after he had unveiled a 63ft-high statue of Deendayal Upadhyaya, the late RSS thinker and former leader of the BJP's forerunner Bharatiya Jana Sangh.
Earlier, at another meeting in Varanasi, Modi said his government had decided to hand over the entire 67 acres the central government had acquired in Ayodhya in 1992 to the newly formed Sri Ram Janmbhoomi Tirth Trust.
"The way to the construction of a magnificent temple to Lord Ram is clear…. Friends, we have taken one more important decision, to transfer the entire 67 acres, acquired under the Ayodhya Act, to the Sri Ram Janmbhoomi Tirth Kshetra trust," he said.
"The magnificence and divinity of the temple will increase because of such a big plot," Modi said at a spiritual event of the Jangamwadi Mutt in his parliamentary constituency.
The mutt, founded by people from Karnataka, mutt propagates Veer Shaiva's philosophy of Sidhant Shikhamani, which recommends bhakti as the path to salvation. Its followers worship the Shivlinga.
B.S. Yediyurappa, the chief minister of BJP-ruled Karnataka, was at the mutt on Sunday to welcome Modi.
Modi had been invited to Delhi chief minister Arvind Kejriwal's swearing-in on Sunday, but preferred to stay away from the national capital.