PM Narendra Modi reaches out, 'one election' on table
In Lok Sabha, NDA has a huge majority but it has only 102 members in the 245-strong Upper House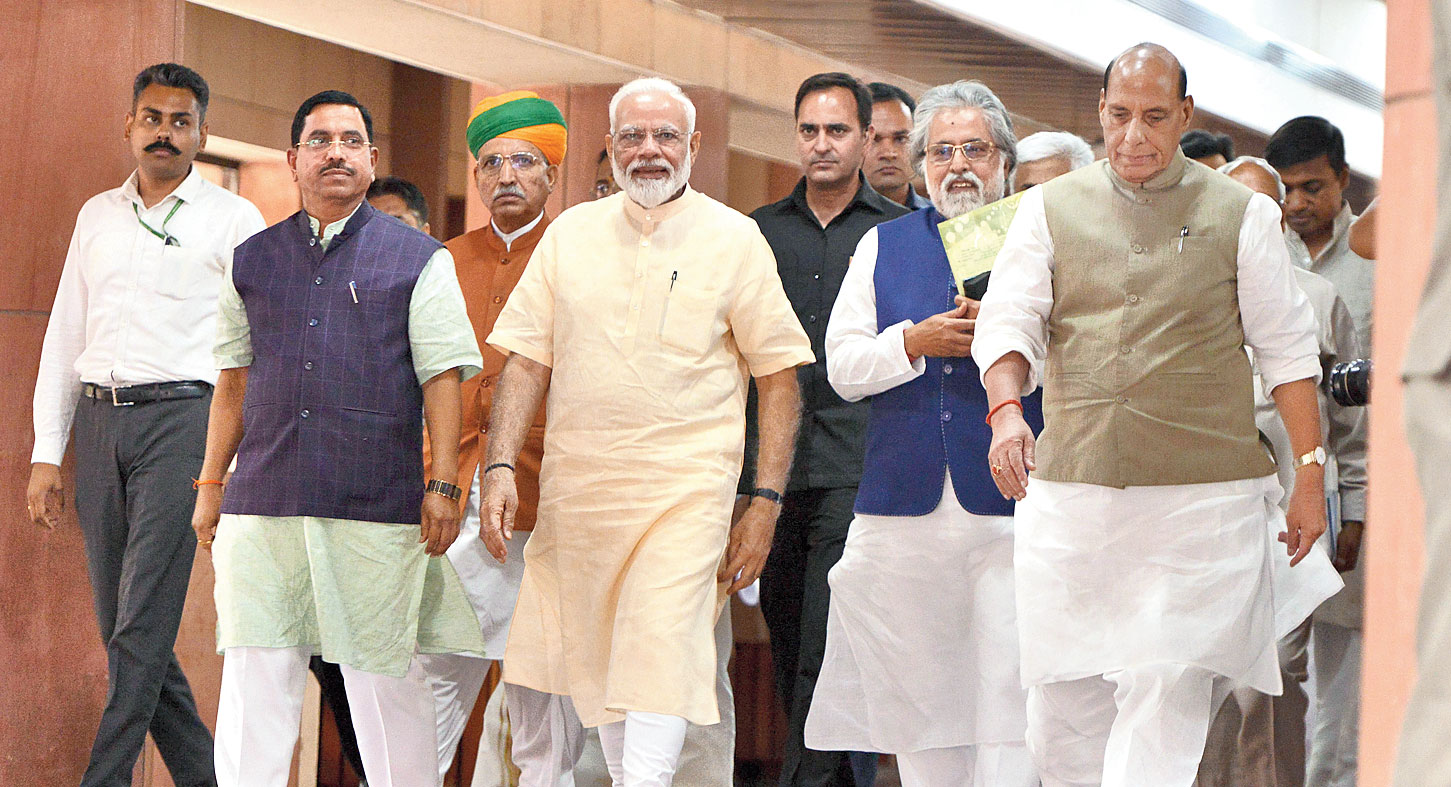 ---
---
Prime Minister Narendra Modi sought everybody's cooperation at an all-party meeting on Sunday to ensure the passage of key bills during the Parliament session starting Monday, which will see the regular budget presented on July 5.
Modi also called a meeting of the presidents of all the political parties on Wednesday to discuss the idea of "one nation, one election" (simultaneous state and national polls), the celebration of 75 years of Independence in 2022, Mahatma Gandhi's 150th birth anniversary this year, and issues of "aspirational districts".
The Prime Minister will on Thursday discuss these issues with the new MPs, who will be sworn in on Monday and Tuesday.
"We had a fruitful all-party meeting today, the first one after the election results and before the start of the monsoon session," Modi tweeted.
"Thankful to the leaders for their valuable suggestions. We all agreed on the smooth running of Parliament so that we can fulfil people's aspirations."
The government needs Opposition support to pass controversial bills in the Rajya Sabha where the ruling alliance lacks a majority. One bill expected to face a hurdle is the one on the instant triple talaq.
In the Lok Sabha, the NDA has a huge majority but it has only 102 members in the 245-strong Upper House.
While the Congress wanted to discuss issues such as unemployment, the continuing agrarian distress and media freedom, the Trinamul Congress asked the government to stop interfering in the states' affairs and demanded quick passage of the women's reservation bill.
Trinamul member Derek O'Brien said the Opposition also wanted a scrutiny of bills before passage and a discussion on electoral reforms.
Congress veteran Ghulam Nabi Azad called for early elections in Jammu and Kashmir, which is under President's rule. He asked why the Jammu and Kashmir Assembly polls could not be held simultaneously with Lok Sabha elections.
Parliamentary affairs minister Prahlad Joshi told reporters the Prime Minister had urged the leaders of all parties to "introspect whether the members of Parliament (have been) able to fulfil people's aspirations as their representatives and the manner in which (the) last two years of the 16th Lok Sabha were wasted".
Those who attended the meeting included defence minister Rajnath Singh, home minister Amit Shah, Azad and Adhir Ranjan Chowdhury from the Congress, Sudip Bandyopadhyay and O'Brien from Trinamul and National Conference leader Farooq Abdullah.
There will be no leader of the Opposition in this Lok Sabha, either. The Congress is yet to name its leader in the Lower House. The session ends on July 26.