'People's consent' on PM lips; no, not CAA
Modi stresses on 'sensitivity', 'compassion', 'brotherhood' and 'non-violence' in his Mann Ki Baat radio address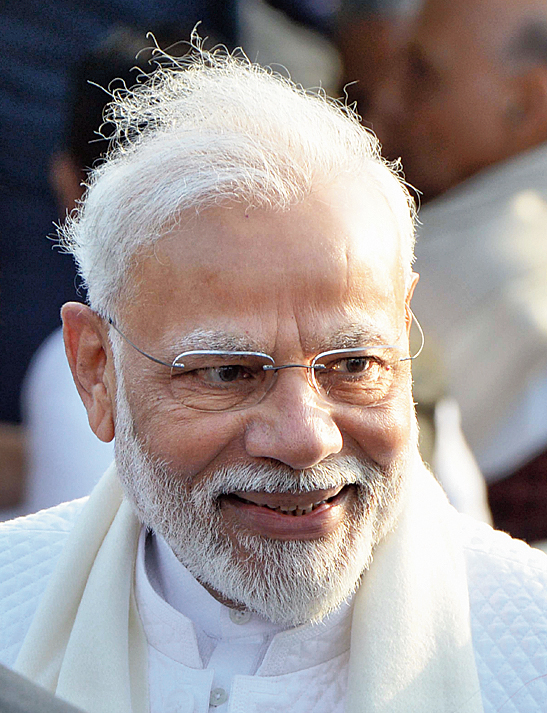 ---
---
Prime Minister Narendra Modi on Sunday stressed "cooperative federalism", "dialogue", "consent of people", "sensitivity", "compassion", "brotherhood" and "non-violence" in his Mann Ki Baat radio address.
Modi asked if violence had solved any problem and appealed to people to resolve on the first Republic Day of the new decade to address every issue peacefully in a spirit of brotherhood.
Although he did not mention the Citizenship (Amendment) Act and the protests against it across the country for a month now, the Prime Minister's words may have resonated with the lakhs of protesters.
Some states that have passed resolutions calling on the Modi government to repeal the CAA are unlikely to miss his reference to "cooperative federalism".
Similarly, the protesters who have spent winter days and nights on the streets, shouting slogans against the CAA, cannot be faulted if they take note of the stress on the "consent of people" and wonder whether their voice has finally reached the Prime Minister.
The unequivocal stand against violence might be read as a signal to the Centre as well as the states not to brutally crack down on the protesters.
Modi spoke of the agreement reached recently on the Bru-Reang refugees of the Northeast and said: "It symbolises the spirit of cooperative federalism. The chief ministers of both Mizoram and Tripura were present during the signing of the agreement. This agreement was made possible only because of the consent and good wishes of people from both the states…."
He added: "This agreement also epitomises the inherent compassion and sensitivity of Indian culture. Considering everyone as its own and living with the spirit of togetherness is embedded in the ethos of this holy land…."
Modi spoke of the surrender of 644 militants from eight militant groups and said: "Those who had strayed towards the path of violence have expressed their faith in peace… and returned to the mainstream.… Countrymen will be thrilled to know that insurgency in the Northeast has considerably reduced. And the biggest reason is that every issue of this region is being honestly and peacefully solved through dialogue…."
Modi said: "We live in the 21st century, which is the era of knowledge, science and democracy. Have you ever heard of a place where life has turned better because of violence?… Violence never resolves any issue. No problem in the world can be solved by creating another problem.… Come, let's together forge a new India, where every issue is resolved on a platform of peace. Solidarity should be the key to resolving every issue. And brotherhood should foil every separatist attempt to divide us."
The Prime Minister, however, was careful not to mention the CAA. Even while discussing Assam, which has been roiled by protests against the law, he restricted himself to speaking of the success of the Khelo India programme.