People wise to politics of hate: Kanhaiya Kumar
The people of Bihar understand 'tukde-tukde' politics; they understand how the Centre is trying to trap them in politics of hate and divert their attention from basic issues plaguing them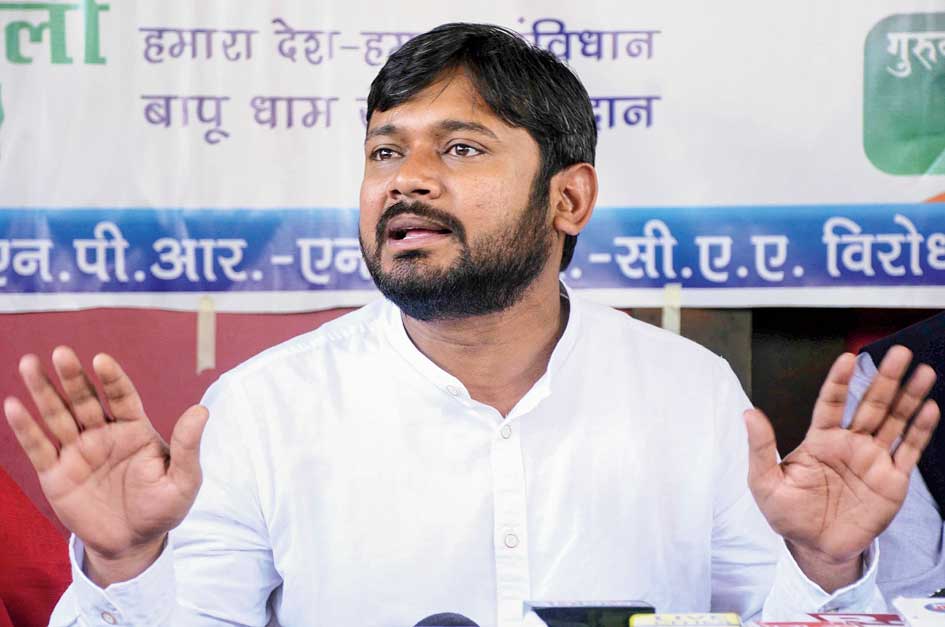 ---
|
Patna
|
Published 22.02.20, 08:49 PM
---
CPI leader and former JNU Students' Union president Kanhaiya Kumar asserted on Saturday that the people of Bihar were aware that the Centre was using the politics of hate to divert their attention from basic issues.
"The people of Bihar understand 'tukde-tukde' politics. They understand how the Centre is trying to trap them in politics of hate and divert their attention from basic issues plaguing them. They are not going to be swayed by such things," Kanhaiya said.
Kanhaiya said this while addressing a news conference in Patna on Saturday.
Congress MLA from Kadwa in Katihar, Shakeel Ahmad Khan, and social activist Nivedita Jha were with him.
The CPI leader concluded his Jana–Gana–Mana Yatra against the Citizenship Amendment Act (CAA), National Population Register (NPR) and National Register of Citizens (NRC) on Saturday.
He had started his tour from Bhitiharwa Ashram of Mahatma Gandhi in West Champaran district on January 30 and covered all 38 districts of the state, addressing several rallies while travelling to register his protest against the CAA, NPR and the NRC and also make the people aware about its harmful impact. He was attacked nine times in different districts during the tour.
Kanhaiya will now remain in Patna for the next few days and meet people in different parts of the city. He will officially end the yatra with a public rally at Gandhi Maidan in Patna on February 27.
The yatra was organised by Bihar NPR-NRC-CAA Virodhi Sangharsh Morcha, a front in which over 100 citizen organisations from different parts of the country participated.
"We saw the amazing unity between different religions during the yatra as people from different sects turned up to support the movement to save the country and the Constitution. They also allowed us to understand several issues plaguing them like unemployment, poor shape of education and health, wage related problem, women's issues. Men, women, youths and the elderly all lent a massive support to us," Kanhaiya said.
The CPI leader said that only the ruling parties should not blamed for the issues and "the present Opposition parties should be blamed because at some point of time they happened to be in power. The Opposition needs to accept its mistakes that work for the people was not done," Kanhaiya added.