Patnaik's lecture on fascism put on hold
The economist was scheduled to deliver on March 12 the second Ashok Rudra Memorial Lecture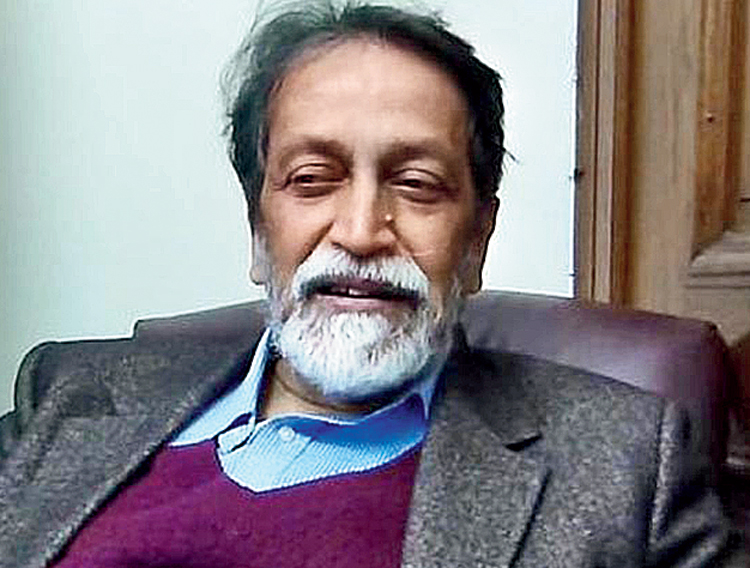 Prabhat Patnaik
(Telegraph picture)
---
Santiniketan
|
Published 17.02.20, 08:45 PM
|
---
A Visva-Bharati department has put on hold a lecture by Prabhat Patnaik, an eminent Marxist economist, political commentator and a fierce critic of the Narendra Modi government's policies.
"I was planning to deliver a lecture on economy and link it with fascism," Patnaik, who lives in Delhi, told The Telegraph over the phone on Monday.
"Someone called me informing that the programme has been postponed…. Then I sent them a mail to confirm and I was informed that they are not holding it right now," the economist added.
Patnaik was scheduled to deliver on March 12 the second Ashok Rudra Memorial Lecture, which the department of economics and politics of the central varsity had instituted last year under the special assistance programme of the UGC.
The decision to withhold the lecture was taken by the board of studies of the department. "Everything for the lecture was ready…. Then came a verbal instruction from the authorities and it had to be withheld without giving a fresh date," a source said.
Bidyut Chakraborty, the Visva-Bharati vice-chancellor, was not available for comment. Varsity sources said any such deferment was the prerogative of the board of studies and the university authorities could not be held responsible.
The university had ignored protests by a section of students and faculty and organised a lecture on the amended citizenship act by Rajya Sabha MP and BJP sympathiser Swapan Dasgupta last month. The students who protested were beaten up by another section.
A source said that a senior varsity official directed the coordinator of the special assistance programme to withhold Patnaik's lecture, asking him to fix it on another date.
The funds granted under the special assistance programme have to be used before March 31. "Our programme was on March 12. A fresh date cannot be obtained this financial year. It has to be done next fiscal and we would have to wait for funds, which means it's postponed indefinitely," explained the source.
"We had no option but to tell Patnaik not to book tickets for Calcutta as the directive came from the university top brass," the source said, adding that several members of the board of studies were upset with the authorities for scuttling the programme.
Anirban Sircar, the officiating public relations officer and the sole spokesperson in Visva-Bharati, said he was on leave. Malay Sutradhar, who is discharging Sircar's role, said: "I have no such information…. I can't say anything in this connection."