Parties' questions stall remote EVM demo
Consensus first, prototype later, says Opposition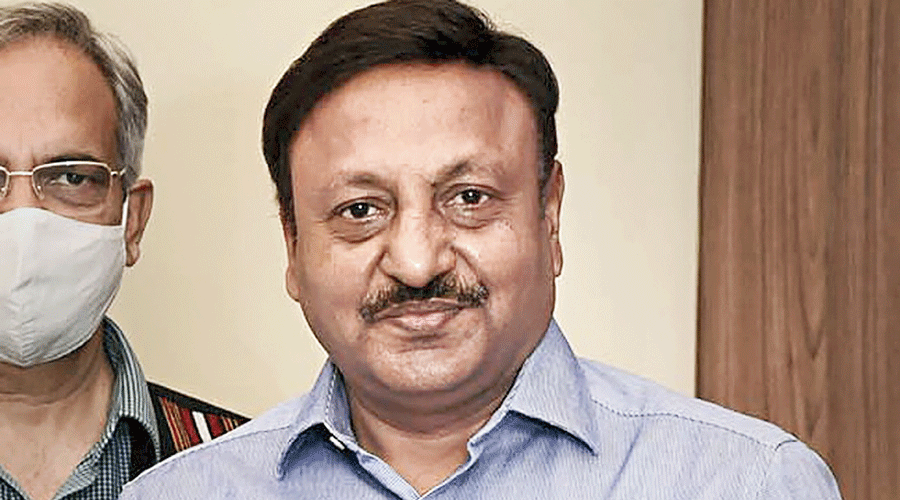 ---
New Delhi
|
Published 17.01.23, 03:40 AM
|
---
The Election Commission's launch of its new electronic voting machine that enables voting from outside one's constituency was a damp squib on Monday, with Opposition leaders objecting to such a demonstration without any agreement with political parties over remote voting.
The demonstration of the remote voting machine (RVM) prototype, made by the PSU Electronics Corporation of India Limited, was to be held after a presentation by Chief Election Commissioner Rajiv Kumar at the meeting, attended by the eight national parties and 40 state parties.
However, multiple sources confirmed that after the presentation, Trinamul MP Kalyan Banerjee objected, followed by others.
"I said that unless the question of remote voting was decided, and the views of the parties on migrant workers and remote voting was discussed, how could there be a prototype?" Banerjee told The Telegraph.
After the objections, the poll panel allowed the parties to air their views and did not conduct the demonstration of the machine, each of which can handle voting (by migrants) for up to 72 constituencies. The event took place at the Constitution Club from 11am to 5pm.
Reporters had not been invited to cover the proceedings. Opposition representatives that this newspaper spoke to after the event referred to four main questions:
■ Who exactly is a domestic migrant?
■ How will the Model Code of Conduct be enforced when voting is done for a constituency from outside its boundaries?
■ How will the process be verified by the voters and the candidates (or their polling agents)?
■ What is the basis of the poll panel's claim that the migrants' current turnout (in their home constituencies, as required now) is lower than that of others?
In its media note on remote voting last month, the commission had said: "Inability to vote due to internal migration (domestic migrants) is one of the prominent reasons to be addressed to improve voter turnout and ensure participative elections."
The note mentioned no other cause for low turnouts. Banerjee said: "You see low turnouts in posh urban areas and higher turnouts in villages and urban slums. You can't blame migrant labourers for low turnout."
A poll panel source said: "The EC held discussions with all parties after a gap of over five years to discuss various matters related to electoral processes with special focus on the concept of remote voting for domestic migrants."
The source said: "Matters related to legal, administrative aspects  and logistical challenges for remote voting were discussed threadbare. Some political parties requested a demonstration of (the) remote voting machine in the states while some others wanted the very concept of domestic migrants to be defined before taking the matter ahead.
"The EC has extended the (last) date for submission of written views by political parties on various issues on the RVM to February 28." A source who attended the meeting confirmed that the DMK had mentioned labourers from Tamil Nadu who travel to Kerala every day for work and asked which state they would be considered voters of.
The Shiv  Sena (Uddhav Balasaheb Thackeray) had the same query about farm workers  from Maharashtra who migrate to Gujarat during cropping seasons.
Congress MP Digvijaya Singh told this newspaper: "We said that we don't want to see your machine as we are not convinced that (fair) remote voting is possible. First, address the trust deficit on EVMs and answer queries that we all have been raising over them."
Union minister Bhupender Yadav of the BJP told this newspaper: "Principally, we agree that the EC needs to take steps for the 30 crore people who don't vote. What procedure is adopted should be deliberated on by all parties."
Among the BJP's allies, the Ajsu party, Eknath Shinde's Balasahebanchi Shiv Sena and Chirag Paswan's Chirag Lok  Janshakti Party (Ram Vilas) strongly supported remote voting, while the AIADMK raised objections.
Aam Aadmi Party MP Sanjay Singh told this newspaper: "Our turnout is much higher compared with Europe. The turnouts are low in booths where EVMs malfunction, where people are angry with government policies.
"If you are concerned about migrant  workers, then ensure paid leave and transportation for them to return  home during polls. Panchayat polls see more than 80 per cent polling, so it's wrong to blame migrants for low turnouts."
He complained: "The EC has prioritised technology and speed, but it is yet to notify us as a national party even though we qualified in the Gujarat polls. I was assured that this would be done soon."
Members of the Jammu and Kashmir National Conference and the People's Democratic Party underlined that people in the Union Territory were willing to vote but Assembly polls had not been held there since 2014.
India's lowest turnouts have been recorded in the Kashmir valley since insurgency began in 1989. Rashtriya Janata Dal MP Manoj Jha said: "We also raised the issues of (the verifiability) of EVMs, electoral bonds and hate speech."