Parkash Singh Badal to return Padma Vibhushan in protest against government's betrayal of farmers
The Shiromani Akali Dal patriarch's decision comes at a time another BJP ally, the Jannayak Janata Party in Haryana, has been exerting pressure on the Centre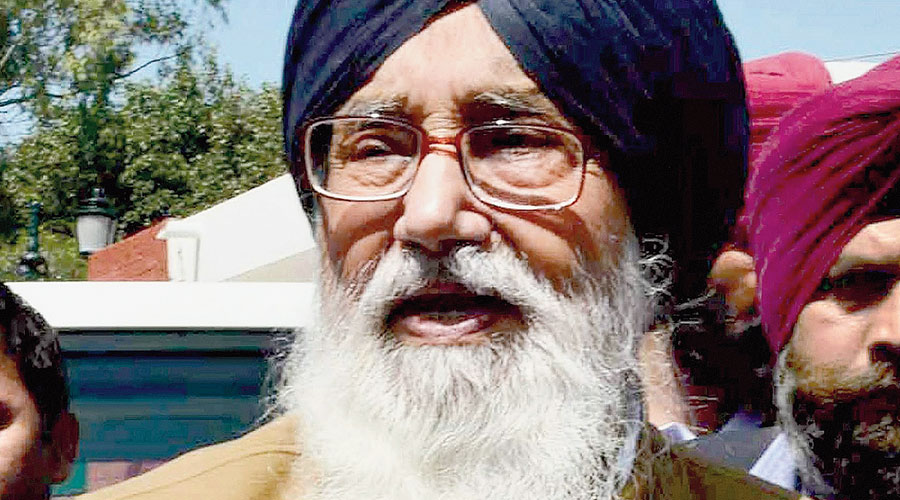 ---
New Delhi
|
Published 04.12.20, 04:21 AM
|
---
Parkash Singh Badal, former Punjab chief minister and the Shiromani Akali Dal patriarch, on Thursday joined the "award wapsi gang", a derisive label coined by the current regime originally for writers who had returned awards to protest against the government's silence on hate attacks.
The 92-year-old Badal has informed the President that he has decided to return his Padma Vibhushan, the second-highest civilian honour, in protest against the Narendra Modi government's "betrayal of the farmers".
The Akali Dal, the BJP's oldest ally, has already pulled out of the Modi government over the farm laws, and Badal's action is certain to pile more pressure on the Modi government over the farmers' protest.
"I have decided to return this honour of Padma Vibhushan in protest against the government's betrayal of the farmers on the three acts against which the farmers of my state and the country are agitating in this cold winter," Badal wrote to President Ram Nath Kovind.
Led by the Prime Minister, the ruling BJP had slammed prominent writers who had decided to return their awards in protest against the government's silence on the killings of rationalists and lynchings of Muslims by cow vigilantes.
Badal, who had in 1996 stitched the alliance with the BJP that broke in September this year, said the Modi government had gone back on its promise to hold consultations before bringing the bills to Parliament.
"When the Government of India had brought the ordinances, assurances were given to us that the farmers' apprehensions… would be addressed to their satisfaction when these would be converted into bills," he wrote to the President.
"Accordingly, I even appealed to the farmers to trust the government's words. But I was shocked when the government simply went back on its word," Badal added.
Badal's decision comes at a time another ally, the Jannayak Janata Party (JJP) in Haryana, has been exerting pressure on the Centre.
The JJP derives its strength from the state's land-owning Jat community, which has joined the farmers' protest.
Former Haryana chief minister and Congress leader Bhupinder Singh Hooda has been claiming that many JJP MLAs are in touch with him. The BJP-led government in the state depends on the support of the JJP's 10 MLAs. Some Independent MLAs supporting the government have already come out in protest.