Narendra Modi: Learn online, to make dosa
Prime Minister highlights digital education 'opportunity'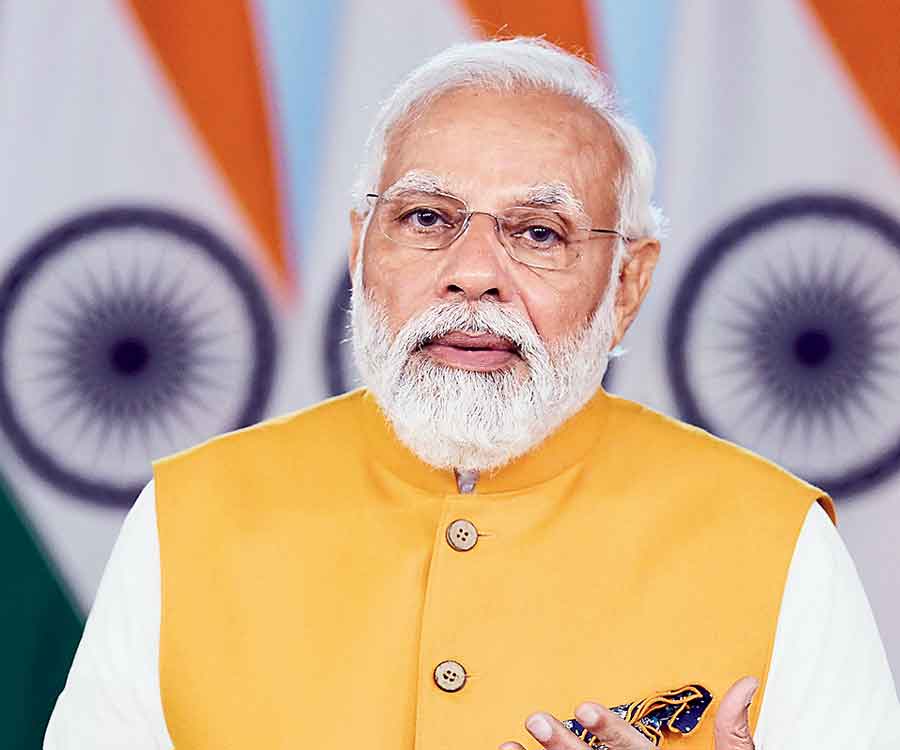 Narendra Modi.
File photo
---
New Delhi
|
Published 02.04.22, 01:03 AM
|
---
Prime Minister Narendra Modi on Friday spied in online education a greater "opportunity" to learn and use the knowledge in day-to-day life, at a time concerns have been raised about digital learning, its quality and the commercialisation of education.
Modi, whose government has been aggressively promoting online education, was interacting with schoolchildren during the fifth edition of Pariksha Pe Charcha (PPC). The event was held at New Delhi's Talkatora stadium, which was packed with students and officials mainly from Kendriya Vidyalayas. Six screens beamed live visuals, as the venue dazzled with lights, PPC posters and patriotic songs.
Two students and a teacher wanted to know how to handle "distractions" in online education. Sections of teachers and students have often complained that such a mode is not effective and cannot replace face-to-face learning.
"Distraction is possible irrespective of the medium. In the offline mode, distractions happen sometimes when your attention is elsewhere, not in the class. Technology is now an opportunity, not a challenge," Modi averred.
He asserted that online education provides greater opportunities to learn and implement that knowledge in practical demonstrations.
"For example, you can learn online how to make a dosa. You can fill your stomach by utilising this knowledge and preparing a dosa," the Prime Minister said.
Modi said the National Education Policy (NEP) had been prepared by taking feedback from every nook and corner of the country and it is tailored to the challenges of the 21st century.
The NEP also promotes online education. The document mentions the words "online" and "digital" nearly 90 times.
Taking a cue from the NEP, higher education regulator University Grants Commission (UGC) has framed rules to allow universities to permit their students to pursue up to 40 per cent of any course online. For this purpose, Massive Open Online Courses are available on the government's Swayam website. Under the MOOCs, there are readymade video lectures with provisions for doubt clearance and assessment.
The UGC has also approved an Academic Bank of Credit which allows students of a particular university to pursue up to 50 per cent of a course from another varsity either online or offline.
In the 2022-23 budget, the government has proposed to set up a digital university for solely online learning. For school students, the budget has announced that the number of TV channels dedicated to studies will be increased from 12 to 200.
Many academics do not see much merit in online learning and also fear that the mode will eat into teaching jobs.
"Online education cannot replace teachers. Nowhere in the world has it happened. But the promotion of online education as prescribed in the NEP will severely compromise the quality of education and minimise the requirement of teachers. Corporates are already providing online coaching, study materials and tutorials. Corporatisation of education will increase further," said Nandita Narain, a faculty member of Delhi University.
Another sore thumb is the digital divide in India. CPM Rajya Sabha member V. Sivadasan on Friday drew attention to the Annual School Education Report brought out by the NGO Pratham that says 74 per cent of the children in the country do not have access to smartphones.
"It is the duty of the Union government to ensure that every Indian has access to free Internet," he said.
Last month, the UGC announced the launch of the Common University Entrance Test (CUET) from this year for admission to undergraduate courses. It will be conducted in the computer-based test format.
The move has been criticised by sections of students because of the lack of time to prepare for the exam, scheduled to be held in July. The National Progressive School Conference, a body of private schools, has argued that such a measure will make school education and boards irrelevant.
At the PPC event on Friday, a student wanted to know from Modi how students can prepare for different types of exams now that the CUET has also been introduced.
The Prime Minister replied: "I do not think you need to make customised preparations for any specific exam. If you aim at a particular exam, your learning will be skewed. But if you have conceptual clarity, you will not face any difficulty in performing in any type of exam."
He said he would post on his NaMo app the answers to some of the questions he could not take up during the PPC programme for paucity of time.