'Paper leak' tape: VC from my family, it will be a shame if I still fail the exam
Lucknow University students sat on a dharna in front of the VC's quarters, demanding his immediate arrest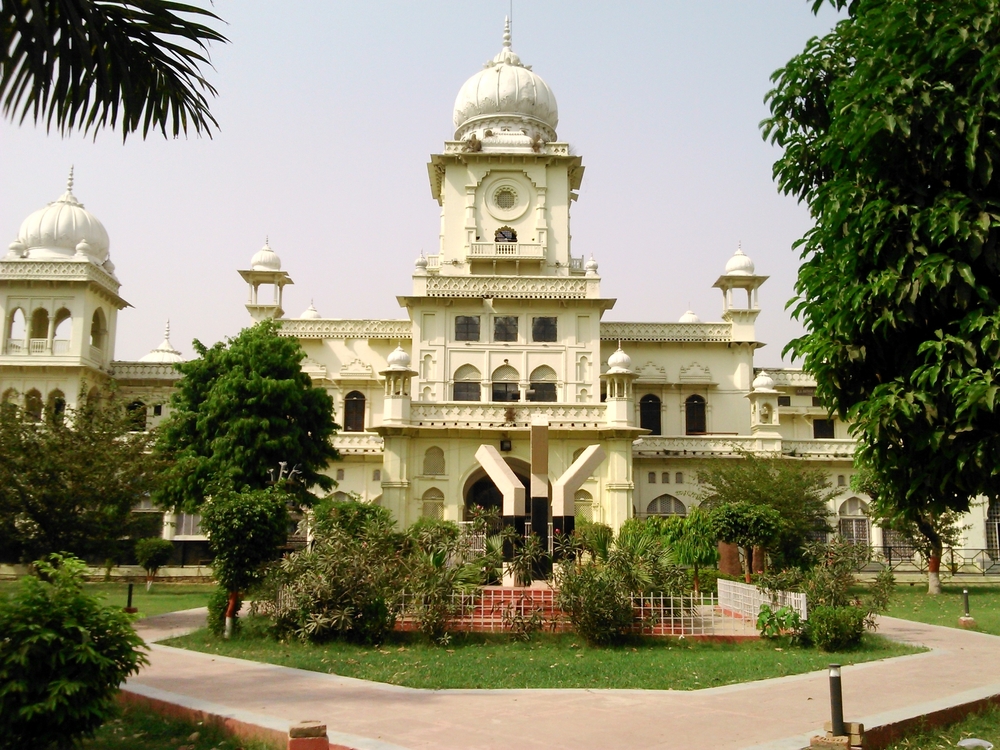 Earlier on Sunday, two other audiotapes — purported recordings of the same woman's conversations, police sources say, with two other teachers of Lucknow University (in picture) — had gone viral.
Shutterstock
---
Lucknow
|
Published 13.12.19, 09:14 PM
|
---
An audiotape in which a man who appears to hold a senior position in Lucknow University purportedly promises to leak exam questions to a woman law student has prompted a student protest and a police probe.
The students and several teachers have alleged the voices belong to vice-chancellor S.K. Shukla and a third-semester student of the integrated five-year LLB-LLM course, who is said to be a doctor's wife and the managing director of a private medical college in Barabanki district.
In the tapes, the woman says it would be a disgrace if she fails her exams despite "your being here" and despite "the VC" belonging to her family.
After the audiotape was widely circulated on Thursday evening, students locked all the campus gates and sat on a dharna in front of Shukla's quarters, demanding his immediate arrest.
Shukla on Friday evaded a direct reply when reporters asked whether the male voice on the tape was his.
"I have not talked about leaking the paper," he said. "It's a matter of investigation how and by whom this audio was made viral. I'm not involved in any paper leak."
He added: "I cancelled the LLB-LLM exams as soon as the controversy erupted. The new dates will be announced soon. I thank the state government for ordering a probe by the police's special task force."
Excerpts from the conversation, which is in Hindi:
Woman: Hello ji, sir. Good morning, sir.
Man: Good morning. Kaise ho (How are you)?
Woman: Ji, sir, theek thak hai (I'm fine).
Man: Paper theek thak ho gaya (Did you write your paper well)?
Woman: Ji, sir, ek hi hua abhi toh, ek kal hai (Only one paper is done, there's another tomorrow).
Man: Doosra kahe ka paper hai (Which paper is that, the second one)?
Woman: Kal property law ka paper hai (Tomorrow's paper is on property law).
Man: Property law mein to aap expert ho (You are an expert in property law).
Woman: Arre, sir, aisa na kahiye, likhna bahut mushkil hai. Jabardasti mat kahiye, bahut tough hai (Please don't say that, it's tough to write. Don't feel constrained to say this, it's very tough).
Man: Unhone kuchh help ki (Did he help you)?
Woman: Nahin, sir, kahan help mila (I didn't get any help).
Man: Main R.K. Singh se baat karta hun (I shall talk to R.K. Singh).
Woman: Unhone kisi Nand Kishore ka number de diya. Unka number hi nahin milta. Maine unko bataya tha ki unka number nahin milta. Woh bole baat karta hun (He gave me the number of someone called Nand Kishore. But his number is unreachable. I told him his number was unreachable. He said, 'I'll talk to him').
Man: Main baat karta hun (I shall talk to him).
Woman: Sir, unse kahiye unka number dein jinhone paper banaya hai. Woh to kisi aur ka number de diye theh. Woh keh rahe theh maine teen saal se paper nahin banaya hai. Woh keh rahe theh ye bhi padh lijiye, woh bhi padh lijiye. Aise thode hota hai, sir. Sir, kah dijiye please. VC apne ghar ke hain, agar fir bhi fail ho gai toh badnami hogi (Please ask him to give me the number of the person who set the questions. He has given me someone else's number. He said he had not set the paper for the past three years. He told me, 'Study this, study that too'. That's not how it works, sir. Please tell him. The VC belongs to my family, it would be a disgrace if I still fail the exam)."
Man: Uski chinta mat karo, uski chinta chhor do (Don't worry about that, stop worrying about it)…. Koi bhi ho, vyakti apne ghar ki cheesen dhyan rakhta hai (One takes care of things in the family).
Woman: Sir, agar main apke rehte fail ho gai toh apki bahut badnami hogi (If I fail despite your being here, it would be an ignominy for you).
Man: Kahe chinta kar rahe ho (Why are you so worried)?
Woman: Sir, mujhe bahut dar lag raha hai (I'm scared).
Man: Chinta na karo, daro nahin, main abhi baat karta hun (Don't worry, don't be afraid, I shall talk to him right away).
The paper on property law was scheduled for Wednesday after the first paper of the exam, on constitutional law, was held on Monday. A police source said the woman sat the exams at City Law College in Lucknow's Tiwariganj locality.
Deputy chief minister Dinesh Sharma said: "The higher education department has sought an explanation from the VC for the purported audiotape. Further action will be initiated soon."
Earlier on Sunday, two other audiotapes — purported recordings of the same woman's conversations, police sources say, with two other teachers of Lucknow University — had gone viral.
In both these tapes, a woman requests to be told the questions for the first paper and asks whether "the VC" had spoken to the person on the other end of the line. In each, the male voice says the VC indeed has, and asks the woman to read certain topics.
Shukla had on Tuesday suspended law professors R.K. Singh and Ashok Kumar Sonkar and the university administration registered a police case against them and an unidentified woman.
In the latest audiotape, purportedly recorded on Tuesday, the male voice says: "Main R.K. Singh se baat karta hun (I shall talk to R.K. Singh)."
On Friday, Shukla cited his action against the two professors as evidence of his prompt response to the paper leak scandal, saying: "I had already recommended a CB-CID probe into it."
A law teacher from the university told this newspaper on the condition of anonymity that the teachers were planning a protest against the VC. "He suspended the two professors without an inquiry," the teacher said.