Imran offers to release pilot today
The armed forces continue to remain on high alert and are prepared for any provocation from Pakistan after the announcement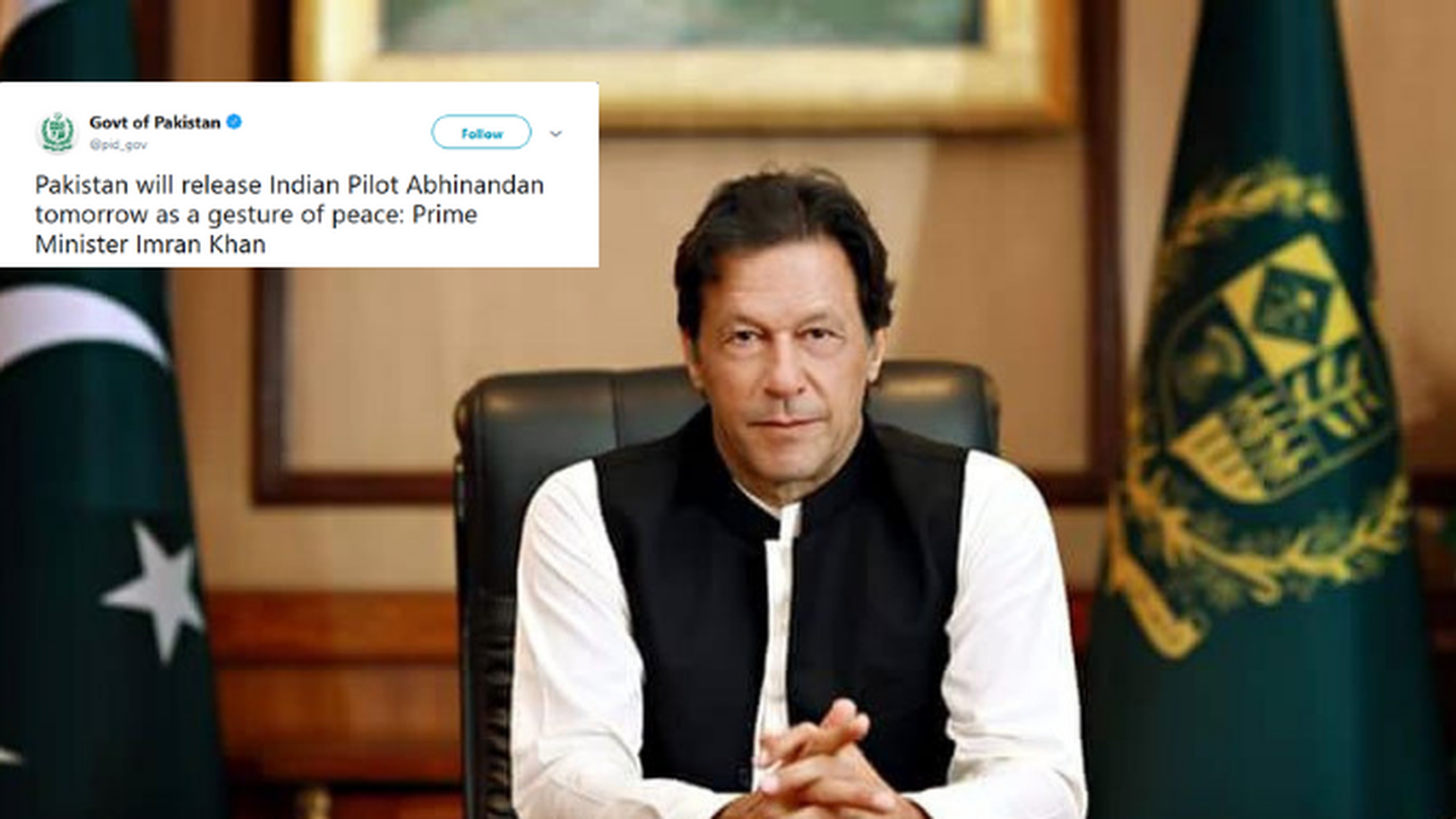 The tweet of the government of Pakistan on the pilot's release.
---
New Delhi
|
Published 28.02.19, 09:01 PM
|
---
Pakistan will return Wing Commander Abhinandan Varthaman on Friday, Prime Minister Imran Khan announced on Thursday.
In spite of the gravity of the matter, some officials in South Block did equate the cricketer-turned-politician's offer with a "reverse-swing". It left the Narendra Modi government seemingly tongue-tied despite an early hint of likely de-escalation coming from US President Donald Trump in the morning itself.
The armed forces continue to remain on high alert and prepared for any provocation from Pakistan after the announcement.
But government sources said — however much the Modi government may want to escalate tensions for political reasons — that option had narrowed down in the face of the Pakistani "peace gesture".
There was no official word from the government after Khan made the announcement at a joint session of Pakistan's parliament — called in the wake of India's air strikes on Balakot on Tuesday — amid indications that the US and the Saudis were involved in working behind the scenes in what appeared to be a repeat of the Kargil War resolution when the Bill Clinton administration had stepped in to end hostilities.
Prime Minister Modi, who addressed a science awards event soon after Khan's announcement, made no direct reference to the development. But he left none in the audience guessing when he said: "Right now, one pilot project has been completed."
As the audience burst into applause, the Prime Minister added: "Now it has to be turned into a reality. Earlier was a practice round." Modi then appealed for a standing ovation for the prizewinners, for the record confining himself to the science event.
At least one clue emerged that suggested the Modi government was not prepared for such a rapid response from Khan who has been trying to seek the high moral ground for the past few days.
A joint media conference by senior officers of the three Indian defence services at 5pm — the first after the Indian air strikes and Pakistan's response — was hurriedly rescheduled after Khan's announcement.
Later, at 7pm, representatives of the three services told the media that they would remain on high alert as Pakistan had escalated tensions by targeting military installations.
The BJP also held its horses and will apparently continue to do so till the return of the Indian Air Force pilot who was taken prisoner on Wednesday.
Although two ministers — Arun Jaitley and Ravi Shankar Prasad — briefed the media on a cabinet meeting late in the night, they did not speak about the development, apparently borrowing a leaf from the military's playbook in dealing with such situations.
The armed forces maintained that this is what they are trained for: accepting the news of the capture on Wednesday stoically and the impending return without any euphoria.
The Sangh ecosystem that was baying for blood lay low initially but began billing it as a "big diplomatic win for PM Modi" with Pakistan "kneeling" before India. "The spin of the bhakts is worthy of the fierce delivery by Imran," quipped a cricket fan.
Khan's olive branch came after a night of panic in diplomatic quarters in both capitals. Pakistan had apparently dialled foreign missions in Islamabad, claiming that India was trying to launch missile strikes, the Indian Navy was moving towards Karachi and troops were being amassed along the border.
These mission heads in Islamabad contacted their counterparts in New Delhi, who reached out to the external affairs ministry in a state of alarm, only to be told that there was no such build-up.
Prime Minister Khan, too, made the claim in the Pakistan parliament. "There was threat of a missile attack from India on Wednesday night, which was later defused," he said without elaborating.
Prior to Khan's announcement of the peace gesture, government sources had said that there was no question of allowing Pakistan to use the wing commander as a bargaining chip. India said it would not seek consular access. There is no question of a deal, he has to be returned immediately unharmed and unhurt, sources said, clearly upset with the narrative that had gained ground since Pakistan took him captive.
India also sought to play down Trump's statement that the US had "reasonably attractive news from Pakistan and India", adding that Washington was involved in getting the two countries to back off from the brink.
New Delhi, instead, preferred to pat itself on the back for the fact that no country —apart from members of the Jammu & Kashmir Contact Group within the Organisation of Islamic Cooperation — had condemned India's pre-emptive strike within Pakistan.
All countries have advised restraint but have also asked Pakistan to take action against terror camps, Indian officials said, underscoring that New Delhi has been successful in communicating to the world that India will no longer tolerate attacks on its soil.
The government is evidently keen on keeping the narrative on counter-terrorism and the pre-emptive strike in Balakot for their political spin-off. It urged the media not to whip up hysteria over the Indian pilot and limit India's options in a repeat of what happened after the IC-814 hijack.
Politically, the government wants to keep public opinion focused on the 40 security personnel killed in Pulwama and the strike inside Pakistan.
As for Khan's efforts to have a phone conversation with Modi, sources said that Pakistan should first show immediate, credible and verifiable action against terrorist camps on its soil for India to consider a conversation at that level.
India's position — which has been articulated to world capitals — is that the ball is in Pakistan's court as information had been shared with Islamabad on terrorist camps.
Irrespective of the pilot's return, New Delhi believes it is time for Khan to walk the talk since he has thrice offered to probe evidence provided to Pakistan on terrorists based in his country. In his three addresses since Pulwama, Khan had said he was ready to probe any evidence and also discuss terrorism. India provided a detailed dossier to Pakistan on Wednesday when it issued a demarche to Islamabad's acting high commissioner in New Delhi, Syed Haider Shah.