Less than a quarter of hospitalised Covid-19 patients during the current omicron-driven wave have needed oxygen compared with nearly two-thirds to three-fourths during earlier waves, doctors from a network of 12 private hospitals across India said on Saturday.
Their analysis provides the first quantitative and systematic comparisons of the medical-oxygen requirement amid mounting evidence from hospitals and animal experiments that omicron infections and surges are less lethal than those caused by earlier coronavirus variants.
Doctors from the Max Healthcare hospital network who analysed records of 1,378 Covid-19 patients hospitalised since December 1, 2021, have found that 23 per cent required extra oxygen, compared with 74 per cent during the 2021 wave and 63 per cent during the 2020 wave. (See chart)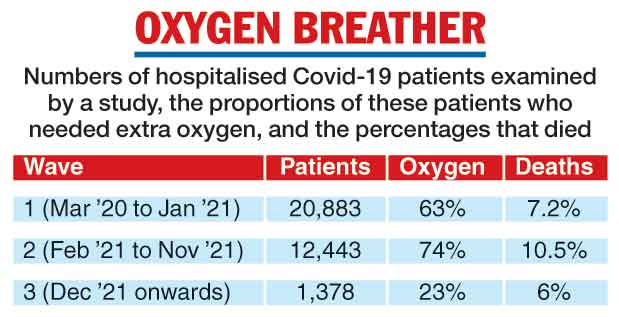 Dozens of Covid-19 patients with severe disease had died in Delhi and other cities after their hospitals ran out of oxygen close to the second wave's peak in May last year.
"Omicron by itself appears less virulent with less lung involvement, and vaccination too would be protecting people," said Sandeep Budhiraja, an internal medicine specialist and director at one of the network's hospitals in Delhi, who led the analysis.
Nationwide hospitalisation data tracked by the Union health ministry had indicated earlier this month that the demand for hospital beds was only 5 per cent, compared with 20 per cent earlier. But the Max study, which is yet to be peer-reviewed, is the first to compare oxygen need across the three waves.
"We also see clear differences in the mortality patterns," Budhiraja told The Telegraph. "During the second wave, significant proportions of the dead were young people with no co-morbidities, but now almost all the severe cases and deaths are among patients with multiple co-morbidities."
India's daily new infections have surged 20-fold over the past three weeks, the seven-day average of daily cases rising from 14,000 on January 1 to 293,000 on January 21.
The seven-day average of daily deaths too has increased from 271 on January 1 to 447 on January 22, but that number is significantly lower than the average of over 3,000 during a comparable phase of the second wave.
Multiple lab experiments on mice and hamsters have suggested that omicron replication is significantly reduced in both the upper and lower respiratory tracts compared with the delta variant, which had fuelled India's second wave while simultaneously spreading worldwide.
In one set of experiments, infectious disease specialist Michael Diamond and his colleagues at Washington University, St Louis, found that the viral burden in the nose and lungs of mice infected with omicron was one-tenth to one-hundredth that in mice infected with another variant, beta.
The experiments suggest that omicron causes weakened infection in mice and hamsters, designed to be model animals for Covid-19, a finding "consistent with preliminary data in humans", the US researchers wrote in a paper on Friday in the journal Nature.
However, a study at the National Institute of Virology, Pune, has found that omicron can produce moderate to severe lung disease in hamsters. The NIV researchers said they observed pneumonia and viral particles in both the upper and lower respiratory tracts in omicron-infected hamsters.
The NIV researchers say the implications of their findings on human infections remain unclear. The NIV study has not been peer-reviewed yet but has been posted on an online archive for research papers.