Citizens reject Centre's 'Muslim Women's Rights Day'
The central government declared August 1 to be observed so to mark the second anniversary of the enactment of the triple talaq law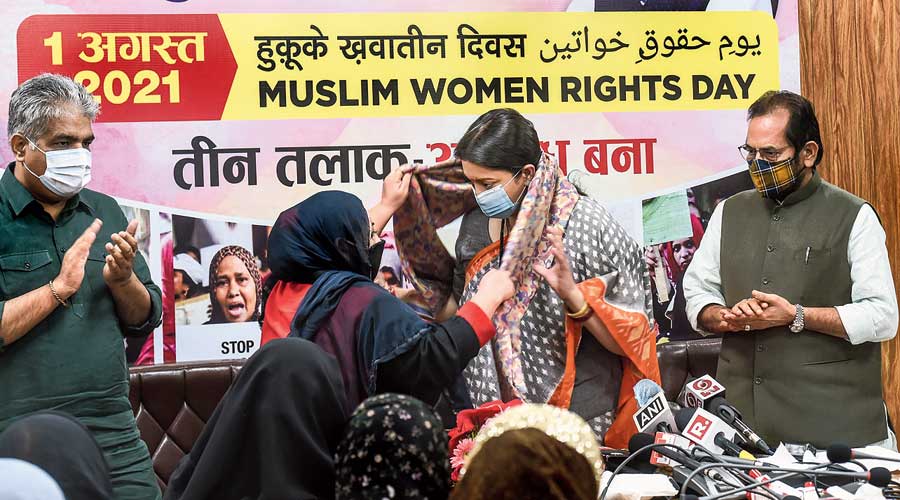 Union ministers Smriti Irani, Bhupinder Yadav (left) and Mukhtar Abbas Naqvi (right) in New Delhi during the Muslim Women's Rights Day on Sunday.
PTI
---
New Delhi
|
Published 03.08.21, 02:15 AM
|
---
Over 600 citizens from all walks of life on Monday rejected the Centre's declaration of August 1 as "Muslim Women's Rights Day" to mark the second anniversary of the enactment of the  triple talaq law.
They billed it cynical optics "by a government bent on reducing all Muslims to second-class citizens".
Union minority affairs minister Mukhtar Abbas Naqvi had announced on Saturday that August 1 would be observed as "Muslim Women's Rights Day" and the event on Sunday saw several senior ministers of the Narendra Modi government, including Smriti Irani and Bhupinder Yadav, in attendance.
In a statement directly addressed to Naqvi, the citizens questioning the move said: "We reject the government's cynical optics, we reject 'your' Muslim Women's Rights Day. And we say, respectfully, 'How dare you!'"
The statement is signed by Muslim and non-Muslim women, men and transpersons across castes and regions.
The signatories include former Planning Commission member Syeda Hameed, transparency activist Aruna Roy, Annie Raja of the National Federation of Indian Women, AIDWA vice-president Subhashini Ali, Kavita Srivastava of the PUCL, Nivedita Menon and Vikas Rawal of JNU, sociologist Nandini Sundar and theatre artist Maya Krishna Rao.
The statement seeks to highlight the Modi government's forked-tongue policy on Muslims, listing the various efforts that have been made under its watch to marginalise the country's largest minority group.
Referring to the Modi government's decision to enact the Citizenship Amendment Act and the National Register of Citizens, along with its silence on atrocities on the community, they said: "Such a government has no moral right to declare any national day in the name of Muslim women."
Explaining their reason for rejecting the move, the statement said: "This government that has worked to ceaselessly one by one, decimate the constitutional rights of Muslims in India, now has the temerity to declare Muslim Women's Rights Day on August 1. This, to celebrate its passage of its purportedly Anti-Triple Talaq law (Muslim Women (Protection of Rights on Marriage) Act, 2019), that claimed to protect Muslim women's rights, but in reality, had a more sinister purpose -- to show Muslim men their place in a new India. To tell them that they can be criminalised even in civil matters. The Triple Talaq law was an abomination. It was then, and still is, nothing but a charade."
The statement echoes the position many of the signatories had taken when the government tried to navigate the triple talaq bill through Parliament during its first term when it did not have adequate numbers in the Rajya Sabha. It finally cleared Parliament in 2019 soon after the BJP returned to power with a larger mandate.
The statement recalls what many of the signatories had said back then. "You cannot pretend to save Muslim women while seeking to bring the Muslim community to its knees. The sentiment is as true today as it was then."
This government, they underscored, has diluted Muslims' rights to citizenship by enacting the discriminatory CAA.
"The very Muslim women, in whose name you have declared August 1 as a day of 'their rights', invited their government, even begged their government, to talk to them when they were out on the streets, protesting the CAA-NPR-NRC, in a desperate bid to save their future, their children's future, their family's future, in their own country. You responded to those Muslim women with the utter contempt of silence. Without even the pretence of democratic dialogue."