VP nominee names 3 flaws in Mamata's call of no-vote
Opposition Vice President candidate appeals to Mamata to allow TMC MPs to vote
Margaret Alva 'appalled' by Bengal CM's decision to stay away from election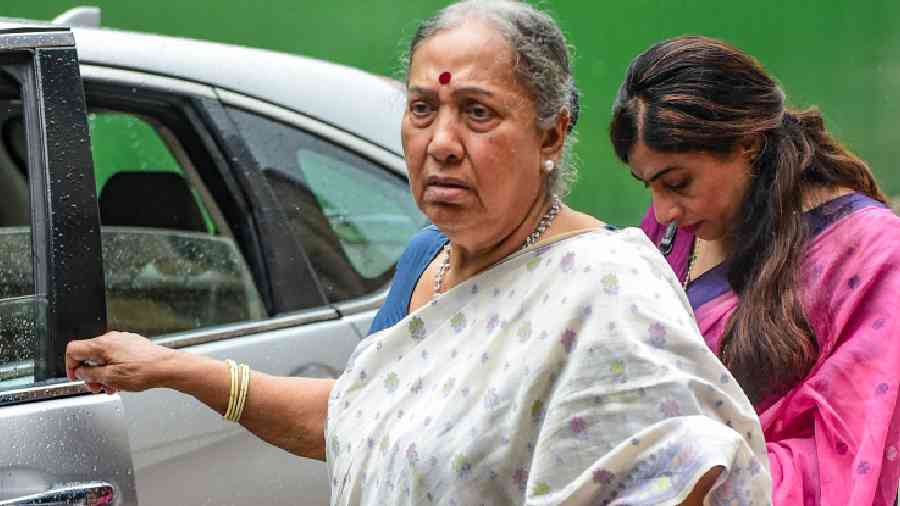 ---
New Delhi
|
Published 30.07.22, 02:30 AM
|
---
Margaret Alva, the joint Opposition candidate for Vice-President, said on Friday that she was "appalled" by Bengal chief minister Mamata Banerjee's decision to stay away from the election and appealed to her to allow Trinamul Congress MPs to vote in line with their "conscience".
Alva told The Telegraph in an interview that Mamata's decision was flawed on three counts.
"One, she knows better than anybody else that Jagdeep Dhankhar is not a deserving candidate. Two, her decision is not in tune with her own objective of larger Opposition unity. Three, it defies even personal logic as we have been the best of friends," Alva said, exuding confidence that Mamata would eventually change her decision.
Alva said: "In fact, I am appalled. There is no whip in this election. But this (Mamata's decision) is like a whip not to vote. Let the MPs decide. They are all mature. They are loyal to you. Let them decide as per their conscience. I will appeal to Mamata, as a woman to another woman, support the candidate who has always stood by you. At this critical juncture, don't allow minor issues to shape your decision."
Highlighting the unpleasant experience the Bengal government has had with Dhankhar, Alva said: "Mamata is the tallest and the strongest as far as Opposition unity is concerned. She has been reaching out to everybody. I think this is the time to show our joint strength. The Trinamul Congress is a very important segment in the electoral college. And more than anything else, I must say, they have tasted firsthand the functioning of Mr Dhankhar. If there is any state which has suffered at his hands, it is Bengal."
Alva added: "From universities to streets, there was always conflict. Conflict everywhere. The Raj Bhavan became the centre of conspiracies against the Mamata government. The attempt was to destabilise her. This is not the mandate of a governor. Today, to be neutral when such a man is sought to be put in the Chair in the Rajya Sabha is unbelievable. Mamata should reconsider her decision after examining the whole gamut of issues involved."
Recalling her long and amicable association with the Trinamul leader, Alva said: "You know, Mamata and I have been the best of friends. Whether she was fighting the CPM or when she was fighting the governor, we all stood by her. I have tweeted about it (tiff with the governor). I have always supported her. From the Youth Congress days, she has grown up in the Congress along with all of us. We have tremendous affection for each other. Every time I have been to Calcutta, she has been very warm. We have the closest of friendships."
Responding to questions about the reasons for her stance, Alva said: "There might be some ego hassles; who was consulted, who wasn't consulted. But I know Sonia Gandhi has spoken to her twice, Sharad Pawar has spoken. And more than anything else, Mamata has been the symbol of Opposition unity. She has been in the lead talking to leaders, fighting to bring parties together, if I may say so. She has been challenging the BJP, and all the time working to consolidate Opposition unity."