Opposition push for fair polls
The resolutions flagged the threat of money power and muscle power to the integrity of India's elections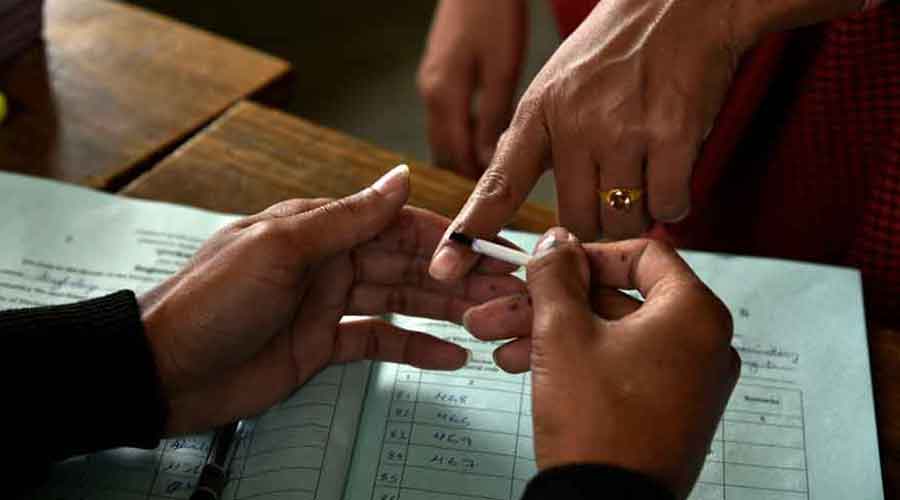 Representational image.
File photo
---
New Delhi
|
Published 14.08.22, 01:03 AM
|
---
 Leaders of major Opposition parties on Saturday endorsed several resolutions by civil society groups towards a better electoral process, including a more verifiable voting mechanism, scrapping of the electoral bond scheme and curbs on fake news and hate.
The development came at a conference here, attended by key functionaries of the Congress, NCP, CPI, CPM, Bahujan Samaj Party, Samajwadi Party, Rashtriya Janata Dal, Rashtriya Lok Dal, Telangana Rashtra Samithi, Swaraj India and the Jamaat-e-Islami-Hind-backed Welfare Party of India.
The event was organised by the Constitutional Conduct Group of retired public servants, Jan Sarokar and People First.The resolutions to "Combat (Electronic Voting) Machine, Money and Media Power", passed unanimously, said: "The voting process should be redesigned to be software and hardware independent in order to be verifiable or auditable…. A voter should be able to get the VVPAT slip and cast it in a chip-free ballot box for the vote to be valid and counted…. The VVPAT slips must be printed in such form and manner to be preserved for a minimum of 5 years. 
"There is need to move away from certification of voting equipment and processes and demonstrate that the outcome of an election is correct irrespective of machines and trust on custody chains of EVMs and VVPATs. This can be done by adopting well-established strategies for risk-limiting audits (RLA) or by using a provably end-to-end verifiable cryptographic protocol, or both. The ECI (Election Commission of India) should explore the possibilities."
The resolutions added: "The government, using (the) money bill route to bypass Rajya Sabha, introduced electoral bonds that (have) increased opaqueness and consolidated the role of big money in electoral politics. The Electoral Bonds Scheme in its current form must be immediately discontinued…. "Despite guidelines and codes, ECI has not seem(ed) to be taking cognisance of the many violations (on online and offline media) in the past elections. ECI failed to curb fake news online before and during these elections."The resolutions flagged the threat of money power and muscle power to the integrity of India's elections, PTI added.
"The fast-rising economic oligarchy in the country threatening India as a welfare state is the direct fallout of this extreme criminal and money power in elections which is the fountainhead of all corruption in the country," they said.The politicians who endorsed the resolutions included former Madhya Pradesh chief minister Digvijaya Singh of the Congress; former Maharashtra minister Jitendra Awhad of the NCP; the CPI and CPM general secretaries, D. Raja and Sitaram Yechury; BSP parliamentarian Danish Ali; Samajwadi leader Ghanshyam Tiwari; RJD national spokesperson Nawal Kishore; RLD national general secretary Mairaj-Uddin Ahmad; TRS parliamentarian K.R. Suresh Reddy; Swaraj India national executive member Yogendra Yadav; and WPI national president S.Q.R. Ilyas.The civil society members who drafted the resolutions or endorsed them included retired ambassador Deb Mukharji, former IAS officers M.G. Devasahayam and Aruna Roy (president of the CPI-backed National Federation of Indian Women), IIT Delhi professor Subhasis Banerjee, National Campaign for People's Right to Information co-convener Anjali Bhardwaj, and senior journalist Pamela Philipose.