Khattar hurls charge, awaits 'some solid evidence'
Farmers from BJP-ruled states join hands with Punjab comrades to push back against the ruling party's attempts to discredit the agitation against the Modi government's farm laws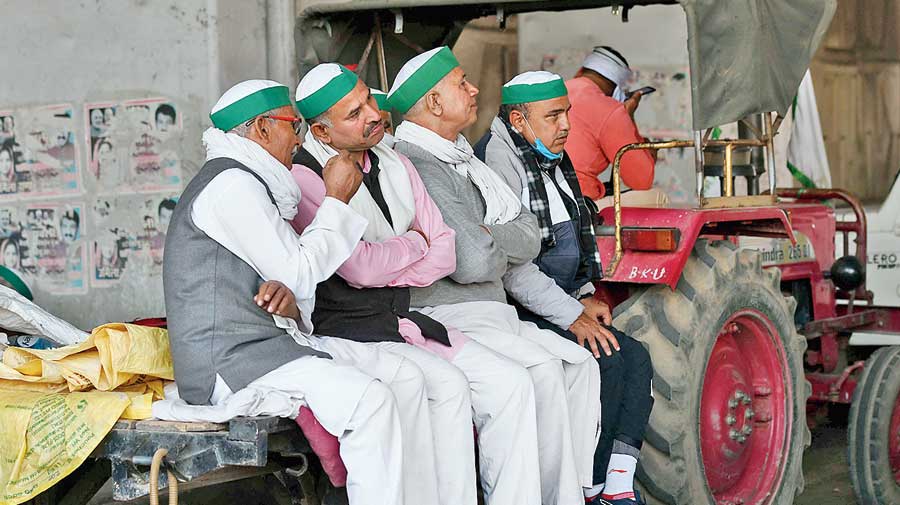 ---
---
Farmers from BJP-ruled Haryana, Uttar Pradesh and Madhya Pradesh joined their comrades from Punjab at Delhi's borders on Saturday, pushing back against the ruling party's attempts to discredit the agitation against the Narendra Modi government's farm laws by labelling it variously as "Khalistani" and "Congress-sponsored".
"Haryana chief minister M.L. Khattar should make up his mind first. One moment he says Khalistani elements are involved. The next moment he says Amarinder Singh is behind it. Is Amarinder a Khalistani?" Punjab chief minister Amarinder Singh asked.
Singh added: "What information does he have that our intelligence doesn't have?… Instead of making funny statements on TV, why not ask the central intelligence agency to state the facts?"
Khattar, whose claim that no farmers from his state were part of the agitation was answered by protesters who displayed Aadhaar cards before television cameras to show they were residents of Haryana, had declared on Friday evening that "Khalistani" separatists were part of the protests.
Asked for specifics, the senior BJP leader appeared to admit he had made the dangerous allegation without verified proof, saying: "We have reports on some unwanted elements in the crowd. We will disclose the details once we get some solid evidence."
He referred to a video clip in which an angry farmer is heard saying that if Indira Gandhi could be targeted, who was Modi. The same clip, which seemed to represent the personal rant of an anguished individual, was cited by the BJP's IT cell chief, Amit Malviya, too.
While police in Haryana and Delhi, which both report to BJP governments, have moved heaven and earth to stop the farmers from marching to Delhi — digging up highways, firing tear gas shells, putting up barbed wire fences, blocking roads with trucks and firing water cannons at the protesters, a large number of whom are elderly — the party's leaders have attempted to malign the farmers by linking them with "Khalistanis".
Malviya tweeted on Friday: "What kind of farmer agitation is this? Is Captain Amarinder Singh playing with fire? When will Congress realise that politics of aligning with radical elements has reached its sell-by date?"
All television channels perceived to be close to the government have run debates in the past two days on alleged Khalistani involvement, again with no proof.
The BJP's official Twitter handle doesn't mention the "Khalistani" angle but accuses political parties of misleading and instigating the farmers.
On Saturday, hundreds of farmers from BJP-ruled Uttar Pradesh arrived at the state's Ghazipur border with Delhi to join the agitation for the repeal of the farm laws, forced through Parliament by the Modi government.
Farmers came from Madhya Pradesh too, another BJP-ruled state, besides Congress-ruled Rajasthan. In Haryana, BJP ally JJP gave the lie to Khattar's statement that only Punjab's farmers were protesting when it issued a statement saying: "During the past two days, farmers, especially those from Haryana and Punjab, are marching to Delhi in support of their demands. Thousands of farmers are on roads to keep their views before the government…."
The party urged the Centre to hold an early meeting with the farmers.
The Congress, which has opposed the farm laws from the start and fully supports the protests, is moving cautiously to deny the BJP a chance to turn the government-versus-farmer issue into a Congress-BJP battle.
A senior Congress leader told The Telegraph: "It is unfortunate that concerns about the future of farming, particularly the system of minimum support price, are being maligned in this manner. But we don't want to join issue with the BJP on such baseless allegations as they are looking for diversions and are itching to discredit the movement."
Rahul Gandhi too has been restrained. Referring to the FIRs lodged against farmers by the Haryana government, he tweeted on Saturday: "To raise voice against injustice is not crime but duty. The fake FIRs filed by Modi government can't deter the farmers. This battle will continue till the black laws are withdrawn. We believe in 'Jai Kisan' and will continue doing so."
He described as "dangerous" a photograph showing a BSF jawan hitting an old farmer.