One more one from Amit Shah: Now it's identity card
The one-card plan adds to the BJP wish-list of one poll and one unifying language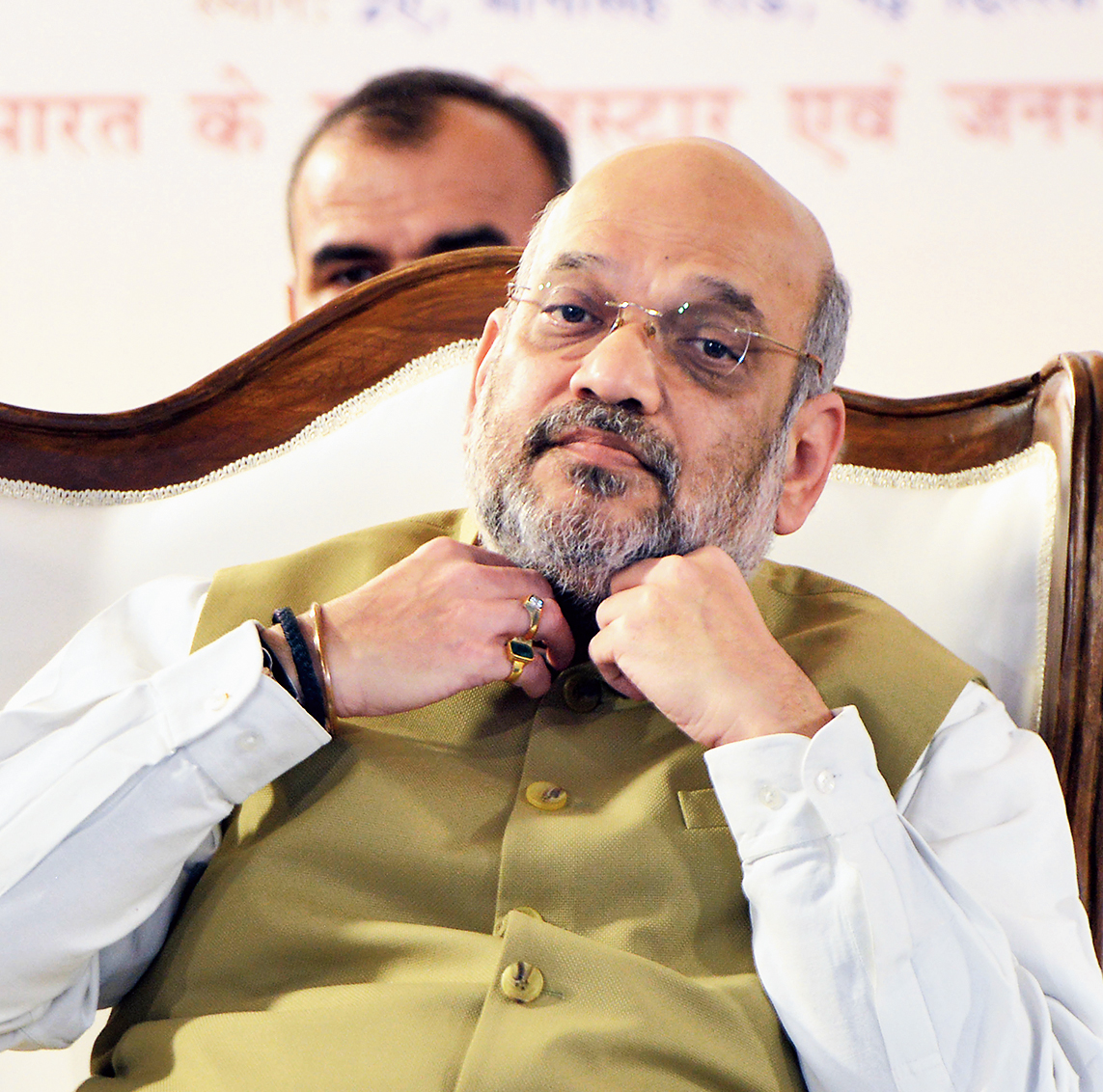 Amit Shah in Delhi.
Picture by Prem Singh
---
New Delhi
|
Published 23.09.19, 09:11 PM
|
---
Union home minister Amit Shah on Monday suggested a single, multipurpose identity card for citizens covering "all utilities" from Aadhaar to banking and voting.
"We can have just one card for all utilities like Aadhaar, passport, bank account, driving licence, voter card," Shah said at an event of the Registrar General of India, which conducts the 10-year censuses.
Ministry sources, when asked later, could not explain how the multipurpose card would differ from Aadhaar and what relation it would have to one's bank account, driving licence or passport.
The one-card plan adds to the BJP wish-list of one poll and one unifying language.
A five-judge constitution bench had last year upheld the linking of welfare schemes, income-tax returns and PAN to Aadhaar but ruled the card could not be made mandatory for bank accounts, mobile connections or school admissions.
Census app
Shah said the 2021 census would be carried out digitally — a first — with the data collected through a mobile app.
"A mobile app will be used in Census 2021. It will be a transformation from a paper to a digital census," he said, adding that the census would be a "jan bhagidari" (people's partnership) exercise.
Ministry officials could not explain what role the mobile app would play in the census exercise, carried out door to door by government employees.
Pop register
Shah said the early phase of the census survey would also collect data to update the National Population Register (NPR), a list of the usual residents of the country, in 2020. A similar exercise had been carried out in 2010 as part of the 2011 census and repeated as a door-to-door survey in 2015.
A "usual resident" is defined as an individual who has lived in a particular area for six months or longer, or a person who intends to live in a particular area for the next six months or longer.
Under the NPR, a Resident Identity Card will be issued to individuals aged over 18. This will be a chip-embedded smart card containing the demographic and biometric attributes of the individual.
Some ministry officials claimed the NPR could later become the basis for updating the National Register of Citizens (NRC) across India, following its controversial update exercise in Assam. Others dismissed the idea saying the NPR had nothing to do with the NRC.
The NRC is a list not of usual residents but of citizens and requires people to furnish a variety of official documents to prove they or their direct ancestors had been living in India prior to the cut-off date of March 25, 1971.
Shah had last week said in Jharkhand that the NRC update would be extended to the rest of India and that those found not to be genuine citizens would have to leave the country.
Shah said the census would be carried out in 16 languages, and that Rs 12,000 crore would be spent on the census and the NPR update.
The census will have its reference date as March 1, 2021, but for snowbound Jammu and Kashmir, Himachal Pradesh and Uttarakhand the date will be October 1, 2020, he said.
Shah said the census data would help plan development initiatives and welfare schemes. He appealed to officials to carry out the exercise sincerely as this would be their chance to accumulate "punya" (good deeds).