On his 99th birth anniversary, Narasimha Rao is reborn
Led by Telangana Rashtra Samithi, BJP joins chorus in praise of reformist 'son of the soil'; Chidambaram eulogy makes up for Congress lip-service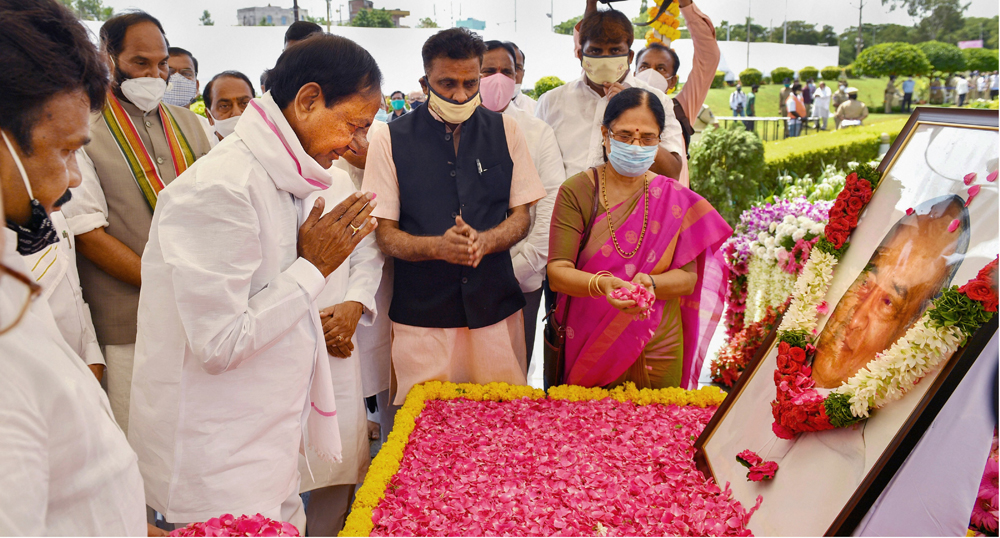 Telangana chief minister K Chandrasekhar Rao pays tribute to former Prime Minister PV Narasimha Rao on his birth anniversary in Hyderabad on Sunday.
(PTI photo)
---
New Delhi
|
Published 28.06.20, 11:04 PM
|
---
One of India's greatest rulers, the Emperor Ashoka, was forgotten for centuries and had to be rescued from obscurity by British Orientalist James Prinsep. Similarly, P.V. Narasimha Rao, who laid the foundations of India's boom economy, was suddenly turned into a non-person even though he'd been prime minister for five eventful years.
Now, that's suddenly changed. Rao has had a rebirth on his 99th birth anniversary. Political parties of various hues, led by the Telangana Rashtra Samithi (TRS), have been vying to shower him with plaudits. Ignoring the fact that Rao was a lifelong Congressman, the TRS claimed him as a "son of the soil" and placed full-page newspaper ads in his honour on Sunday and earmarked Rs 10 crore for year-long centenary celebrations marking his birth.
The BJP has joined in the chorus of adulation for India's most low-key prime minister whose government ushered in landmark economic reforms. Vice President M. Venkaiah Naidu called for Rao to be awarded the Bharat Ratna while Prime Minister Narendra Modi described him as a great scholar and, during his regular monthly Mann ki Baat talk, added that, "Shri Narasimha Rao ji belonged to a humble background. He fought injustice from a young age."
It's been only Rao's own party, the Congress, which has been holding back. The Congress, which abandoned Rao and turned him into India's "forgotten prime minister" once he was out of power, was forced to react to the eulogies from the TRS and the BJP for the politician who's acknowledged as the architect of economic reforms that set India's economy on a new trajectory.
In a rear-guard bid to reclaim their own leader and take the wind out of the Telangana chief minister Chandrasekhar Rao's sails, the Congress tweeted formulaically: "We honour P. V. Narasimha Rao, a visionary leader who oversaw major economic transformations of the Indian economy." Many Congress leaders offered only tepid praise for the former prime minister.
Rahul Gandhi, whose family have been accused of airbrushing Rao from Congress history, posted a headshot of the leader on Facebook, and taciturnly called it: "My tribute to former Congress President & Prime Minister, P. V. Narasimha Rao Ji on his birth anniversary." There was nothing from party president Sonia Gandhi who is said to have felt that Rao tried to relegate her to the background.
Two ex-Congress finance ministers, however, did come out with strong praise. Former prime minister Manmohan Singh, who had served in Rao's cabinet, said, "under his leadership, we took momentous decisions both with respect to our economic policies and with respect to our foreign policy." Singh's vocal support was especially surprising because last December he had blamed Rao for not acting quickly to stop the 1984 anti-Sikh riots. Rao was the Union home minister then.
Chidambaram hailed Rao as "the person who boldly pulled India out of an outdated mindset and put the country firmly on the path of becoming a prosperous and self-reliant nation." Chidambaram suggested it would be appropriate if a university could be named after the former prime minister who was a scholar and fluent in 17 languages. Chidambaram added enigmatically: "He had his friends, adversaries and critics, but no one can doubt his historic contribution to India. The governments of India, Telangana and Andhra Pradesh should celebrate his centenary year in a befitting manner."
Today's praise for Rao from party leaders, even though cautious and carefully couched, could reflect the fact that many in the Congress are unhappy about the party's drift.
Meanwhile, the Congress Party's Jairam Ramesh who's written a book, To the Brink and Back: India's 1991 Story, says, Rao's "single greatest contribution was to make Dr Manmohan Singh finance minister. That single step gave international respectability to liberalisation. Ramesh adds: "Economic reforms are his greatest legacy. He started off by being a prisoner of compulsion but that soon gave way to him being a votary out of conviction."
After Rao's death in 2004, the Congress party did not allow his body to be kept in state in the party headquarters in Delhi. The party's excuse then was reportedly that the body was so heavy it could not be lifted off the gun carriage. In Hyderabad, too, he was given a low-key send-off with few Congress party leaders to be seen and it is speculated that this was because he was not on good terms with another Congress chief minister K. Vijaya Bhaskar Reddy.
Rao's time as prime minister is most famous for liberalising the economy and setting it on a high-growth path. On the negative side, he was blamed for not stopping the demolition of the Babri Masjid. He has been accused of being sympathetic to the RSS.
When asked if he had shifted from being a socialist when he embarked on market-friendly reforms, Rao gave an interviewer an elliptical reply: "If you understand that where you are standing is itself in motion, turning becomes easier." He added firmly: "You cannot make U-turns in this country."
Whatever its political motivations, the TRS is determined to claim Telangana's son of the soil as its own. In its advertisements in several national dailies, Rao was described as a "Beloved son of Telangana," and also the "Architect of new economic policies and a pioneer who laid a path to the country's golden future."
At a meeting on Sunday to honour Rao, the Telangana chief minister said Rao was a "360 degree personality". He added that Rao did not have powerful financial and caste forces backing his climb to the top.
During a long political career that began while he was at university, Rao had been chief minister of Andhra Pradesh where he became unpopular with the state's powerful landed gentry for his sweeping land reforms. Later, he was a much-lauded foreign minister and also home minister, where he was criticised for not taking quick action to stop the 1984 anti-Sikh riots immediately after Indira Gandhi's assassination. He had had a heart bypass not long before he became prime minister. Many of his rivals thought this would rule him out for the top job.
Rao's grandson N. V. Subash joined the BJP four years ago and last year, on June 28, lashed out at the Congress because it had ignored the birth anniversary and said, "I demand both Rahul Gandhi and Sonia Gandhi should come to Hyderabad and pay their tributes to him." That still may be a while coming.