Omicron variant behind increase in cases? Clarity soon
Scientists say answer is expected from Covid-19 positive samples picked up after April 15 from the National Capital Region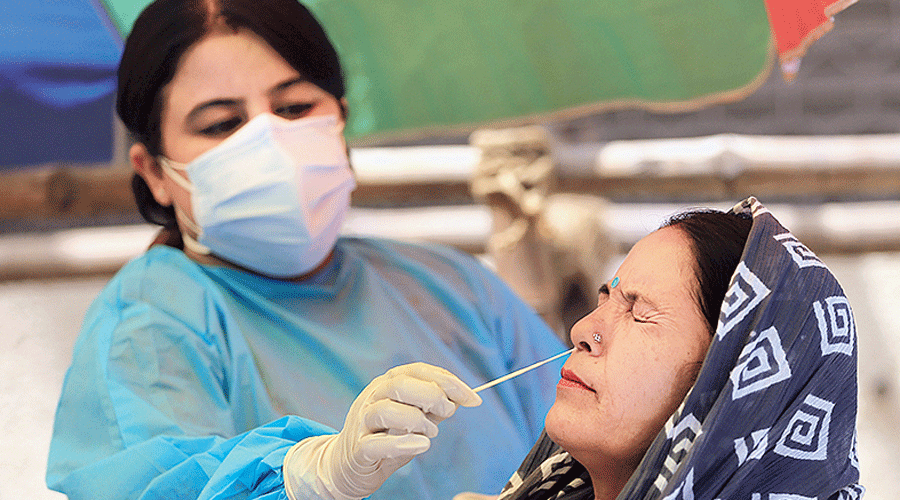 A healthcare worker collects a swab sample of a woman in Jammu.
PTI Photo
---
New Delhi
|
Published 25.04.22, 03:25 AM
|
---
A coronavirus genome sequencing network expects clarity "within the next three days" on whether a variant named BA.2.12.1 is driving the current steep rise in Covid-19 infections in Delhi and neighbouring states, scientists said on Sunday.
The scientists said the answer was expected from several hundred Covid-19 positive samples picked up after April 15 from the National Capital Region and currently undergoing genome sequencing in labs with the Indian National SARS-CoV-2 Genome Sequencing Consortium.
Among seven states with 200 or more active Covid-19 patients and growing epidemics, Delhi, Haryana and Uttar Pradesh have experienced the steepest rise in new infections over the past week. In Delhi, for instance, the seven-day average of daily new infections has increased over three-fold — from 233 on April 15 to 823 on April 22.
Amid this surge, a senior INSACOG scientist said the ongoing sequencing efforts had detected in a few samples in Delhi a sub-lineage of the omicron variant named BA.2.12.1 that has been linked to increases in cases in the US.
Early signals from the US suggest that BA.2.12.1 has the capacity to spread fast. The US Centers for Disease Control reported last week that BA.2.12.1 made up about 19 per cent of sequences sampled between April 10 and 16, although BA.2 remains dominant accounting for 74 per cent.
But there is currently no evidence to suggest that BA.2.12.1 causes more severe disease.
"The current sequencing runs will help determine whether BA.2.12.1 is driving the surge in the national capital," the scientist said. "Around 500 samples are being sequenced — we should know within three days, perhaps by Wednesday or Thursday, whether BA.2.12.1 has a role."
"If the variant is indeed causing the observed rise, BA.2.12.1 should account for 15 to 20 per cent of the sequences," the scientist said. "If we find it in very low proportions, then we would know it does not explain the surge."
The Union health ministry has repeatedly urged district health authorities across the country to look out for clusters of infections and any changes in the hospitalisation rates among Covid-19 patients.
An analysis by Sitabhra Sinha and his colleagues at the Institute of Mathematical Sciences, Chennai, has shown that Delhi over the past week has had the highest R value — a measure of the growth of the epidemic — of 2.24, implying that 100 infected persons will infect 224 additional persons. Uttar Pradesh's R value has been 2.05 and Haryana's 1.79 over the past week.
"Even if it turns out that BA.2.12.1 is contributing to the rise in cases, we cannot predict what impact it might have on the disease itself," said an INSACOG scientist. BA.2.12.1 belongs to the omicron family tree and studies worldwide have shown that omicron causes less severe disease.
Health experts and officials believe the country's high vaccination coverage and immune responses acquired through natural infections over the past two years had helped blunt the impact of India's third wave driven by the omicron variant in January this year.