Old clip used to claim attack on pro-CAA rally
Many regular social media users in Kerala, including BJP supporters, would know that it's an old video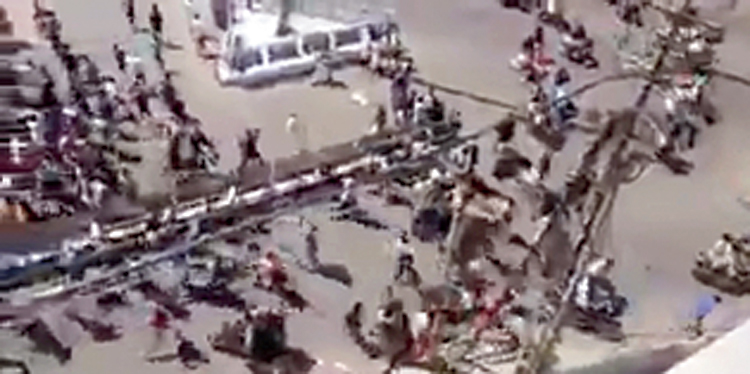 ---
---
BJP supporters have been circulating a year-old video from the Sabarimala protests in Kerala, claiming it as proof of a communist attack on a "peaceful" Sangh parivar rally in favour of the Citizenship (Amendment) Act.
A year ago, a mob in Edappal, Malappuram, had intercepted a parivar motorbike rally — held in protest against women of childbearing age being allowed into the Sabarimala temple — and thrashed the riders.
An anti-Sangh Twitter handle named SanjeevaniPage had at the time tweeted a video of the attack and commented: "Here's how Kerala welcomed RSS bike rally today!" The tweet shows the date as "3 Jan 2019".
But on Thursday, BJP supporters circulated the same clip on Twitter and Facebook and accused the CPM of attacking a "peaceful #BJP & RSS bike rally in support of #CAA & NRC".
Many regular social media users in Kerala, including BJP supporters, would know that it's an old video. But many others in Kerala and elsewhere might well end up believing the "false propaganda", two leaders from the CPM and Indian Union Muslim League youth wings, A.A. Rahim and Najeeb Kanthapuram, told The Telegraph.
"This is how Communists in Kerala attacked peaceful #BJP & RSS bike rally in support of #CAA & NRC," Geetika Swami tweeted.
"Trying to disguise as nationalists in the garb of National Anthem or Tricolor Leftists can't hide their hideous face for too long."
Prabhu Dayal pasted Swami's comment on Facebook and found some response, with Dipak Patel Umreth commenting: "Need to teach the lesson to CM of Kerala.. (expletive) leftist.. anti national."
One user, "binugazi NAMO", tweeted the video with the comment: "In Kerala RSS & BJP rallied in support of NRC and CAA. See what happened next."
The user tagged the message to Prime Minister Narendra Modi, home minister Amit Shah, party supporter Madhu Kishwar, a few BJP handles in Kerala and even to CPM general secretary Sitaram Yechury, demanding he "reply for the violence". Kishwar re-tweeted the message and the video.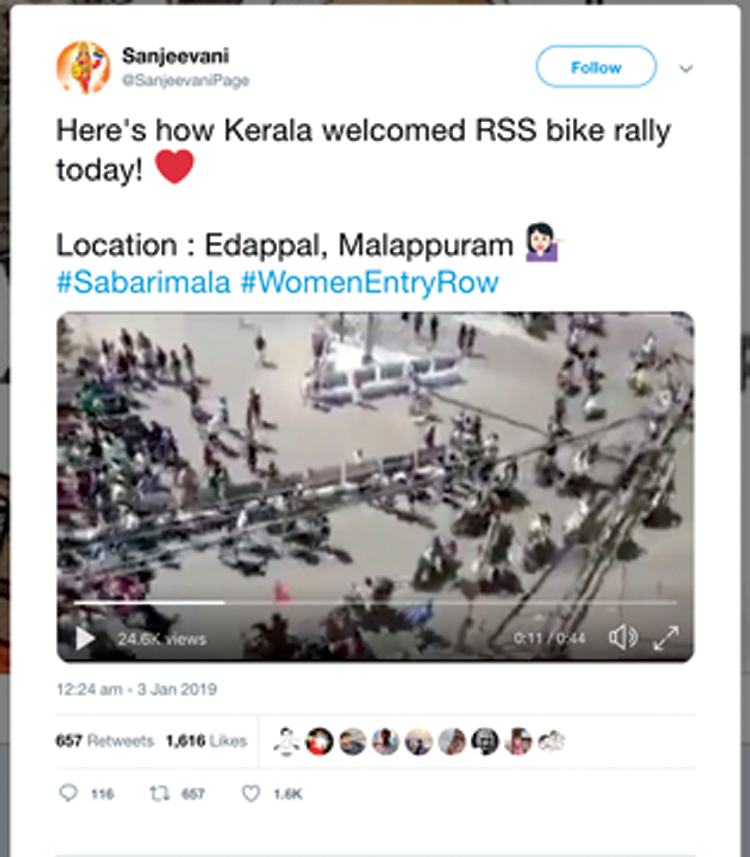 Some who appeared not to be BJP supporters also seemed convinced, as Rahim and Najeeb feared.
Nishant Varma-ReVolter — whose bio reads: "I pledge not to submit any papers for #CAB or #NRC" — tweeted the video and tagged Deepika Padukone, who recently angered BJP supporters by meeting the JNU students attacked during Sunday's violence.
"See what happened next. You won't believe #DeepikaPadukone," he commented.
The video, apparently shot from the top of a tall building, gives a panoramic view of a busy junction where some 40-50 motorcyclists take a right turn. Immediately, a swarm of people intercepts them and starts beating them, prompting them to abandon their motorbikes and flee.
The mob's political affiliation, if any, is unclear since no banners or flags are seen.
"The BJP can't live without lies. (Adolf) Hitler was exactly like this," Rahim, state secretary of CPM youth wing DYFI, said.
"Hitler's propaganda minister, Joseph Goebbels, was once asked how the Nazi government had retained public support despite killing six million Jews. He said it had managed this by lying big and repeating it until the people believe it."
Various sources have attributed to Goebbels this quote: "If you tell a lie big enough and keep repeating it, people will eventually come to believe it."
Rahim said the BJP too was "spreading big lies", mainly through social media, although "even their leaders at some stage use such lies in attacking the Opposition".
"But we need to remember that such lies are very scientifically applied. Even if some people expose the lies, others end up believing them," he said.
Najeeb, senior state vice-president of the Muslim Youth League, an arm of the Indian Union Muslim League which is influential in Malappuram, said: "The RSS are masters of lying and spreading lies. Only a few people in a limited space would know the truth while many others would believe such lies."