Odisha cabinet passes resolution for right MSP
State govt said it is an essential tool for providing income security to farmers and was their basic right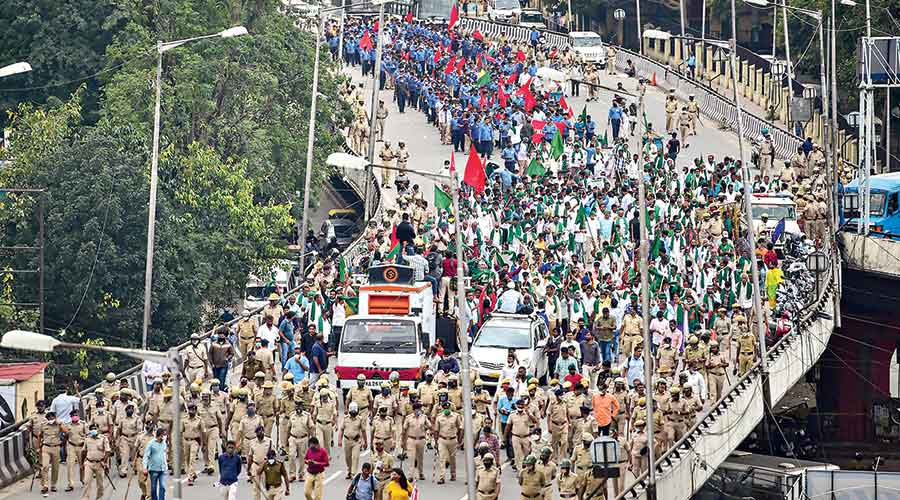 Police keep vigil as Karnataka farmers participate in a protest rally in Bangalore on Wednesday.
(PTI)
---
Bhubaneswar
|
Published 10.12.20, 02:15 AM
|
---
The Odisha cabinet on Wednesday resolved to move the Centre for the implementation of the M.S. Swaminathan committee recommendations on minimum support price (MSP) of all crops, which will ensure the doubling of farmers' income. 
The state government said it considered MSP as an essential tool for providing income security to farmers and was their basic right. The cabinet passed a resolution to this effect. 
"Farmers are the soul of our economy, the fundamental strength behind our socio-economic dynamics. The nation and society thrive with the prosperity of farmers. Therefore any overlooking of farmers' concern is practically suicidal in nature," the resolution states.
The resolution said that the government led by chief minister Naveen Patnaik had prioritised, from the beginning, the issues concerning the farm sector and has taken many initiatives for the welfare of farmers.
"The government is working with absolute commitment to double the farmers' income. Starting from our new Agriculture Policy 2020 SAMRUDHI to various other plans and programmes, we have focused on rapid growth in the agriculture sector. Our objective is to make farming profitable and create massive employment opportunities in this sector," the resolution said.
The resolution talked about a number of game-changing initiatives of the Naveen Patnaik government, including the Krushak Assistance for Livelihood and Income Augmentation (KALIA) scheme, which has enhanced farmers' income. 
"In this context, the state government considers MSP an essential tool for providing income security to farmers. The National Agriculture Commission chaired by eminent agriculture scientist Dr M.S. Swaminathan had recommended an MSP 50 per cent higher than the average cost of agricultural production," the resolution said.
"In a country like India, MSP is a basic right of farmers. The farmers brave the fiery sun and the rains to work on the fields so that we can get food. Therefore, if the farmer remains in uncertainty over the value of his produce, then the farmers and farming, including our economy, will come to a crisis. Ignoring the interests of the farmers, it's impossible to dream big on development."
It said while almost all the sectors were facing a slowdown during the pandemic, it was only the farm sector that had helped the economy survive. 
"Therefore, farmers' income must grow proportionate to the growth of income in other sectors. In the agriculture sector, the income enhancement must be considered keeping the cost of production in view. To make farming profitable and protect the farmers from all types of volatility, the MSP must be fixed on realistic basis," the resolution said.