Odisha-Andhra Pradesh border dispute
Union minister Dharmendra Pradhan urges Naveen Patnaik to convene an all-party meet to tide over the impasse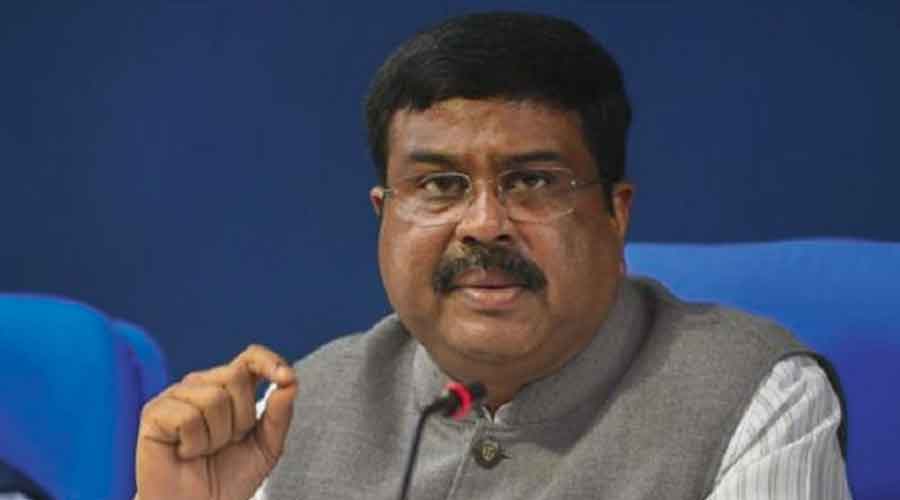 Union minister Dharmendra Pradhan
File picture
---
Bhubaneswar
|
Published 06.11.22, 01:16 AM
|
---
Union minister Dharmendra Pradhan has urged Odisha chief minister Naveen Patnaik to convene an all-party meeting over Odisha's border dispute with Andhra Pradesh.
The Union minister pointed out how Andhra Pradesh was trying to win over the people residing in the border villages by offering them ration cards, healthcare, education and other facilities.
Odisha and Andhra Pradesh have been at loggerheads over the ownership of  Kutia Panchayat which falls in Koraput district.
Though the panchayat belongs to Odisha, Andhra Pradesh has started a number of developmental projects there despite the opposition by the Odisha government. The issue has snowballed into a major controversy souring the relationship between the two neighbouring states.
In a letter to the chief minister, Pradhan said: "I am drawing your kind attention to my earlier attempts in 2020 and 2021 for arriving at a harmonious resolution to border issues between Odisha and Andhra Pradesh. I once again seek your personal intervention in addressing emerging issues in the border villages in south Odisha, namely Kotia Gram Group of villages in Pottangi Block in Koraput District and Manikapatna in Gangabada GP of Rayagada Block in Gajapati district.
"As you would be aware, administrative outreach by the Andhra Pradesh government in these villages has been reported in the past few days. This illegitimate and unfortunate outreach by Andhra Pradesh government is now not only confined to Kotia but is also gradually spreading to other villages in south Odisha."
Reportedly, 21 such villages have been included in the newly carved Parvathipuram Manyam district, with changed nomenclature, with its headquarters just 40km away from various villages of Kotia, " Pradhan said.
Urging the Odisha government to be proactive on the ground, thereby bringing the government and administration closer to the residents of these border villages, Pradhan said: "Being far away from the district headquarter, people may find the Andhra Pradesh administration more accessible. The neighbouring state may use the same to alienate these citizens from Odisha, and thereby sever their age-old socio-cultural umbilical cord with their motherland."
He urged Naveen that Odisha should take the local population and organisation into confidence and address multiple developmental issues by ensuring people staying in bordering villages are not lured by the Andhra Pradesh government.
He made a case for expediting the implementation of developmental activities by the Odisha Government. Pradhan said administrative face-offs and disputes would derail the ongoing development process, which goes against the socio-political objectives of both States, and sow seeds for anti-establishment sentiments to take root in this region.
Pradhan also pointed out that irrespective of party lines, all political parties agree unanimously on the development and protection of Odia interests in these border villages.
"Keeping in mind the welfare of the residents of Odisha and Andhra Pradesh border villages in the districts of Koraput and Gajapati, I seek your personal intervention for the harmonious and peaceful resolution of the said issues. Therefore, I request you to convene an all-party meeting over these issues and review the progress made by the inter-state committee and briefing on developmental activities taken up in border villages," he said.
India's first voter passes away
The first person to vote in independent India, Shyam Saran Negi died aged 105 in Kinnaur, Himachal Pradesh, on Saturday.
Negi had voted for the last time on Wednesday, by postal ballot. Chief election commissioner Rajiv Kumar flew from Delhi to Kalpa village to pay his respects. Negi was a schoolteacher on poll duty in Kinnaur during the first general election when he voted on October 25, 1951. The polling was held earlier than the rest of India because of impending snowfall. Negi was allowed to vote before the polls had opened as he had to go on duty to a polling station outside his village, then called Chini.
Negi never missed voting in any election since 1951, trekking to the polling station even during snowfall, and even after he had turned 100.
Kumar held up Negi as an "an example for the young voters" and tweeted: "Our real tribute to him will be when each one casts vote on 12th Nov in #HPElection2022…."Prime Minister Narendra Modi expressed condolences. Negi was cremated with state honours.
Report by Pheroze L. Vincent