Odisha: 54-year-old mother donates kidney to son
The transplant operation was performed by doctors at the Kalinga Institute of Medical Sciences in Bhubaneswar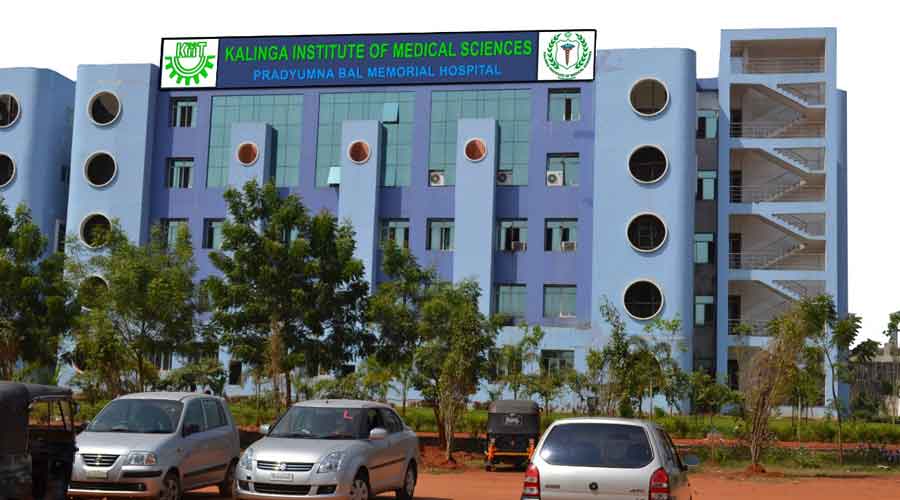 Kalinga Institute of Medical Sciences, Bhubaneswar.
Twitter
---
Bhubaneswar
|
Published 05.10.21, 01:03 AM
|
---
A 54-year-old woman in Odisha has donated a kidney to her 23-year-old son who has been suffering from end-stage renal disease.
The kidney transplant operation was performed by doctors at the Kalinga Institute of Medical Sciences (KIMS), Bhubaneswar Sanjukta Mohanty said: "I have seen my son suffering from nephrology problems since his childhood. His health has been a constant cause of concern for the family. When doctors told me about the need for a kidney transplant, I didn't think twice before agreeing to donate one of my kidneys to save his life. For me his life is more precious than anything else. I have seen the ups and downs of life, but his is just taking off. I am indebted to the doctors of the KIMS."
Her son, who has completed his post-graduation from Utkal University, said: "My mother is great."
Father Suresh Kumar Mohanty, who works as a technician in the Institute of Minerals and Materials Technology (IMMT), said: "We had thought of arranging a kidney from outside. But there is no guarantee that it will work. Since in our case, my son and my wife have the same blood group (O-positive), we decided to go ahead with the kidney transplant. The doctors are very cooperative. My son has got a new lease of life."
Dr Ashwini Prasad Patnaik, who led the team of doctors who performed the kidney transplant, said he was happy that the procedure was successful.
"Because of the efforts of the founder of KIMS, Dr Achyuta Samanta, the hospital is fully prepared to conduct such operations. Patients need not go outside the state for transplant. Here it can be done within Rs 8 lakh," he said.
About the treatment, Dr Patnaik said: "The patient was suffering from end-stage renal disease and underwent the transplant. His mother was the donor. The mother was discharged on Sunday while the patient was discharged on Wednesday. Both are doing well."
He said: "The operation was done by transplant team doctors of the KIMS, including Dr Nikunj Kishore Rout, Dr Rajesh Kumar Padhi, Dr Kumar Avijeet Dash and Dr Suresh Ch. Dash from the nephrology team; Dr Sumanta Kumar Mishra, Dr Amresh  Mishra, Dr J.B. Jagdev and Dr Sumit Panda from the surgical team; and Dr Sanjaya Behera, Dr Laba Kumar Nayak, and Dr G.C. Satpathy from the anaesthesia team. Dr D.S. Ray and his team, who came from Calcutta, extended support to the operating team."
Dr Rout said there is a psychological fear that if a person donates one's kidney they will become weak and face problems in life.
"We would like to dispel this misconceived notion by affirming that this is not a fact. A kidney donor can lead a healthy and unencumbered life with the remaining kidney," he said.
Dr Rout added: "Kidney transplant is the gold standard of treatment in end-stage kidney disease. Dialysis is not always the permanent solution. The quality of life is definitely better in comparison to dialysis when a suitable kidney is made available. Relatives are preferred as donors."
Wishing a speedy recovery to the patient, Samanta congratulated the team of doctors for their successful achievement.
"The transplant team will continue the programme in the future for the benefit of the needy," he said.