Nothing to do with Adani: Centre in Parliament
House stalled again as govt says 'no connection'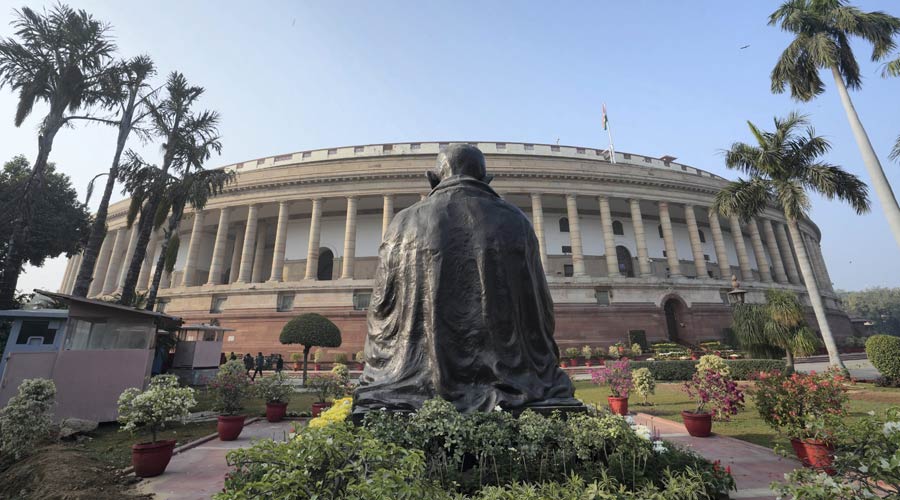 ded. In the Lok Sabha, the Opposition members rushed into the Well of the House and raised slogans against the government as Speaker Om Birla disallowed their adjournment motion notices, seeking suspension of business of the day to discuss the Adani situation
File picture
---
New Delhi
|
Published 04.02.23, 03:12 AM
|
---
Parliamentary affairs minister Pralhad Joshi on Friday sought to dismiss the Opposition's demand for a joint parliamentary committee probe into the allegations against the Adani group, saying "sakar ka lena dena kuch nahi hai" (the government has nothing to do)" with the corporate house.
The minister's remarks came as the Opposition continued to corner the government in both Houses of Parliament for the second day, demanding a discussion and probe into the allegations of financial irregularities mentioned in the report brought out by the US-based investment research firm Hindenburg Research.
"Yahan par sarkar ka lena dena kuch nahi hai. There is absolutely no connection,'' Joshi told reporters outside Parliament when asked about the charges against the Adani group and the Opposition's demand for a JPC probe.
"The priority now is to discuss the motion of thanks to the President's address...,'' he added.
In the Lok Sabha, the Opposition members rushed into the Well of the House and raised slogans against the government as Speaker Om Birla disallowed their adjournment motion notices, seeking suspension of business of the day to discuss the Adani situation.
"It is a great blow to the public money followed manipulative attitude of the Adnai Groups which has been brought to light by the Hindenburg research report," Congress MP Manickam Tagore said in his adjournment notice, pointing out how LIC and banks had put their money in Adani group companies.
"Therefore the House should come forward to discuss the matter keeping aside other routine business, and should constitute a Joint Parliamentary Committee to investigate further in this matter. The House should also direct the Hon'ble Prime Minister to disclose the actual loss of public money," Manickam's notice added.
Lok Sabha Speaker Birla tried to go ahead with Question Hour in the morning despite sloganeering in the Well of the House but gave in after some time and declared an adjournment. Before adjourning the House, Birla had tried to play on the tribal woman identity of President Droupadi Murmu, saying it was her first address to the joint session of Parliament and now was the turn to take up the motion to thank her.
"This (sloganeering) is not right. The motion of thanks to the first address by the President is before the House. She is a Scheduled Tribe woman President," the Speaker said, urging MPs to go back to their seats.
Similar scenes were witnessed when the House reassembled at 2pm, forcing the Chair to adjourn till Monday.
The Rajya Sabha proceeded along similar lines after Chairman Jagdeep Dhankhar rejected 15 notices submitted by MPs of different parties for suspension of business to discuss the Adani issue. As the Opposition members protested the rejection of their notices, he quickly adjourned proceedings till lunch.