Not a democracy any more, says Ghulam Nabi Azad
Parties gather to demand end to curbs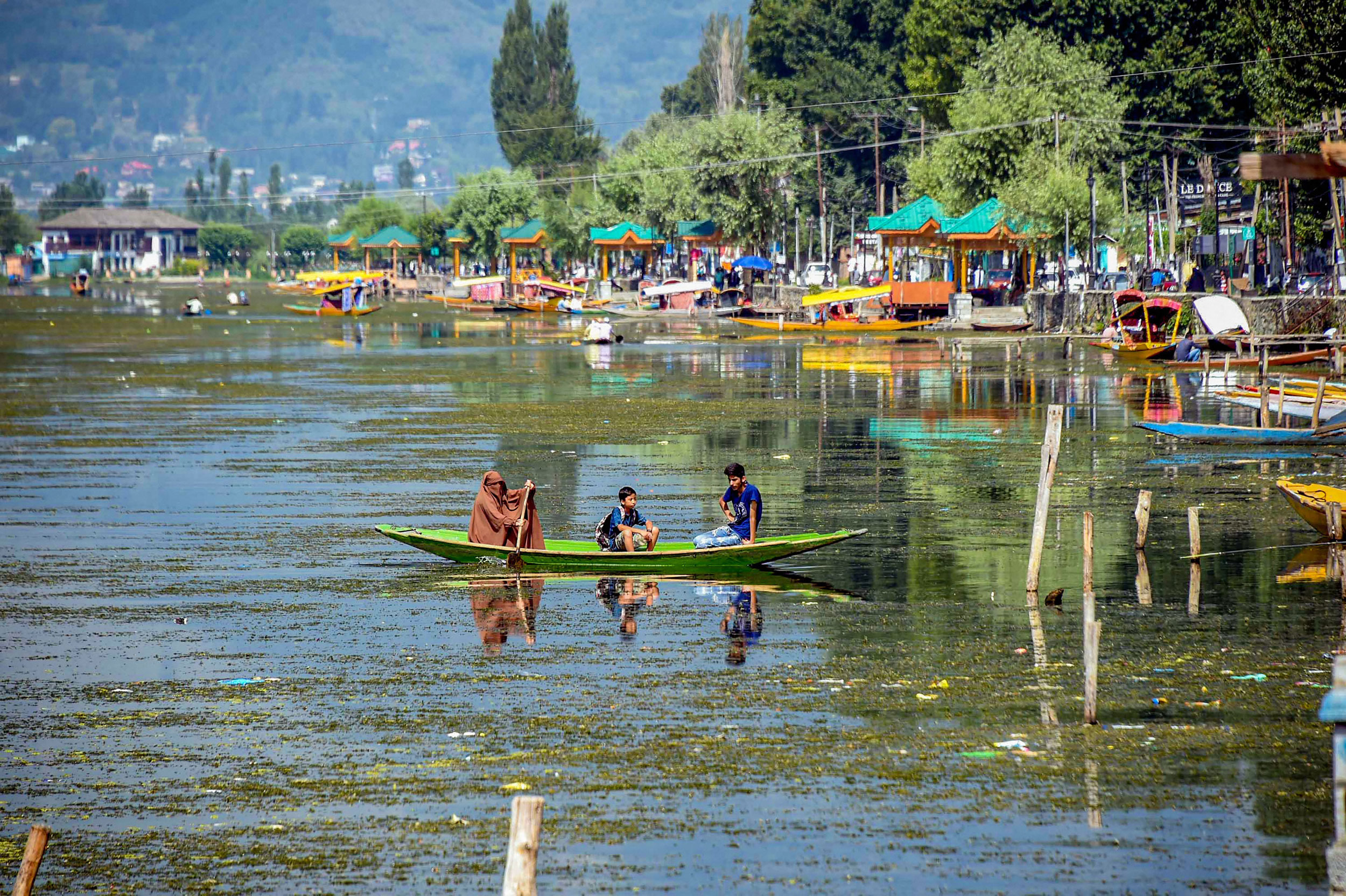 A woman rows her boat across the Dal Lake in Srinagar on August 22, 2019.
(PTI)
---
New Delhi
|
Published 22.08.19, 08:43 PM
|
---
The country is "not a democracy any more" and not to recognise this is to live "in a fool's paradise", the leader of the Opposition in the Rajya Sabha, Ghulam Nabi Azad, told a gathering here on Thursday.
The Congress veteran was participating in a multi-party demonstration at Jantar Mantar that demanded the release of political leaders in Jammu and Kashmir and the lifting of travel and telecommunication curbs, especially the media restrictions.
Azad, who belongs to Kashmir but has been stopped from entering the state twice since its special status was revoked on August 5, alleged that ruling party apparatchiks were issuing orders to the media.
"I never had the guts as information and broadcasting deputy minister (1985 to 1989) to telephone radio or television editors and ask them to delete this or write that. Today any block-level office-bearer of the ruling party can dictate terms to editors and owners of TV channels," he said.
"These are signs of dictatorship and autocracy. We must recognise it is not a democracy any more. If we fail to recognise this we are living in a fool's paradise."
As for Kashmir, he said: "There is something grave happening in the state. The foreign media is reporting it but our country's media will not be allowed to go…. The media must be allowed to telecast whatever they are covering."
He added: "Mehbooba Mufti's daughters wanted to talk to her. They called me. I spoke to the government. The government promised they would do something. They did not allow them to speak."
Among those present were leaders of the Congress, CPI, CPM, Trinamul, Rashtriya Janata Dal, Indian Union Muslim League, Viduthalai Chiruthaigal Katchi, Marumalarchi Dravida Munnetra Kazhagam, Samajwadi Party, Jammu and Kashmir National Conference and the J&K People's Movement, and cadres of the CPIML New Democracy.
Samajwadi MP Ram Gopal Yadav echoed Azad's demand for the removal of the media curbs. Reporters crowded around P. Chidambaram's son Karti Chidambaram, who was sitting in the audience, prompting him to leave.
The gathering endorsed a resolution expressing solidarity with the people of Kashmir, who they said were suffering under an "undeclared state of Emergency".
It demanded the "immediate release of all public representatives of mainstream political parties and innocent citizens" and "immediate restoration of normalcy, and communications…".
National Conference MP Akbar Lone said: "Leaders don't know why they have been arrested…. I want to ask why you have created an unprecedented situation where everyone is locked up and worried."
Trinamul's Dinesh Trivedi said: "Till yesterday she (Mufti) was part of your (NDA) government (in Kashmir). What wrong did she do that she is now behind bars?"
RJD member Manoj Jha, a Delhi University professor, said he had since August 5 been unable to speak to any of his former students now teaching in Kashmir.
"It's good that JP has left us. If he had written such letters (like the one he wrote to then Prime Minister Indira Gandhi on Kashmir) today, he would be declared a traitor by the evening. If we remain silent today, the silence will transform into the silence of the graveyard."
Socialist stalwart Jayaprakash Narayan had written to Indira in 1966 saying: "We profess democracy but rule by force in Kashmir…. We profess secularism, but let Hindu nationalism stampede us into trying to establish it by repression…. To think that we will eventually wear down the people and force them to accept at least passively the Union is to delude ourselves."
CPM general secretary Sitaram Yechury said: "If this is what the government had to do, then three years ago why did (then home minister) Rajnath Singh lead us in an all-party delegation to the state.… The confidence-building measures announced included that pellet guns would be stopped and a political process of dialogue…. In three years, nothing happened."
He said: "Kashmir has the highest concentration of armed military anywhere in the world. What we are seeing is a military takeover of Kashmir and a manipulation of the Constitution of India…. Kashmir is just the beginning. This is part of the goal of the RSS to convert secular democratic India into a Hindu Rashtra."
CPI leader D. Raja said the Centre needed to "reach out to J&K and win their hearts and minds".
He added: "The government should not do anything to further alienate the people of the state, and must lift the curfew imposed in the name of prohibitory orders."