Normalcy in Kashmir? Government ad says it all
It asks: Closed shops, no public transport? Who benefits?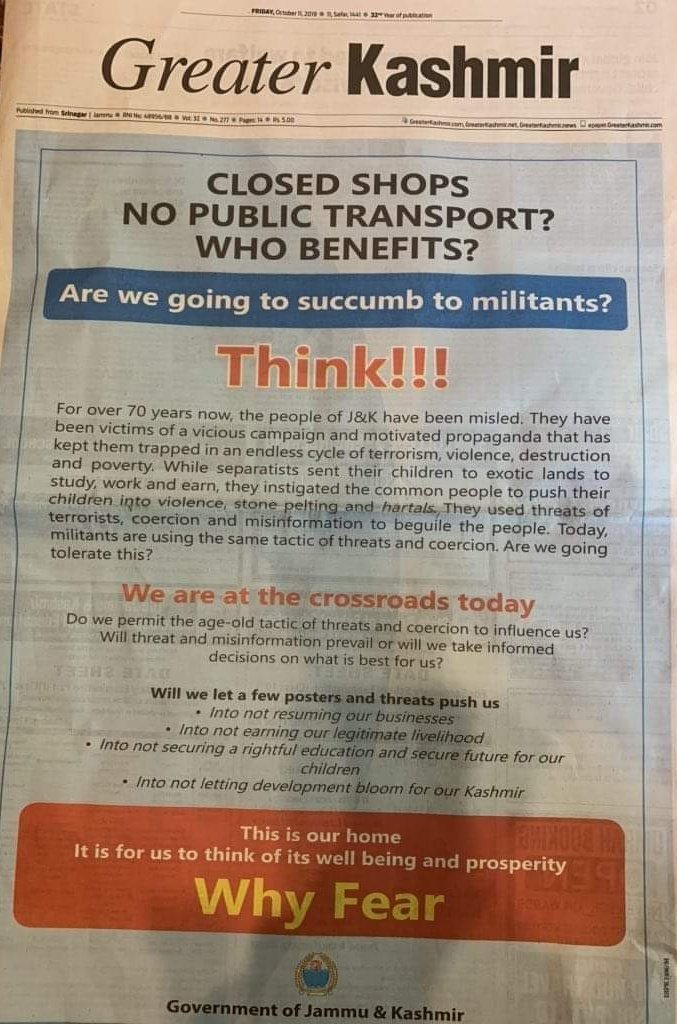 The full front-page government ad in the Greater Kashmir daily.
---
New Delhi
|
Published 11.10.19, 06:39 PM
|
---
Kashmir Times, a newspaper published from Jammu and Srinagar, had a government ad on September 3 that described the benefits of "a single Constitution for the entire country". The ad presented pointers to showcase benefits to Scheduled Tribes, Scheduled Castes, OBCs, West Pakistan Refugees and women in Kashmir.
"Almost every newspaper is publishing all this, particularly to give the government's point of view on it," Haq said.
"There is a lot of public anger against these kinds of advertisements. But there is government pressure to publish these ads," said a journalist from Jammu and Kashmir who didn't want to be named. "There is intimidation [of journalists and media]." The journalist said copies of the Greater Kashmir were burnt in downtown Srinagar today.
Haq said he had no information of copies of the paper being burnt. "At this time, in this environment, it is possible that a lot of rumours are doing the rounds," he said. "There is no denying that for almost 70 days, journalists of the Valley have been facing a tough time because of the lack of communication. There is no information coming from the government either. This is intimidation in itself," Haq said.
The Jammu and Kashmir administration today unwittingly let the proverbial cat out of the bag by putting a newspaper front-page ad that screamed: 'Closed shops, no public transport? Who benefits?'
For several days now, the state administration led by the governor and the Centre have tried to sell the narrative of normalcy in Kashmir to the rest of the country, when for 68 days there is no internet connection or mobile phone service in the Valley.  
The full-page advertisement in Friday's Greater Kashmir daily asked people to make a choice: "Are we going to succumb to militants?"
Militancy was one of the reasons the Centre had cited while scrapping on August 5 the special status given to Jammu and Kashmir, and then breaking the state into two Union territories. The government advertisement today, however, betrayed that it was not militancy, but a silent public disobedience from the people that the administration was up against. The empty roads are perhaps proving to be bad optics against all the talk of 'normalcy'.
The government has said landlines are working and all restrictions have been lifted. It opened the Valley to tourists on Thursday. But shops remain shut and public transport is sparse. Schools and colleges are mostly empty.
Notice the pleading tone of state admin in a front page ad for Greater Kashmir. Despite the brutal lockdown since 5th August, Kashmiris have been resolute about a civil curfew as a mark of protest. If the authorises truly cared for people, they'd lift the telecom ban pic.twitter.com/RC64DrO676

— Mehbooba Mufti (@MehboobaMufti) October 11, 2019
The govt of India has been saying everything is 'normal' in #Kashmir but puts up a full page 'desperate' appeal to people in the valley to open shops and come out to resume daily businesses.

Advert in #Kashmir 's largest newspaper @GreaterKashmir, dated Oct 11. pic.twitter.com/m9mZ9k1JA5

— Haris Zargar (@harriszargar) October 11, 2019
The advertisement urged people to open shops and send children to schools, and not "let a few posters and threats" prevail. 'Will we let a few posters and threats push us into not resuming our businesses, into not earning our legitimate livelihood, into not securing a rightful education and secure future for our children, into not letting development bloom for our Kashmir,' it asked Kashmiris.
Kashmiris living outside the Valley took to social media to call out the "government propaganda". 'Notice the pleading tone of state admin in a front page ad for Greater Kashmir,' said PDP leader Mehbooba Mufti's Twitter handle, which her daughter Iltija has taken over.
In a telephone conversation with this website, Kashmir Press Club president Shuja ul Haq said such advertisements have been published in the last few weeks, particularly about Article 370 and why the special status needed to go.