Nodeep gets bail, report reveals bruises
A medical review submitted in Punjab and Haryana High Court on Friday revealed that Kaur, who had alleged police assault in custody, had suffered multiple injuries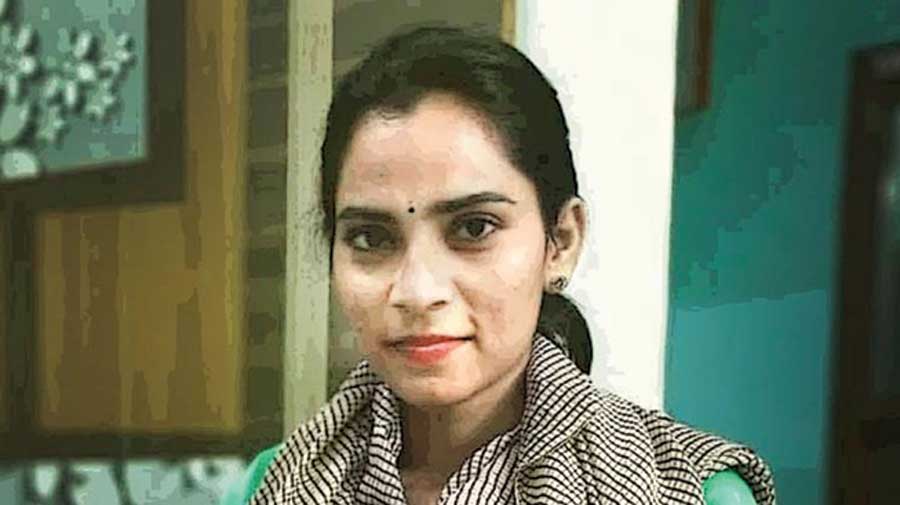 Nodeep Kaur
Sourced by Correspondent
---
New Delhi
|
Published 27.02.21, 12:05 AM
|
---
Trade unionist Nodeep Kaur, in jail since January 12 for a demonstration for labour rights in Haryana's Kundli, was released on bail on Friday night. 
A medical report submitted in Punjab and Haryana High Court on Friday revealed that Kaur, who had alleged police assault in custody, had suffered multiple injuries.
According to the medical examination report placed before the high court on Friday, Kaur had "purplish bruises of around 10x7cm present over LT (left) thigh, lateral aspect, bruises of around 5X6cm over RT (right) buttock". 
The court had on February 24 directed the Haryana government to place on record Kaur's medical report. The medical examination was conducted at Sonipat Civil Hospital on January 25 on the orders of a local court. 
In her bail plea, the 23-year-old activist had claimed to have been severely beaten up at a police station after she was arrested. 
Haryana police had denied the charge as "baseless". 
The medical report of a co-accused, Shiv Kumar, had on Thursday revealed two fractures on his hand and foot and broken nail beds on his toe caused by a "blunt object".
Kaur was arrested on January 12 while agitating against erratic wage payment at the Kundli industrial cluster in Haryana's Sonipat. The police had claimed that the trade unionist had gheraoed the industrial unit and demanded money from a company. They had also claimed that a team of cops was attacked with sticks, resulting in injuries to seven policemen.
Kaur has said she was falsely implicated in the case because she had succeeded in generating massive support for the ongoing farmers' movement against the Centre's three new farm laws at Delhi's borders.
The only condition, besides the bail bond, imposed by Justice Avneesh Jhingan of Punjab and Haryana High Court was that Kaur "shall maintain a restrain while being on bail to ensure that no law-and-order issue arises due to her actions".
The bail order says: "It would be a subject matter of trial as to whether the line for peaceful protest was crossed in the alleged incident or not."
"Considering the material placed on record before this court, the issue with regard to invoking of Section 307 (attempt to murder), 332, 353 (both relate to assaulting a public servant to prevent the discharge of duty) and 379-B (snatching after preparation made for causing death, hurt or restraint) IPC would be a debatable issue and to be considered during the trial," it adds.
The bail order further says: "Albeit the matter is under investigation, that itself would not be sufficient ground to deny personal liberty to the petitioner."
One of Kaur's lawyers, Harinder Bains, told reporters the order does not prevent her from joining any peaceful protest, including the farmers' movement, as long as she does not violate the law.
Kaur, from Punjab's Muktsar, was freed later in the evening from Karnal jail. Kumar is behind bars in his home district of Sonipat in Haryana.
They both face two other FIRs, accusing them of attempting to extort money from factory owners, for which Kaur had earlier got bail. Both are from landless Dalit families.
Kaur's case had received international attention after American activist Meena Harris, who is the niece of US Vice-President Kamala Harris, had tweeted about her. Meena tweeted on Friday: "Nodeep Kaur and Disha Ravi, young female activists jailed for supporting the farmer protests in India, were granted bail. I want to believe it's in part because so many people spoke out against the government's silencing dissent. Please stay loud — this fight is far from over."
The Samyukta Kisan Morcha, the umbrella outfit leading the farmers' protest at Delhi's borders, welcomed Nodeep's release.
"She fought for Kisan Mazdoor unity and lent strength to the movements. It is known that along with Nodeep, her colleague Shiv Kumar had also been arrested by the police. The recently released medical report of Shiv Kumar proves custodial torture that he had to undergo and SKM condemns this strongly. We demand his immediate unconditional release."
Additional reporting by PTI