Nobel winners' labs that stretched from India to Kenya
Duflo, married to Banerjee, is the second woman and, at 46, the youngest ever to be awarded the Economics Nobel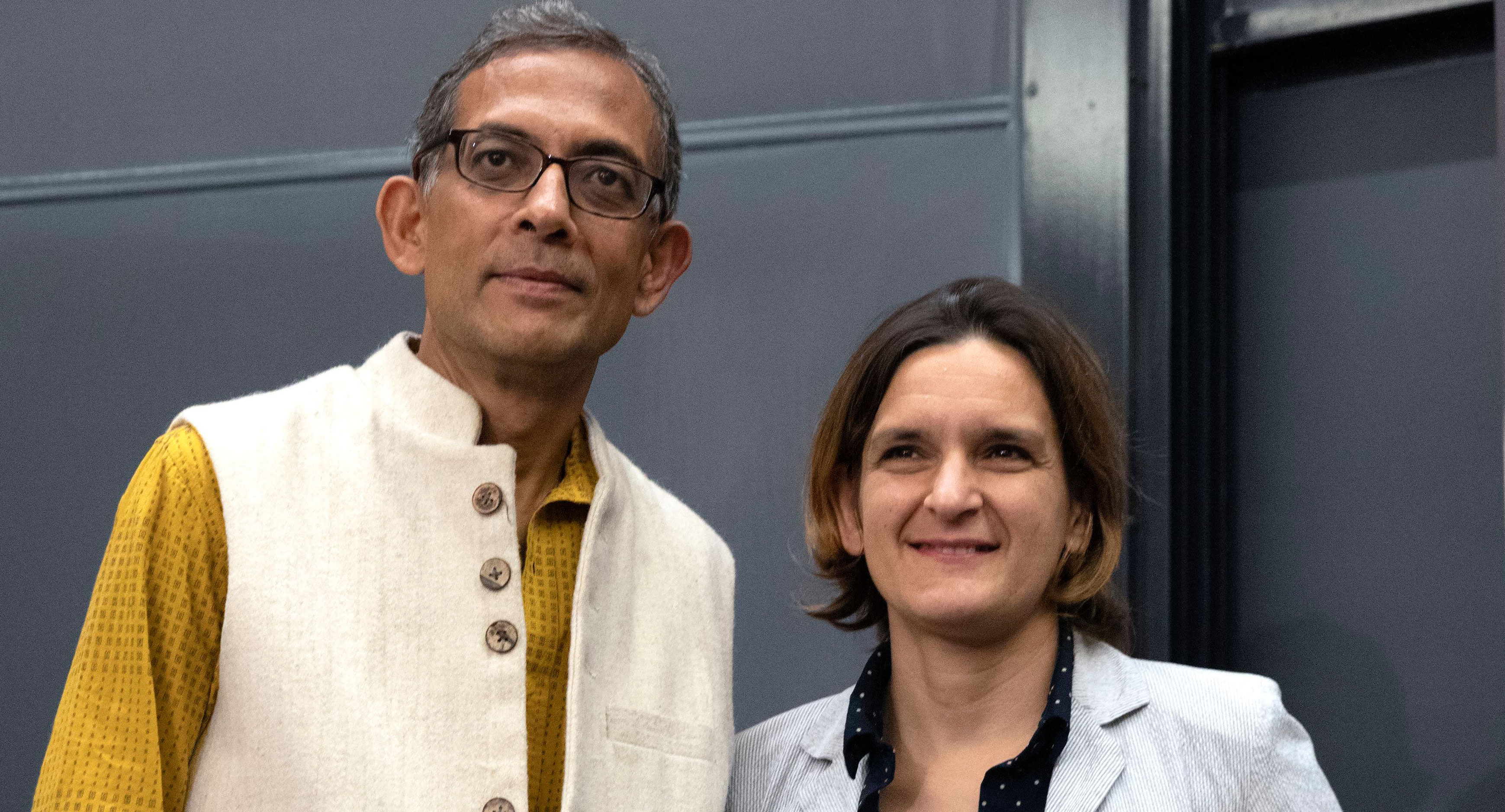 Abhijit Banerjee with Esther Duflo after a news conference at Massachusetts Institute of Technology in Cambridge on October 14, 2019.
(AP)
---
New Delhi
|
Published 15.10.19, 01:21 AM
|
---
The three researchers awarded the 2019 Nobel Prize for economics are based in Cambridge, Massachusetts, but their "work laboratories" have stretched to India, Kenya and Indonesia, exploring strategies to alleviate poverty, improve children's education and expand access to healthcare.
The Nobel Prize citation for Abhijit Banerjee and Esther Duflo of the Massachusetts Institute of Technology and Michael Kremer of Harvard University said the trio had "introduced a new approach to obtaining reliable answers about the best way to fight global poverty".
Duflo, married to Banerjee, is the second woman and, at 46, the youngest ever to be awarded the Economics Nobel.
The three developmental economists have pioneered what the citation has described as "carefully designed experiments among the people who are most affected" to propose possible strategies for change. "The laureates' research findings — and those of the researchers following in their footsteps — have dramatically improved our ability to fight poverty in practice," the citation said.
As a result of their studies, "more than five million Indian children have benefited from effective programmes of remedial tutoring in schools. Another example is the heavy subsidies for preventive healthcare that have been introduced in many countries," it added.
Kremer, for instance, had during the mid-1990s tested interventions that could improve school results in Kenya. Two years ago, he and his colleagues assessed available evidence and argued that longstanding support for mass de-worming of children remains "scientifically justified" because of its long-term impacts on education and economics.
Banerjee and Duflo have also studied a range of topics, including agriculture, education and health care, and are co-founders of the Abdul Latif Jameel Poverty Action Lab, a global network of anti-poverty researchers engaged in experiments to assess local interventions that could help resolve social problems.
They have assessed interventions to improve police crackdowns on drunken driving in Rajasthan, demonstrated that working street children have arithmetic skills that remain untapped by schools in Calcutta, and studied the impact of e-governance on the possible theft of public goods in Bihar.
Ahead of India's 2019 general election, the Congress had consulted Banerjee, seeking his suggestions for what the party would incorporate into its manifesto — the Nyuntam Aay Yojana (Nyay), a minimum income guarantee scheme. But Banerjee didn't put forward the specific figure — Rs 6,500 per month — that Nyay proposed.
In an interview to a TV channel earlier this year, Banerjee had said: "At some broad level, we were sympathetic to the idea that India, as a newly middle-income country, should do something for its desperately poor…. My view was that they should have gone slower. I see the compulsion of going faster -– an election is coming up."
Banerjee told the interviewer he would have thought the scheme could be rolled out with an amount of Rs 2,500 or Rs 3,000, but did not specifically recommend any figure. "I was doing the costing of it, and they went with a bigger number. I was a bit conscious of the fiscal constraints," he said.
Three years ago, they had teamed up with Abhijit Chowdhury, a Calcutta-based gastro-enterologist, for a novel field experiment and showed that unqualified health-care providers, when given modest lessons, can correctly manage patients with chest pain, diarrhoea and respiratory symptoms.
In one field experiment in Bihar, Banerjee and Duflo examined whether e-governance — making data available through information technology on a real-time basis — could stem the theft of public funds released under the national rural job guarantee scheme.
They found that the e-governance reform significantly reduced fund leakage. "Leakages went down, programme expenditures dropped by 24 per cent, while employment slightly increased. There were fewer fake households in the official database, programme officials' personal wealth fell by 10 per cent," the researchers have written in a paper describing their findings.
Research by the Poverty Action Lab showing that school-based distribution of de-worming pills in areas with high infection rates bolstered school attendance and health. By 2017, the strategy had been scaled up in many countries to reach over 285 million children.
In another experiment in Bihar, Banerjee and Duflo found no evidence that either selling iron-fortified salt in villages or providing it free to households had an economically meaningful or statistically significant impact on haemoglobin levels, anaemia, physical health, cognition or mental health.
"These disappointing results are explained both by the relatively low take-up and by the low impact of the iron-fortified salt even when consumed more regularly for the majority of the population," they wrote.