No way can Narendra Modi escape my love: Rahul
Is Rahul's love all saccharine, too much of which is unhealthy? No, a hint of mischief too flashed by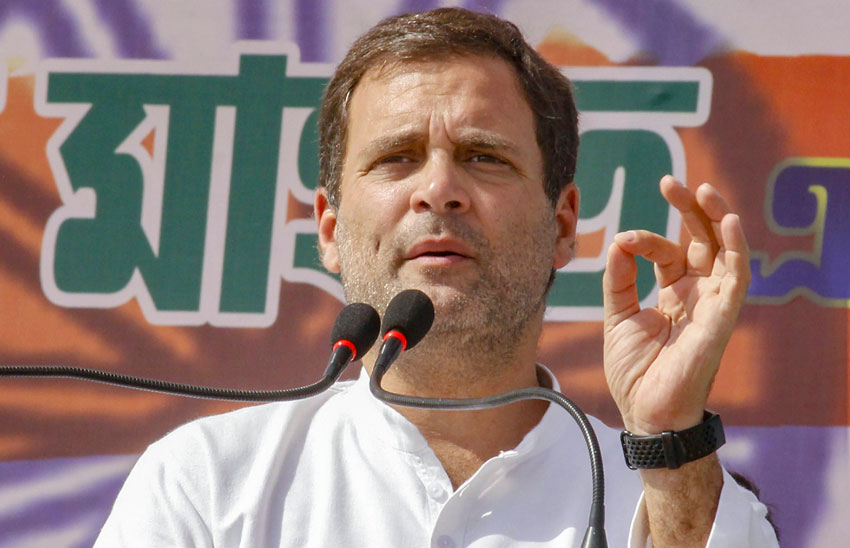 ---
Calcutta
|
Published 07.05.19, 11:54 PM
|
---
Houston, win or lose, Narendra Modi has a problem.
How do you deal with a son who has vowed to bombard you with love although you are yet to catch your breath after abusing his slain father?
"I am telling you I will instil love in Narendra Modiji's heart. Bach nahi sakte mere pyar se Narendra Modiji (No way can Narendra Modiji escape my love)," Rahul Gandhi told ABP News and ABP Ananda during an interview in Purulia on the sidelines of a campaign rally on Tuesday.
The theme itself is not new. The Congress president had responded in more or less a similar manner in the immediate aftermath of Modi's widely condemned description of Rajiv Gandhi as "Bhrashtachari No. 1 (Corrupt No. 1)" on Saturday, building up on his audacious hug in Parliament last year.
If the hug had evoked a mix of ridicule and bemused suggestions of naiveté, the interview on the Purulia ground, encircled by onlookers and rallyists, projected the image of a man at peace with himself and absolutely sure of what he is talking about.
Forget the point-scoring and the declaration of victory, which can be done by any politician worth his kurta till May 23.
But how does a man in his late forties declare his affection for a force of nature who has been raging like a typhoon across the political landscape? More important, how does he do so without any of the usual cringe-inducing detritus? Not to mention the unobtrusive stress on a besieged idea of India.
Here's how.
"I said whatever hatred Narendra Modi throws at me, I will respond with love. My response is love, his response is hatred. What he has in his heart, he will give, what I have in my heart I will give," Rahul told the two interviewers.
"I give love, I work with love because that is the history of this country. This country will not go on with hatred, never," Rahul added.
"The more Narendra Modiji attacks me, the more personal his attacks get, the more I get strengthened. I learn. You say something wrong to me, I can answer in two ways. One, I can respond in the wrong way. Two, I can respond with love. If I respond with love, I will have learned. If I respond with hate, I will have failed," Rahul said.
"Whatever you have to say, say it, have fun. Whatever comes to your mind, however much you want to abuse me, go ahead, I will tolerate everything. I am saying now, however much hatred with which Narendra Modi speaks to me, I can swallow 10-15 times more hatred in two minutes, I mean I don't even feel it," added the politician who must have been among the most lampooned on the planet till some months ago.
"The hatred in Narendra Modi's heart is not for me. Narendra Modi does not hate me, Narendra Modi does not hate the Congress, he doesn't hate Jawaharlal Nehru, Rajiv Gandhi. Narendra Modiji hates Narendra Modi. My work, as the leader of the Congress, is to get that hatred out of his heart. I am saying this, I will instil love in Narendra Modiji's heart. No way can Narendra Modiji escape my love," Rahul said.
Was it all saccharine, too much of which is unhealthy? No, a hint of mischief too flashed by.
When an interviewer referred to the "chowkidar chor hai" slogan, Rahul cut him off mid-sentence, pursed his lips, looked back at the crowd and shouted: "Chowkidar…." "...chor hai," some voices shouted back.
Tongue-in-cheek, Rahul said: "I don't say (chowkidar chor hai), I just say chowkidar…."
Footnote: Prime Minister Narendra Modi appears to have taken remedial measures and reciprocated the love. As on Tuesday night, Modi was following Rahul Gandhi on Twitter. It was not clear when the Prime Minister started doing so