Culture minister signals govt's firmness
Birju Maharaj, other artistes face eviction threat
Move comes despite nearly half the houses earmarked for artists being already vacant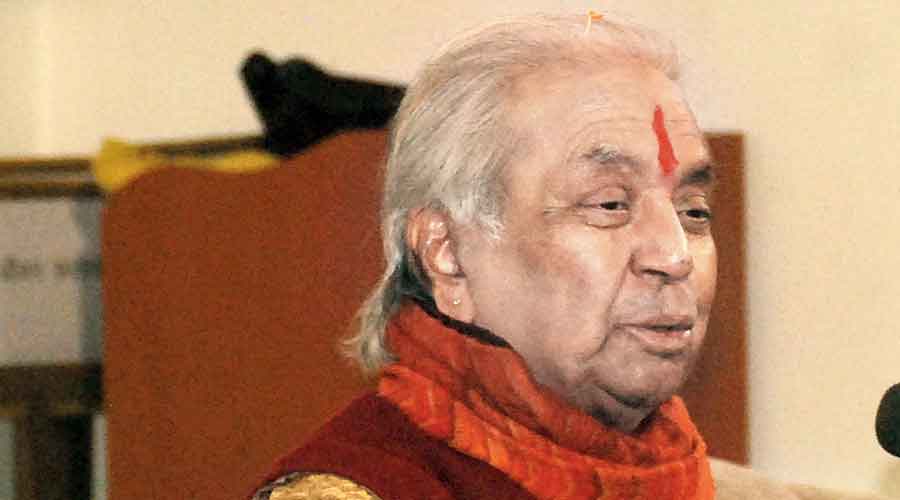 ---
New Delhi
|
Published 19.11.20, 01:54 AM
|
---
Celebrated artists including Kathak exponent Birju Maharaj, painter Jatin Das and Hindustani classical maestro Wasifuddin Dagar face the threat of eviction from government accommodation in Delhi despite their age, the pandemic and pleas to the Centre.
Culture minister Prahlad Patel signalled the government's firmness on evicting the veteran creative and performing artists, although nearly half the houses earmarked for artists are already vacant.
"The policy already exists and it's clear that no one can stay on above the age of 60, or for more than two terms of three years each. Their income should not be more than Rs 20,000 a month. But people have been living (in these government houses) for 12 to 35 years," he told The Telegraph.
"The CCA (cabinet committee on accommodation) has decided to waive their liability (penalty for overstay) if they vacate. If they don't, then commercial rates will apply."
Since the 1970s, many award-winning artists aged between 40 and 60 have on the culture ministry's recommendation been allotted government accommodation at nominal rents for three-year terms that were routinely renewed.
Forty such homes are now available. Of these, 21 are occupied — 14 of them in the Asiad Village.
Birju Maharaj told this newspaper: "I'm 83 now. At this age, I hoped the government would let me live here as long as I was alive. There isn't much time left for me, anyway. We served India through culture, and when we travelled the world to showcase our art, we represented India."
But Patel said: "(Any new) policy on who should be accommodated will be framed later, after they have vacated (the houses). Where do new artists who really need homes go? If an MLA or MP sticks to one place, then what happens to others? The rules are the same for all."
The Hindu newspaper has reported that the CCA, headed by Union home minister Amit Shah, had on November 8 approved a culture ministry proposal to waive "damage charges" — penalty for overstay — against 27 artists allotted government houses in Delhi.
The total penalty amounted to Rs 32.09 crore. The extensions given to these artists to stay on in these houses had expired in 2014.
Six among the 27 have already left, including the family of theatre exponent
Joy Michael who died in 2018 and Kuchipudi expert Raja Reddy, who vacated his government house in August this year.
Last month, the remaining 21 — including the families of the late artistes Ghulam Sadiq Khan, Sabri Khan and Asad Ali Khan — were ordered to vacate their bungalows by December 31.
Failing this, they are to be evicted and fined an amount around 50 times the rent for the duration of overstay, including pending rent dues of more than Rs 2 crore.
"I have written to the Prime Minister and the housing and urban affairs minister (Hardeep Puri), but I'm yet to receive a reply. I ask them to think about us — who have given our whole life for the culture of this country," Birju Maharaj said.
"Where do we go once we are evicted? I have no other home. Rajiv Gandhi gave me this home (on Shahjahan Road) in 1985, along with another to Pandit Ravi Shankar (in Lodhi Estate)."
Before being allotted his current home, Birju Maharaj had lived in another government house since 1978, when the Janata Party was in power.
The government accommodation for the artists ranges from two-bedroom to four-bedroom houses. Puri, the housing and urban affairs minister, told this newspaper that it was for the culture ministry to decide what facilities artists get.
Five artistes had received calls to meet culture secretary Raghvendra Singh after writing to everyone from the joint secretary in the culture and housing ministries to the Prime Minister.
They were dance historian Sunil Kothari, Kuchipudi guru Veernala Jayarama Rao, Mohiniyattom expert Bharati Shivaji, Dagar and Sangeet Natak Akademi awardee and Kathak expert Nalini Asthana. They received no assurances, except that their request would be examined.
"At the age of 73, during a pandemic, I expected my government to support me and not evict us," Rao said.
His wife Vanashree — a Sangeet Natak Akademi awardee and Kuchipudi dancer — said the family had been paying the rent of Rs 16,800 per month, cumulatively every six months, for its 2BHK home in Asiad Village.
"We received notices in 1994, 2004, 2014, 2017 and 2018 before this. In 2018, we were given just 15 days to vacate but officials told us to keep paying the rent and nothing would happen," she said.
"We are both in our early 70s, and for the last eight months we have had no income since we can't conduct classes amid the pandemic and since all performances have stopped."
She added: "Unlike Bollywood artistes we don't make a lot of money. It's only state festivals that pay us in full, and even that amount is spent on the musicians and lights. We have no pension or provident fund."
She went on: "You call us cultural legends, ambassadors and so on but are unable to house some 20 of us. We are not against others getting accommodation too.... Give us some place to stay. For so many years (since 1987) we have developed our art and our livelihood from this house."