No internet or mobile not a new thing in Kashmir, says Amit Shah
Home minister says his Hindi Diwas speech was an 'anurodh'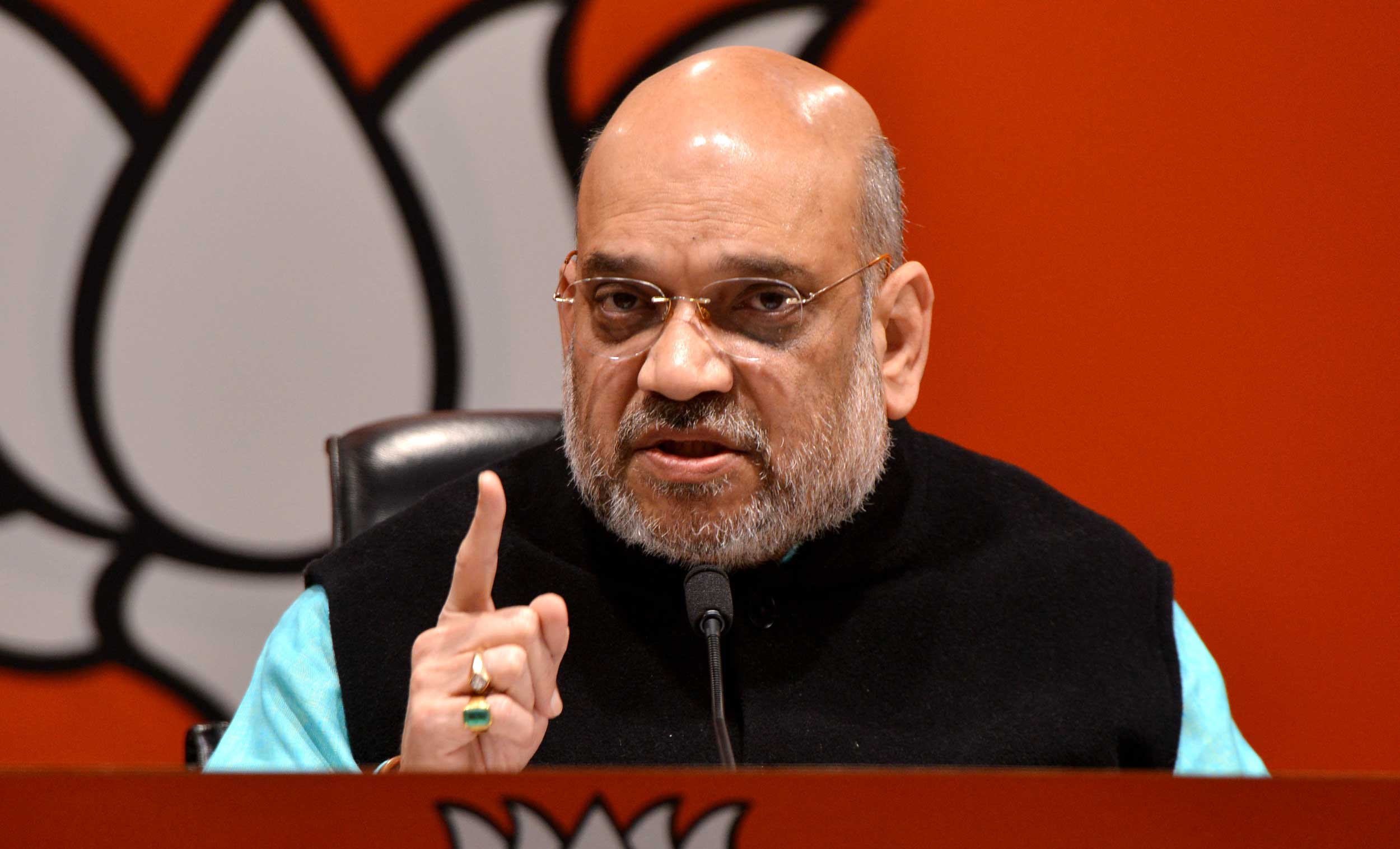 ---
|
Ranchi
|
Published 18.09.19, 02:27 PM
---
Home minister Amit Shah today said that except for eight police station areas in Kashmir that had Section 144 imposed, there were no other restrictions elsewhere in the state and lack of communication connectivity was not 'nayi baat' there.
During an interview in Ranchi, Hindustan editor-in-chief Shishi Shekhar asked him about the urgency regarding the removal of special status to Jammu and Kashmir within three months of becoming the home minister. The interviewer attempted to make a distinction between Shah's role as the BJP chief and as the Home Minister. Shah almost cut him short and said: 'This is a BJP's government, why are you forgetting that. I am the BJP's Home Minister.' Then he added: 'Main BJP sarkar ka griha mantri hoon aur yeh Bharatiya Janata Party ke agenda pe chal rahi hai (I am the BJP government's Home Minister and the government is working on the BJP's agenda).'
When Shashi Shekhar mentioned that there was no internet or WhatsApp link in Kashmir, the Shah said internet had arrived in Kashmir 16 years after it was launched elsewhere in India and mobile telephony 17 years after it was available elsewhere. 'Yeh koi nayi baat nahin hai (This is nothing new),' he said as an explanation for the continuing communication blackout in Kashmir since August 5.
The interviewer mentioned that Pakistan was now raising the question of human rights violations because of the internet blockade. At this, Shah bristled. 'What about the 41,000 people who died all these years? Because of the Congress' policies, 41,000 people died in Kashmir.... I want to ask this question to all those who are raising the question of internet and mobile connectivity. I want to ask you too.'
He suggested that human rights should not be discussed on the basis of internet and mobile connectivity.
Hours after Shah gave the interview, PTI in a news report from Srinagar, said that armed militants were trying to spread fear among residents and defy the administration. According to the reports, militants were forcibly shutting shops, sometimes by walking into them and intimidating owners, through threats made in posters that appear on walls overnight or by sealing the shutters with tape.
The report quoted unnamed officials. Jammu and Kashmir Police officially kept mum with no one willing to come on record, but officials said on the condition of anonymity that the situation could be slipping out of their hands.
Several police officials said the posters were pasted at night when security deployment was low.
When Shah was asked about his speech on Hindi Diwas, where he said the language should be an identifier for India as it was capable of uniting the country, he said his critics had not carefully heard his speech.
'I have said again and again that Indian languages should be strengthened.... A kid will study well only if he studies in his mother tongue,' he said. 'By matri-bhasha, I do not mean Hindi.' But there should be another language that people should learn, he said, and suggested that Hindi should be that language. 'Maine anurodh kiya, isme kya burayi hai (I made a request, what is wrong with that)?' he asked.
After Shah's Hindi Diwas speech on September 14, several leaders from southern India and Mamata Banerjee in Bengal made it clear that they would not allow Hindi to be imposed on people of their states.
Actor Kamal Haasan, who has recently floated a political outfit, threatened mass protest.

Hours after Shah clarified that he had never pitched for imposition of Hindi, DMK president M.K. Stalin said the party's proposed protest on September 20 on the issue has been postponed.