Kathua lawyer can't find a house
Deepika Singh Rajawat has been asked to vacate her government quarters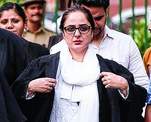 Deepika Singh Rajawat.
The Telegraph picture
---
Srinagar
|
Published 10.12.18, 09:47 PM
|
---
Jammu seems to be squeezing out Deepika Singh Rajawat, former counsel for the family of the eight-year-old Muslim girl who was raped and murdered in Kathua in February this year.
Deepika has been asked to vacate her government quarters several times since last month but has been unable to find a landlord in Jammu city willing to rent out a flat to her.
"I'm facing all this because I risked everything to fight for a child," she told The Telegraph. "I fear for my security. I fear for my (six-year-old) daughter's security."
Deepika had been allotted three personal security officers — two for herself and one for her daughter — by the Mehbooba Mufti government. She said the police had recently withdrawn the PSO guarding her daughter. The state is now under governor's rule.
"The property dealers say that as soon as they take my name (while trying to find her an accommodation on rent), there is a problem," Deepika said.
"My sister and a friend had zeroed in on a particular house and even the rent was fixed (before the owner did an about-turn). They had approached a lawyer who asked them not to rent the house to me."
She added: "There is a wave against me…. I have approached a lot of people. The moment they learn about me, they flatly refuse. This also happened to me in June when I was looking for an office."
Thousands in Jammu had hit the streets in protest when those accused of raping and killing the child, all of them Hindus, were arrested. The crime branch claimed the atrocity had been committed to drive the nomadic Bakerwals out of the area. The crime and the protests intensified the religious and regional divide in the state.
I'm facing all this because I risked everything to fight for a child. I fear for my security. I fear for my daughter's security.
- Deepika Singh Rajawat
Deepika ruffled feathers by volunteering to fight the child's case. The trial was shifted to neighbouring Punjab to avert any trouble. The victim's family last month removed her as their lawyer, citing her security issues and reported inability to attend hearings.
Deepika said she had been allotted her government quarters on "verbal orders" from then chief minister Mehbooba because of the security threat against her.
"I had faced problems also at my previous residence, where I lived as a tenant. I was branded an anti-national and my PSOs were denied space to sit outside. So I had approached Mehboobaji for accommodation," she said.
The director, estates, Tariq Ahmad Ganai, denied there was any politics in the move to evict Deepika, and cited the absence of a government order allotting the house to her.
"I will not go into how she got it, but I was not holding the chair then. Naturally, it must have been done with the approval of some authority. But that should have been given a black-and-white shape."
Deepika said her eviction order wasn't in black and white, either: she had been asked to vacate the house verbally by officials who kept turning up now and then.
Mehbooba recently criticised the move to evict Deepika.
"How strange -- a young woman who stood against the storm of barbarity to defend the little girl is being forced to vacate the govt accommodation. Much needed intervention by HE (his highness) @jandkgovernor for her safety and security," she tweeted.