Nitish's gambit aims at Opposition
Bihar CM has asked his officials to formulate an economic quota bill, and does not want to issue an executive order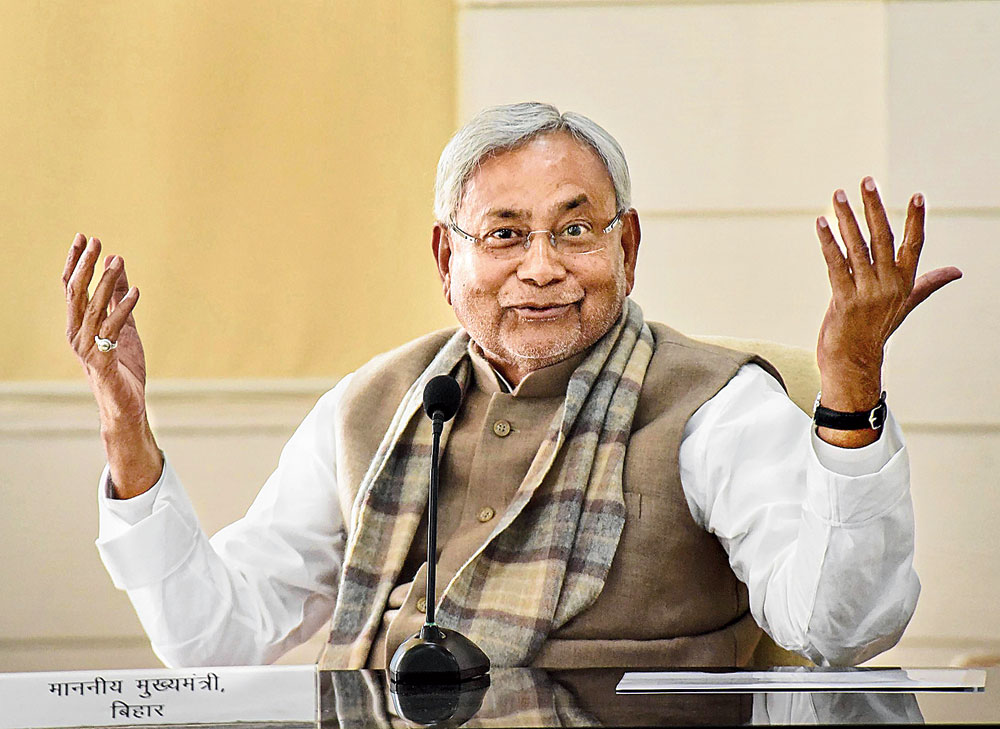 Bihar chief minister Nitish Kumar
Telegraph picture
---
Patna
|
Published 23.01.19, 10:31 PM
|
---
The Nitish Kumar government's move to implement 10 per cent reservation for economically weaker sections is aimed at striking at the Opposition's fault lines, sources in the Bihar chief minister's party said.
Unlike Uttar Pradesh, Jharkhand, Gujarat and Himachal Pradesh which have implemented the new quota through executive order, Nitish on Tuesday directed officials to formulate a bill that would be tabled in the budget session of the state legislature commencing from February 11.
"Making a law with approval of the state legislature would give legal shield to the reservation provision whereas doing it through an executive order might be challenged in court," a senior minister in Nitish's cabinet said under cover of anonymity.
The debate on the bill would also give the government a chance to showcase its works for amelioration of economically weaker sections among the upper castes, a leader of Nitish's Janata Dal United (JDU) said, adding: "Bihar was the first state in the country to have constituted a commission for upper castes."
The bill, the JDU leader felt, would also bring the differences in the Opposition to the fore because the Congress, Jitan Ram Manjhi's HAMS and Upendra Kushwaha's RLSP would support it whereas the Rashtriya Janata Dal (RJD), that had opposed the bill in Parliament, is likely to face dissent in its ranks.
"It would be interesting to see how many of the 79 RJD MLAs vote against the bill," said the JDU leader.
Sources in the RJD said the party would move very cautiously on the issue because party chief Lalu Prasad had also advocated for such quota in the past. "It would become embarrassing for the party if some our members abstain during voting in case the party decides to oppose the bill," said an RJD leader.
However, in Delhi, Lalu Prasad's younger son and face of the party Tejashwi Prasad Yadav attacked the new quota vociferously.
"To make such a provision, the government must have supporting data and figures, but the Modi government doesn't have that. They implemented it in a hurry, just like demonetisation. The BJP will bear the consequences of it," Tejashwi said.
In response to a question, Tejashwi said contrary to the general perception, the reservation for the "so-called poor upper caste" persons will "backfire" on the BJP.
"The Bahujan class is feeling duped... While it was stated that there is a cap of 50 per cent on reservations, but, suddenly the government opens a Pandora's box and exceeds reservations beyond 50 per cent, that too without any demand, agitation or movement by beneficiary classes," he said.
"On what basis did the government give 10 per cent reservation to those who are already enjoying de facto 50 per cent reservation and in reality much more than that. And what about the caste-based census data? Why it is being hidden by the government? Is it banana republic or a democracy?" he asked.
Lalit Yadav, the RJD chief whip in the Bihar Assembly, said: "We have never opposed reservation for poor among general category, but we want to it to be based on some caste-based census. We will take a final call on the party's stand about the state bill in the meeting of the legislature party."